And now for something completely different. Well, not completely different, but it is a step away from our regular content focusing on the commercial vehicle and agricultural tyre sector, as we turn more towards marketing exploits by the companies operating in it.
Since the start of November, Commercial Tyre Business has received a variety of press releases from tyre manufacturers within the agricultural space all along the same lines, promoting the appearance of their tyres within the upcoming Farming Simulator 22 video game, published by GIANTS Software. It's an intriguing trend that we hadn't seen before and one we were certainly eager to learn more about, so we reached out to Apollo Tyres, Michelin, and Continental about their participation in the video game. We begin Part 1 with Apollo Tyres and Robbert Holtkamp, the Apollo Marketing Communications OHT Europe, who took us behind the Farming Simulator 22 curtain from the manufacturer's point of view.
Farming Simulator "Invaluable" in Strategy for Apollo to Reach Younger Audiences
For those new to the gaming world and agricultural gaming in particular, Farming Simulator is a simulation video game series first released back in 2008, where players can farm, breed livestock, grow crops and sell assets created from farming. After being developed and published by GIANTS Software, the developer and publisher of Farming Simulator 22 reported that 1.5 million copies were sold. As of December 9th according to Steam, the game had 63,606 players playing in its most recent 24 hour period highlighting not only the game's popularity but also its reach, especially with the younger generation.
It is this younger demographic that Apollo Tyres is keen to reach, and consequently Apollo sees Farming Simulator as "invaluable" in its strategy to do so. Robbert Holtkamp, the Apollo Marketing Communications OHT Europe added, "Part of our wider operational strategy is to digitalise key parts of our business, and in some ways this is a natural extension of that. We also see this as an invaluable means of reaching a younger demographic; individuals who might otherwise not be aware of our brand."
These are tyre buyers of the future –  for agriculture applications, and potentially for road cars too, if they follow that path with their careers."
Holtkamp conceded that although Apollo could not confirm that there was a direct correlation between featuring in the game and sales, the manufacturer was confident that its participation in Farming Simulator would help raise the profile and awareness of Vredestein tyres through a digital medium, which could be established alongside more well-trodden promotional channels such as agricultural events and mainstream media.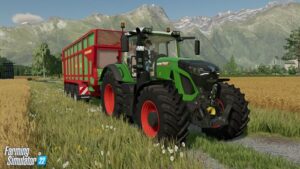 So how did this opportunity rear its head for Apollo and Vredestein Off-Highway Tyres? Holtkamp confirmed that the manufacturer made contact with GIANTS Software at the end of 2020 to begin exploring the opportunity and that it had been "a very collaborative initiative". He noted that Vredestein's product range has managed to add premium value to the existing tyre options available for a wide range of machinery in the game according to GIANTS Software.
He said, "Farming Simulator offers us the opportunity to be part of the world's leading agricultural video game, allowing us to help virtual farmers tackle some real-world issues across a range of challenging simulated conditions.  Ultimately, we believe that this was the perfect international platform to showcase our portfolio of tyres and reach a wider audience."
In order for gamers to have a realistic experience of Vredestein Off-Highway tyres, Apollo shared a large volume of digital graphics data to ensure that the tyres are represented with total accuracy. As well as this, Holtkamp, along with Joost Kemna from Apollo's Product Management department, had extensive conversations with the developers, not only to ensure that the tyres were depicted as accurately as possible but that they would perform as they would in the real world.
Holtkamp added, "The Vredestein tyres featured include tractor, trailer-implement, agri loader and harvester tyres. We provided detailed 2D and 3D renderings so they could be programmed into the game."
After many conversations about the characteristics of the tyre, GIANTS Software was able to replicate these in the game, even enabling users to choose their desired tyre pressure for different terrains."