In the penultimate part of our retreading feature, Commercial Tyre Business speaks to Simon Axworthy, Commercial Fleet and Retread Manager UK & Ireland, Goodyear Tyres about how Goodyear's Multiple Life Concept offers viable benefits for commercial and bus fleets and how Goodyear remains a step ahead of the competition.  
Casing Management and Multiple Life Concept Essential to Retread Success
Goodyear has long been an established retreader within the tyre sector, and indeed, Axworthy explains that Goodyear's Multiple Life Concept is a key reason for why the company has such a clear retreading presence.
Axworthy said, "The concept integrates regrooving and retreading to ensure the tyre's extended life. As a company, we combine both mould cure and pre-cure retreading solutions across Europe, the Middle East and Africa (EMEA). Mould cure is our premium retreading method using the TreadMax brand, with which we use the latest technology carcasses from Goodyear and Dunlop. All other carcasses are processed using Next Tread. These options are designed to cover a wide range of different customer needs across the EMEA region."
Importantly, Axworthy highlights that Goodyear believes retreads and new truck tyres should not be separated as mutually exclusive concepts. Instead, with the help of Goodyear's Multiple Life Concept, the company sees retreads as a whole life concept through which customers can optimise operational costs and reduce CO2 emissions.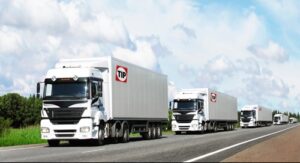 To ensure operational efficiency, Axworthy clarifies that Goodyear works with various casing suppliers, which allows for continuous supply should one source fail. He explains, "We secure the supply of casings via various channels: from fleets via our service network, TruckForce; from fleets via our web-based commercial vehicle tyre casing management system, eCasing, and from dealers via our sales force. We also work in some regions and countries with qualified partners to make sure we collect casings that meet our high-quality standards."
Via high pressure tests, non-destructive tools, such as shearography testing and more traditional tried-and-tested methods, such as nail hole detection, Goodyear can guarantee a steady supply of high-quality, durable and solid casings. With thorough testing, Axworthy notes that this ensures the tyres delivered to the customers are "as durable, buoyant and as long-lasting as possible."
Why Fleets are Thinking More and More about Sustainability
Axworthy has noted an increasing market share for retreads within the EMEA region and a changing attitude amongst consumers, although he notes that away retread sales within the truck market across the EMEA region have always been fairly robust. The core change, Axworthy believes is that the circular economy model is now actively promoted across Europe, which is now much more of a prerequisite than before. As the European Union has begun adding legislation to reduce carbon emissions, fleet managers are now also paying more active attention to how their fleets can fulfil these necessary changes with tyre retreading at the forefront of those solutions.
Axworthy and Goodyear are in favour of these steps as part of their vision for a more sustainable future. While many new tyre manufacturers have entered the market in recent years, Goodyear remains focused, committed and convinced in their multiple-use tyre policy, he says. As the purpose of the concept is to ensure an environmental dividend for both the company and the customer, while ensuring attractive rates for fleets in a competitive industry, Goodyear sees retreading as a win-win for its sustainability beliefs going forward.