For part 2 of our Fleet Management feature, Commercial Tyre Business had the opportunity to touch base with Goodyear and find out how its suite of tools make life easier for fleets on and off the road. We also wanted to know why Goodyear's one-stop system, FleetOnlineSolutions, helps centralise the essential administrative aspects to provide a worry-free experience for Goodyear users.
Goodyear Looks to Multi-Solutions Process to Ensure Fleets Have All Bases Covered
It goes without saying that fleet management is a complex, often tiring process. Many fleets buy from different suppliers, use multiple products and have different service providers on hand. Goodyear believes its FleetOnlineSolutions is a specialist one-stop fleet administrative system that "makes life easier for fleet managers". Explaining the benefits, Goodyear notes, "It provides one central system to control everything, from the vehicles and tyres themselves to contractual and financial details." Furthermore, "When repairs are needed, it helps suppliers get working faster and gets vehicles back on the road quicker."
As well as its administrative programme, Goodyear has been focused on a range of smart monitoring tools to help fleets utilise technology to ensure better fleet safety and maintenance. The first of these, Goodyear Checkpoint, allows "fleets to measure tyre pressure, the remaining tread depth, irregular wear, axle and total vehicle load in just seconds".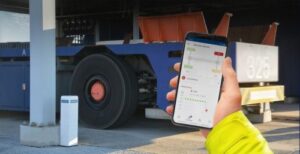 The second tool, Goodyear DrivePoint, offers an instant display of a fleet's tyre health on mobile and web applications, which is particularly apt for short, frequent journeys undertaken by fleets.
The third asset in Goodyear's arsenal is its TPMS solution, which is a crucial asset in maintaining correct tyre pressure and temperature on the go. As Goodyear explains, Goodyear TPMS helps you avoid problems and keep your fleet running. It gives the driver control; it takes away the worry. Problems such as underinflated tyres and subsequent punctures can be quickly identified and resolved.
Adding further support to fleets is Goodyear's has its proprietary G-Predict algorithm, which looks to pre-empt any potential incidents, based on Goodyear engineers analysing data to create a smart solution in advance.
Coupled with Goodyear's fleet management service partnership with ZF, this means that Goodyear combines ZF's Transics-branded Fleet Management Solutions with its mobility solutions, allowing fleet managers to service their fleets in one easy-to-use digital platform.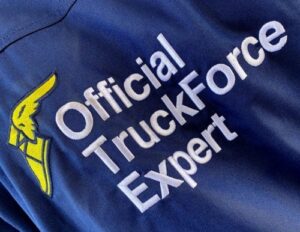 As part of its breakdown coverage via its Total Mobility programme, TruckForce is part of Goodyear's international service network. In Europe, there are 2,000 locations across Europe, which all offer 24/7 – 365 day service to customers. Known as ServiceLine24, Goodyear's specialist emergency service is designed to get you back on the road as soon as possible. With this service, on average, trucks get moving again within 2 hours.
We wanted to know how UK fleets could benefit from Goodyear's wide-ranging digital software solutions. Of its Total Mobility offer, David Anckaert, Vice President, Goodyear Commercial Europe argues, "Every fleet is unique, so we work side-by-side with our customers to cater to their specific needs, challenges and situations depending on the size of their fleet, field of operations and current and future business objectives".
Goodyear's customisable solutions allow for flexibility. For frequent long, regional and inter-regional vehicles, Goodyear DrivePoint and Goodyear CheckPoint (also known as the Drive-Over-Reader) are ideal solutions for fleets, as these solutions offer rapid tyre pressure checks in seconds. For longer journeys and remote tyre monitoring the company would recommend Goodyear TPMS its data-driven tyre management to maintain operational efficiency and the early detection of mechanical issues.
Goodyear notes that the installation is quick to fit – its recently-launched DrivePoint only takes two hours to install – and "can significantly enhance the service life and fuel efficiency of fleets". Noting that if a tyre is underinflated by 1 bar, this can add £1.25 extra in expenditure every year for each fleet vehicle.
Perhaps, most importantly, any UK fleet can benefit from a TPMS for added security and support. In this uncertain time, caused by a plethora of external issues such as supply chain disruption, a shortage of HGV drivers and the rising cost of living, we wanted to know what advice Goodyear can offer to smaller fleets unable to afford higher technological costs. Goodyear notes that regular tyre pressure and tread depth checks are effective methods of tyre maintenance, however, even more important, the right tyre for operations is a crucial element for fleets from the get-go.
When fleets need to replace tyres, it's a good move for fleets to pay heed to the EU tyre label fuel economy rating to save money. For its FUELMAX ENDURANCE range, Goodyear adds that the range has low rolling resistance and a B-grade fuel economy rating, ensuring that the tyres have the durability for A-roads "while retaining the same fuel economy on motorways."
It's not just savings that Goodyear offer, moreover, the manufacturer has been looking to work on enhancing its circular economy offer. Since the launch of its FUELMAX ENDURANCE, Goodyear has promoted the tyre as an ideal fit for its Goodyear Retreading programme, with the drive tyre available as a TreadMax mould cure retread. The drive tyre, therefore, with its innovative tread, also offers extra mileage on the road and cost savings along the way.
Retreading a Growing Element within Goodyear's Fleet Management Offer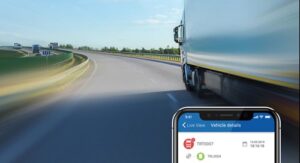 We wanted to know more about how important retreading is as part of Goodyear's overall offer. Goodyear explains that via its package, "Goodyear Total Mobility addresses specific challenges such as retreading if a fleet requires it." The process of retreading, Goodyear believes, is a great way to add extra life to a fleet's tyres, so the manufacturer and local casing handling partners have started collaborating more closely in the process.
As part of a close collaboration, Goodyear has invested in "state-of-the-art shearography inspection equipment for a more accurate, non-destructive inspection, ultimately resulting in less waste, and contributing to more successful, data-based circular economy practices".
Goodyear has also been looking to optimise the logistics of casing handling with the help of eCasing, so that, "casing data can be entered and monitored automatically, and the casing app supports all retreading business models with full mobile tracking of customer-owned Casings and Casing Exchange flows".
As Goodyear summarises the extent of its Total Mobility package, "It is all about customisation and driving results. Fleets have access to the right tyres for their various applications, a tailored predictive solutions toolbox and the support of an expert service network along the way."