The third and final part of our deep dive into the launch of Farming Simulator 22 and a host of tyre manufacturers announcing their participation in the latest incarnation of the popular video game concerns Continental, who announced at the end of September that their products would be available for gamers to play with in the virtual world. Julia Reinhold, the Spokesperson for Commercial Specialty Tyres for Continental answered our media request and gave us some further details on the benefits that the leading tyre manufacturer sees in being involved in a video game that saw 1.5 million copies sold in its first week of publication.
Continental Alongside OE Partners in Farming Simulator 22
Starting with how the cooperation between GIANTS Software and Continental came into fruition, Reinhold explained that the idea to be a part of the game came from within the company. Reinhold added, "As the publisher GIANTS Software is trying to represent the agriculture industry and its environment as near to reality as possible, a collaboration between Continental and the publisher was of mutual interest."
In addition, Continental saw the opportunity to be a part of the game as way to add increased levels of realism to the game considering the fact that their original equipment partners John Deere, Case IH, Fendt and Valtra were already featured in the video game series. All of these machinery manufacturers fit Continental agricultural tyres.
Reinhold said, "Original equipment manufacturers such as John Deere, Case IH, Fendt and Valtra, which are also all part of the game, rely on Continental agricultural tyres. So, one reason was certainly to make the selection of tyres and products more realistic.
"On the other hand, it is a good opportunity to promote our premium agricultural tyres and increase awareness of Continental tyres."
Touching on this opportunity to further enhance the awareness of Continental's solutions in the agricultural sector, Reinhold emphasised that this goes hand-in-hand with the company's growth plans in the agricultural sector and is in line with their "Vision 2030 strategy", as well as the 'very positive feedback' they have received from being present in Farming Simulator 22.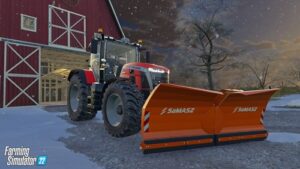 Although gamers can now use Continental tyres as the original equipment fitment to their John Deere, Case IH, Fendt and Valtra tractors, Julia Reinhold confirmed that real-word factors such as abrasion are still not replicable in the game, but the manufacturer is looking at ways to support GIANTS Software when it comes to including such factors in future versions of Farming Simulator.
"What does correlate in the game and in reality however, is the importance of choosing the right tyre. Tyre and tractor choice both affect traction and crop health," added Reinhold.
In terms of choosing the right tyre for the right job, Continental has made an ample selection of its agricultural tyres available for use alongside a few truck and consumer options as well. For agricultural vehicles, gamers can fit the following products: CombineMaster, TractorMaster, Tractor70, Tractor85, VF CombineMaster and VF TractorMaster.
In addition, Continental's Conti Crosstrac HD3, Conti Crosstrac HS3, Conti Hybrid HD3 and Conti Hybrid HT3 products are offered as a potential truck fitment, and in the passenger segment the Offroad HCS and TerrainContact H/T have been included.
In terms of future developments and the inclusion of more Continental products in the game, Reinhold had encouraging words, "More products like the VF TractorMaster Hybrid and our new product lines CompactMaster AG and CompactMaster EM are coming soon, as GIANTS Software will release various free and paid content updates to Farming Simulator 22."