In a wide-ranging chat for our second instalment of the Winter Tyres feature with Yokohama Off Highway Tires (YOHT), Commercial Tyre Business got to grips with how big the agricultural winter tyre market is in the UK. We also asked how Yokohama Off-Highway Tires has fared with Brexit and Covid-19, and what advice they would give to agricultural fleets this upcoming winter.
YOHT See Definite Winter Tyre Market Despite it's "Relatively Small and Static" Nature
YOHT is on the move. Having completed its Yokohama Off-Highway Tires integration in the USA, YOHT is now ready for its complete European integration. The Alliance, Galaxy and YOHT products will now be under the extended Yokohama umbrella following the European integration.
With an investment of USD 171 million dollars for its plant in Visakhapatnam, India which will production capacity double and its distribution partner for Alliance tyres, Kirkby Tyres opening its new 2,923 m2 warehouse in Dublin, the company has successfully planned its European operations strategically, Yokohama Off-Highway Tires is ideally placed to improve on its sound footing in the UK and Ireland
This organisation is important for tyre manufacturers, as global supply chains face unique and multifaceted problems with Brexit and the container crisis. With the Visakhapatnam plant able to process 55 tons of rubber weight per day when it opens in the first quarter of 2023, this will ensure that YOHT can handle any problems that might occur down the line as a result of Brexit or market forces.
YOHT also has a range of options for farmers during the winter period. Even though, as the Regional Head for Northern Europe & UK for Yokohama Off-Highway Tires, Ole Baek freely admits, "the UK winter tyre agricultural market is relatively small and static, due to a combination of factors."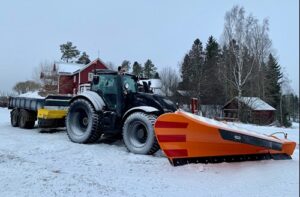 In the UK there is no obligation for farmers to fit winter tyres, which is somewhat of a novelty, as various European countries now have legislation for winter tyres, so, as Baek from YOHT argues, this does affect the demand for the tyres. On top of this, agricultural activities are more tied up with the summer calendar, especially with pastoral farming. These factors contribute to a low level of demand for winter-specific agricultural tyres in the UK. Baek adds, "This could be a reason for manufacturers not to invest in this market by introducing new and specific winter tyres, but fitting them is definitely a great solution as summer tyres tend to lose their effect during cold winters."
Still, Baek at YOHT believes that winter tyres do have a point of difference. Summer tyres tend to lose some of their elasticity during the cold winter months. In the colder regions of the UK, including Scotland and parts of Northern England, there is a stronger demand for tyres, as well as local authority users, who run their machinery all year round. For users who are considering winter tyres, YOHT suggests that while they have a surplus in case of a colder-than-average winter, if there is more of a demand, that users should order their winter tyres in advance to be suitably prepared.
Winter Tyres Preparation Key for Agricultural Users to Ensure a Comfortable Winter Season
Sales have remained strong and stable for YOHT, with the manufacturer's presence in the OTR sector nicely established. We quizzed the manufacturer and Baek on which tyre has received high sales and equally high feedback.
The 551 Multiuse Professional tyre is one of the company's bestsellers. A specially designed tyre for tractors and agro-industrial machines, the tyre can function easily when dealing with snow and ice. YOHT explains that this is due to its unique tread design with sipes that maintain a superior grip in icy conditions. The tyre can also get to speeds of 65 kilometres per hour. Its durability is down to its steel-belted construction and, importantly in winter, it maintains smooth functioning in sub-zero temperatures.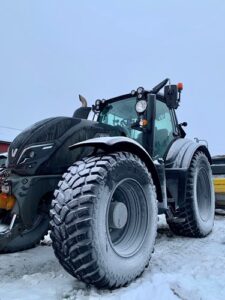 Ole Baek – Regional Head for Northern Europe & UK for YOHT argues that a key priority for a successful winter in the UK is to maintain sufficient tread and traction for your winter tyres. Knowing in advance the type of vehicle, the usage patterns and keeping in mind the local weather conditions the consumer will experience will ensure the tyre has enough strength and power to drive through the ice, sleet and snow. If the tyre lacks sufficient grip, it's a wise idea to invest in a tyre that can handle a potential blizzard and avoid potential downtime.
Snow removal is also an important thinking point when considering the correct tyre. Baek adds, "Most compact tractors come equipped with R-4 tyres which feature traditional bag-lug tread patterns which provide a great balance on hard and soft service performance, however, they're not the best option for snow removal"
Instead, "Block treads, low rubber-to-void rations and snow-clearing channels" are the factors that drivers should consider as early as the spring season to avoid unforeseen surprises