Continental Tyres is one of the largest tyre manufacturers in the world. It is a respected brand in every market where it operates. Its logo is instantly recognisable.
Continental Tyres – Technology Takes the Lead
However, that position does not come without an approach that is constantly seeking improvements. Commercial Tyre Business asked Continental's General Manager of Technical Services, Steve Howat, about the latest trends in the truck tyre sector.
"It really depends on the type of customer," said Howat. "If you talk about the OEM – the likes of Scania, Mercedes, whomever they may be – the most prominent trend is in reducing rolling resistance. Vehicle manufacturers are very focused on tyre rolling resistance coefficients to help with their emission challenges. We know there are very challenging and stringent new EU regulations on vehicle emissions linked to VECTO.
"One of our biggest challenges at the moment is delivering tyres that meet the requirements of our customers in the UK. In the UK, we operate more as regional type applications compared to certain European haulage companies that are long-distance focused. Therefore, the demands placed on their tyres aren't quite the same as we have in the UK.
"As mentioned, the UK is a regional market for Continental due to our unique driving conditions. Being part of this regional market means that the tyres must be adaptable to the harsher environment, and as such, low rolling resistance tyres aren't always the right solution for our UK customers.
"We must understand what the fleet operator wants. They need a tyre that gives them a great low overall driving cost (or part of the lowest overall driving costs). Part of this is maximising mileage. Mileage is still a consideration for the OEMs, but now, the attention is diverted towards rolling resistance requirements.
"Continental is working very closely with very large fleets on the topic of fuel consumption. We're maintaining a strong focus on tyre technology, with sensors mounted within the tyres as part of our Continental Digital Solutions programme. Our TPMS platform allows tyres to be fully optimised from a service point of view," continued Howat.
"We access telemetry data on a large scale. This is then linked to our fuel analytics dashboard, where we can start to see that it is truly having an impact by changing to a lower rolling resistance tyre. The results are extremely promising.
"For other fleets, it is very much the reverse. These fleets are more concerned about mileage, robustness, and durability. No fleet operator wants a truck that is down. It's an asset, and they want to maximise that asset. They want 100% reliability and 100% durability. We can't necessarily just say 'there is a catch-all regarding the whole fleet environment focusing on one specific technology area' – it's very diverse indeed."
Keeping in mind that diversity in the tyre requirements of fleets. Are there specific demands from different sectors? For example, is there a differential between truck and bus fleets?
Howat responds; "Truck and bus tyres can differ quite dramatically. Sidewall wear is a natural focus point due to constantly rubbing against kerbs at bus stops. Therefore, we concentrate on sidewall robustness. Continental's bus tyres all feature sidewall wear indicators to help notify drivers of weakened tyre sidewalls.
"Our bus tyres are extra thick, as far as the sidewall veneer is concerned, and they have a very high abrasion compound in the sidewall. The last thing a driver wants is a tyre that fails on them when they've got passengers on board. So, in that situation, durability is critical. I would argue that when it comes to fuel consumption, it's a lesser priority.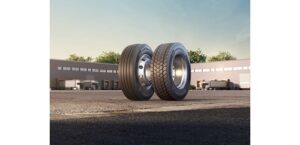 "We are talking about a totally different power delivery for fully electric vehicles. The challenge here is managing the range as far as the tyre is concerned, as there are greater demands on the tyre's performance – as well as increased demands on the tyre's load-carrying capacity."
Again, having mentioned electric vehicles, we understand that in the car market, extremely high torques are created, resulting in increased wear and tear on tyres, particularly abrasion wear. Does this translate into similar issues with commercial vehicle tyres?
"Electric trucks are driven differently compared to conventional trucks," explains Howat. "Electric trucks have sophisticated energy recuperation systems, and these recuperation systems are controlled heavily by the driver. There's often a reduced dependability on an EV truck's friction brakes.
"This can put a greater demand on the tyres, so we know that this can lead to reduced tyre mileage. The reality, of course, is that you can't get everything from a tyre. We could focus on mileage performance, but we can't ignore other safety criteria, including wet grip and noise. We must always try and balance all these requirements as much as possible, which is exceptionally challenging.
"I think as far as mileage is concerned, one of the key areas is pattern design, as well as compound. In the context of EVs, the compound is more significant in how we design, develop, and produce our tyres."
Moving onto a different area, we are aware that Continental Tyres has a considerable investment in digital technologies. We are seeing news of future vehicle systems that maximise digitisation and data to create ever-safer vehicles.  Where is Continental in this sector, and how big a role does technology play in tyre management?
Howat outlines; "It's a fascinating area for us. We've been pursuing our own sensor technology, as part of our Conti Digital Solutions division, for quite a few years.  We mount the sensor inside the tyre – we don't mount it on the valve. The sensor's function is to monitor pressure and temperature as accurately as possible.
"We have now launched the ContiConnect 2.0 sensor, so if you order a second-generation sensor that you mount inside the tyre, it will have additional features. It has Bluetooth and radio frequency, and it can also measure the tyre's rotation. So, that helps us with tyre management because we know exactly how many miles that tyre has then done. We are not relying on job sheets where we must ask the tyre fitter to tell us what the actual odometer reading was when they mounted the tyre. We don't need to know that anymore. If you buy into ContiConnect 2.0, you can measure tyre rotation.
"Tread depths are also within the technological bounds of our ContiConnect 2.0 sensor. This takes tyre technology to a totally new level. Once we can start measuring tread depths, we are managing other areas regarding tyres. We talk a lot about our intelligent tyres – well, they are becoming super intelligent."
In all these developments, how critical are they in maintaining that differential between mid-range and budget tyres?
"We say that the difference between us (a premium manufacturer) and a budget brand is that you're buying not just a tyre but a package," says Howat. "Once you've bought a Continental truck tyre, you can benefit from a full LODC (Lowest Overall Driving Cost) management system from the cutting-edge technology that maximises the vehicle's performance to the latest in retread technology at our Bandvulc facility here in the UK.  This means that we can service our tyres and customers to the highest standard. It's sustainable, it's innovative, and it's cost-effective."