Michelin presents its whole range of products and services dedicated to transport on the same stand for the first time at SOLUTRANS
Michelin Brings its Full Range to SOLUTRANS 2023
At SOLUTRANS 2023, which will take place at the Lyon Convention and Exhibition Centre (France) from November 21 to 25, Michelin presents its range of products and solutions for the transport sector, thus reaffirming its position as a partner in mobility and offering personalised support to professionals. The Michelin group is the main sponsor of the event, together with the French Federation of Vehicle Equipment Manufacturers, in an edition focused on the energy transition, in line with Michelin's "Everything Sustainable" strategy.
Decarbonisation, digital revolution, new consumption patterns… The transport sector is experiencing rapid and profound changes. In line with its innovative vision, Michelin supports transport professionals to help them optimise their costs, improve their productivity and environmental impact, ensure driver safety and better manage their fleets with a range of products and services that attendees SOLUTRANS can be discovered at stand B080 in Pavilion number 3.
Michelin tyres for transport professionals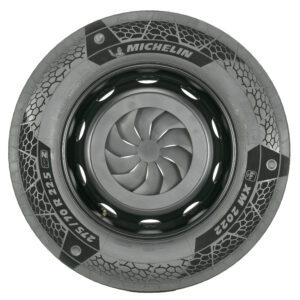 The Michelin group develops cutting-edge products for more sustainable transport. At SOLUTRANS 2023, Michelin will present ranges of tyres developed to respond to the expectations and conditions of use of transporters. These tyres have also been designed to contribute to reducing the environmental footprint, thanks to the Group's technological leadership in rolling resistance, recycled or biological materials, regrooving and retreading:
MICHELIN X MULTI ENERGY: tyres developed for all types of routes that offer optimal fuel efficiency(2) and excellent mileage performance
MICHELIN AGILIS CROSSCLIMATE: the tyre intended for professionals and commercial vehicle users that can be used during all seasons.
These ranges are 3PMSF certified and are regroovable and retreadable (except the MICHELIN Agilis CrossClimate tyre).
Currently, almost 100% of Michelin truck tyres are retreadable
Michelin has always strived to reduce the cost of using its tyres while guaranteeing their safety and durability. Realising that the tread of a tyre wears out much more quickly than the casing, as early as 1923 Michelin decided to reuse the casing through retreading.
In 2022, Michelin plants dedicated to tyre retreading received more than one million casings. With Michelin Remix retreaded tyres, transporters benefit from the same safety, traction and grip performance as with new Michelin tyres.
By 2050, all Michelin tyres will be made from 100 per cent bio-based or recycled materials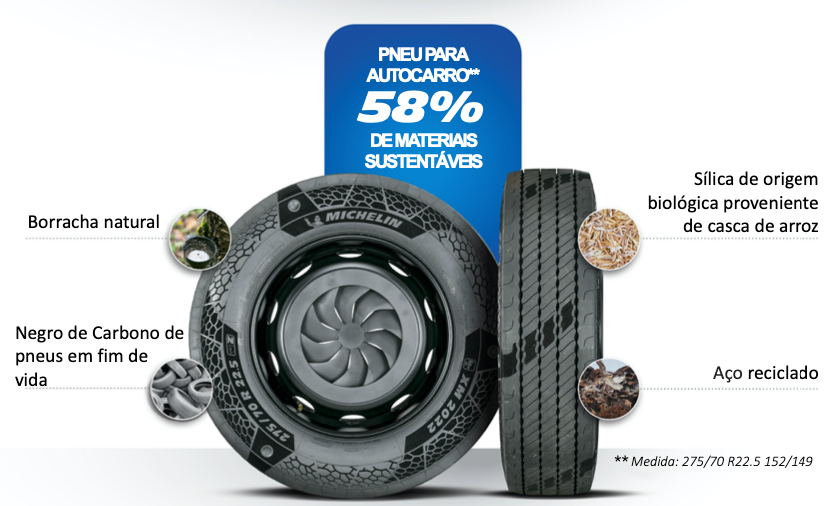 In 2022, Michelin unveiled a world first: a tyre for passenger cars and another for buses with 45 per cent and 58 per cent sustainable materials, respectively, which advance the technologies that Michelin production tyres will incorporate within a period of two to three years. Approved for use on the road, they offer identical performance to current tyres.
The development of these tyres demonstrates Michelin's experience and knowledge in the field of high-tech materials and is an illustration of the Group's ability to achieve its ambitious goal of all its tyres being made from 100 per cent sustainable materials, from now to 2050.
Michelin solutions around the tyre
Michelin Connected Mobility: Michelin's latest innovation represents a great step forward for the Group's strategy and for the sector of road transport. Michelin Connected Mobility is a unique combination of Michelin's expertise in tyres, telematics and algorithms with the Group's knowledge of personalised connected services and solutions. This is a comprehensive offer designed to help the transport sector become safer, more efficient, and cleaner, combining:
Michelin high-performance tyres;
Services for the management and optimisation of tyre performance;
The new predictive maintenance and alerts solution;
Michelin Connected Fleet solutions for connected vehicles for daily fleet management, customer assistance and advice.
Watèa By Michelin, an electric mobility solution for utility fleets, announces a new hydrogen offering. Watèa reinforces its decarbonisation offer through hydrogen, benefiting from the Michelin group's experience in the hydrogen fuel cell market with its subsidiary Symbio.
Other Michelin services and solutions
Thanks to its understanding of use and its extensive experience in tyres and the use of data, Michelin develops increasingly sustainable and personalised mobility services and solutions. The Group thus positions itself as a leader in sustainable and connected mobility, with the objective of zero downtime, zer0 CO2 emissions and 0 accidents. Through its services and solutions, Michelin transforms information into predictive analyses and recommendations that allow customers and users to maximise their operational effectiveness:
Michelin Connected Fleet: Presented at SOLUTRANS 2021, Michelin Connected Fleet brings together all Michelin fleet management solutions under one brand. Michelin Connected Fleet services and solutions provide the tools and information that fleet operators and managers need to easily manage their fleets, improve their operational efficiency and contribute to more sustainable mobility. Today, Michelin Connected Fleet represents around 70,000 customers and 300 million journeys in 17 countries around the world.
Watèa By Michelin: Watèa already has extensive experience in fleet electrification. The operator supplies battery-powered electric vehicles, charging infrastructure, 24/7 maintenance and support, as well as a range of digital services designed to optimise costs and increase customer productivity. The objective of the Watèa solution is to manage the complexity of the energy transition without impacting fleet efficiency.
Michelin solutions beyond the tyre
Symbio, heading towards hydrogen: Symbio is a leading player in zero-emission hydrogen mobility and a leading technological and industrial partner for the pioneers of sustainable mobility. The company combines industry leadership, innovation and business agility to create tailored solutions and help its customers accelerate the deployment of their clean mobility roadmaps.
Owned equally by Forvia, Michelin and Stellantis, Symbio plans to produce 200,000 hydrogen fuel cells (StackPacks – pre-validated and pre-integrated systems) per year by 2030 to accelerate the deployment of clean and environmentally friendly mobility. environment and health.