Hankook has become a leading tyre brand globally, with market success around the world. It has had an interest in ensuring its tyres were competitive in a market led by the big tier 1 brands such as Michelin, Bridgestone and Continental. As the market develops, the whole tyre industry is being driven to meet sustainable goals – in the commercial vehicle sector sustainability almost equates to cpkm, and we have seen this in responses from other manufacturers to the question about sustainable practices. However Hankook's UK TBR manager, John Cottrell takes a different view.
Cottrell: Hankook is an Industry Leader in Sustainability
"Hankook is recognised as an industry leader in sustainability as well as in product performance, innovation, and productivity. We promote sustainability and contribute to tackle current global challenges and environmental issues.
"Hankook has been awarded the "S&P Global Gold Class" by US financial services provider S&P Global in its Sustainability Yearbook 2022, which is based on the S&P Dow Jones World Sustainability Index, widely regarded as one of the world's foremost sustainability indices. The award underlines our ongoing commitment to sustainable practices and ESG management (environmental, social and corporate governance). 2021 marked the sixth consecutive time we have appeared in the Dow Jones World Sustainability Index.
"We are taking the lead in fostering sustainability in procurement of raw materials by participating in a blockchain-based project on the traceability and sustainability of natural rubber. PROJECT TREE by ITOCHU Corporation, an international trading company, is the first step to establishing traceability in the natural rubber industry by using blockchain technology.
"We are working with our supply chain partners to improve the quality of life for natural rubber producers, increase the quality of natural rubber and minimise environmental impact. Hankook tyres manufactured through the project are being sold in the UK market in partnership with Kwik-Fit."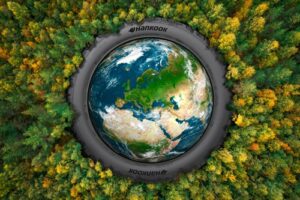 That statement reveals Hankook's clear thought process on sustainability, it starts with Natural Rubber production and all else builds on that sound foundation.
Everyone in the industry is familiar with the concept of retreading as a method of increasing casing life and reducing cpkm. However, not every tyre manufacturer has taken retreading on board as an in-house operation. In Europe Hankook bought Reifen Mueller largely for its retread production capability, but also for its 39 retail outlets in Germany, taking Hankook into the equity retail sector in Germany. In the UK, Hankook's Alphatread were initially manufactured by Bandvulc, until the retreader was taken over by Continental. Now its UK Alphatread production is carried out at Vaculug in Grantham.
"In the truck and bus market we are forecasting strong market growth for retreaded tyres in the commercial vehicle sector – especially for particularly high-quality retreads," says Cottrell.
"This growth is being driven by increasing cost sensitivity and an increasing emphasis on sustainability in the transport industry. These developments prompted us to invest in the industrial production of Hankook's Alphatread retread brand, so we have signed a five-year agreement with Vaculug, one of the UK's largest independent retread producers to offer our fleet and dealer partners a cost-effective and ecological solution. And in Germany, we have built a new hot retreading factory in Hammelburg to meet the increased demand for hot retreaded tyres – enabling us to produce up to 100,000 hot retreaded tyres each year."
Cottrell continues; "The Hankook SmartLife Solutions concept means that all Hankook SmartFlex commercial vehicle tyres are designed in such a way that they can be regrooved, while the high-quality carcass can be retreaded several times.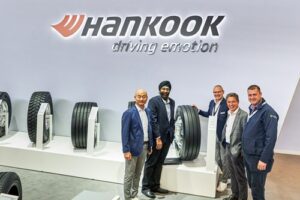 "In November 2021, we deployed new material, design and tread technologies to extend our SmartFlex range of regional haul truck tyres, which is the most significant launch for us in the last 5 years in the segment. We have used a more sustainable, new tread compound, tread design and pattern which will deliver premium performance in all conditions during the whole tyre life. The tread pattern is so detailed we have had to design and use 24 segment 3D alloy printed moulds to produce the tyres.
"These 3D sipes with self-regenerating tread features appear from a wear level of around 70 per cent and ensure continued high traction and wet grip even in wet conditions until the tread is completely worn out.  Intensive testing has shown that, compared to competitors in the premium category, both new SmartFlex products achieve significantly higher performance standards in the lifetime performance chapter, even when the tyres are 2/3 worn, for example in terms of braking distance on wet roads as well as grip and safety in a wide range of road conditions. Hankook's regrooving and retreading Smartlife Solutions allow fleet companies to be able to achieve significant economic benefits."
Further to this, additional base rubber utilised under the tread delivers up to 25% more mileage after regrooving. This means that the Hankook Alphatread hot retreads can deliver up to 100% of the mileage achieved with a new tyre and equivalent performance for around 60% of the cost. Hankook claim that if the regrooving and retreading process is continued in line with the Hankook SmartLife Solutions concept, the service life of a new tyre can be increased to 250%.
As well as these financial benefits, there are also various benefits for the environment. With Hankook's approach, fleet operators save up to 1.6 tonnes of CO2 per vehicle per year. With a saving of around 70 kilograms of raw material per vehicle, the manufacturer is also relieving the strain on natural resources. It would be extremely hard to operate commercial vehicle tyres more sustainably.
Attention turned from retreading to tyre pressure monitoring systems as a route to save on fuel costs, Cottrell adds; "Running tyres that are overinflated or overinflated can waste huge amounts of fuel. With the introduction of TPMS technology, this equipment allows the driver a simple, easy to use method of monitoring the vehicles' tyre pressures, providing that the tyres are set at the correct pressures in the first instance.  TPMS if used correctly offers many benefits."
The first of those benefits in the eyes of Hankook is that of safety. Prevention of a premature tyre failure due to underinflation is an important aspect, given that TPMS gives warning to the driver of an issue with a tyre pressure, to enable the driver to take emergency action and investigate in a timely manner, particularly if a slow puncture develops on a journey. Financially as well, the introduction of TPMS has been proven to save fleets money if applied correctly. With the tyre pressures correctly set and monitored by TPMS, tyres are enabled to operate safely and efficiently in their rolling resistance capabilities, allowing the tyre to perform at is optimum best in regards towards fuel economy and tyre wear. Finally, TPMS benefits the environment by reducing unnecessary fuel consumption. Why? Underinflation impacts a vehicle's fuel consumption, with unnecessary fuel consumption, thus resulting in further CO2 emissions that adds to the pollution levels in the atmosphere.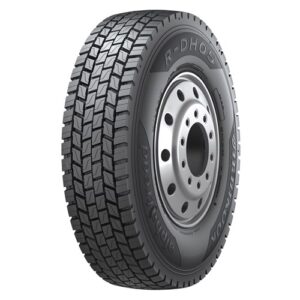 However, TPMS, does not absolve vehicle operators of their responsibility. There is little point in monitoring tyre pressure if the driver ignores the alerts. "It is the driver's responsibility on a TPMS equipped vehicle to ensure that it is operated properly," adds Cottrell.
"TPMS equipped vehicles assist the driver with tyre pressure monitoring safety. However it does not negate the driver away from their responsibilities on regular checking of the tyres pressures, to ensure that that correct tyre pressures are set and that the tyre condition is safe and free from sidewall damage, excessive or abnormal type tread wear and that the tyre tread depth is legal."
Returning to the materials aspect of sustainability, Hankook has a strategy that will see the following policies being developed and implemented over the next 10 years:
80% increase in eco-friendly products used
30% reduction in manufacturing emissions
30% reduction in manufacturing waste
30% reduction in the use of water
"Exemplary of Hankook's commitment to sustainable natural rubber production is our pledge to provide a total of 6,000 litres of formic acid to more than 100 producers in Indonesia. Formic acid serves as an environmentally friendly and responsible coagulant for rubber production that contributes to greater occupational safety and health protection. Other coagulants harm vegetation, contribute to water pollution and can thus threaten biodiversity in wetlands. The tyre industry accounts for around 70 per cent of the natural rubber produced and consumed worldwide, and around 85 per cent of global rubber production relies on smallholders in Southeast Asia," added Cottrell.
"The tyre industry is under unprecedented pressure to produce better tyres – tyres with more mileage, better fuel/lower CO2, higher load ratings, better safety/wet grip and using more sustainable production processes and materials. Technology in materials, tyre and tread design are progressing so fast, a five-year-old tyre is now out of date. Therefore, Hankook is investing heavily in research and development and innovations in tyres.
"Our global R&D centre 'Hankook Technodome' functions as a central hub for Hankook's global R&D infrastructure and connects not only the 5 regional technical centres but also the 'Hankook Technotrac' in Ivalo, Finland. This provides winter testing as well as further premises (Idiada, Spain) for summer tyre testing. With a development centre in Germany, high-end production and state-of- the-art indoor testing in Hungary, as well as its very own winter test facility in Finland, we take an integrated approach to tyre sustainability, development and production in Europe," concluded Hankook's UK TBR manager.