In our sixth part of our Winter Tyres feature, Commercial Tyre Business spoke to Kate Norton, Sales General Manager Commercial Goodyear, UK & Ireland about how strong the UK winter market is, how the legislation differs across Europe, and whether Brexit or Covid-19 has affected the industry.
Winter Tyre Market Small but Important Element for Vehicles During Winter Season
Confirming comments made by other manufacturers, the winter tyre market is a small element of the commercial tyre market within the UK, with sales at around 0.4%. Norton explains that the market has been showing a slow, consistent decline over the past 12 years, with sales focused in Northern England, Scotland and West Wales, although Norton did highlight that this was an "educated guess".
This aligns with those areas having the coldest winter conditions in the country.
The market tends to be a slow-burner in terms of sales and registrations. Norton explained that the last time winter tyres saw a significant boost was over the particularly tough winter of 2010/2011, which saw a growth rate of 14.1% and 16%, respectively. "Since then, however, we have had milder winters, and the market has stabilised," she notes, explaining how the market has continued to decline year-upon-year.
UK winters are relatively mild, meaning that drivers have better conditions on the road during winter than in parts of mainland Europe. However, blocked roads and wet conditions are frequent occurrences during winter. For increased breaking distances, this adds an extra strain on commercial vehicles. Norton explains that fleets should do thorough depot checks for trucks before a major journey, which includes checking tyre tread and pressure, the brakes and fluid levels. She adds, "For large fleets, Goodyear's Drive-Over-Reader can make checking tyres a quick job, by scanning each vehicle as it enters the depot."
To maintain a high level of safety, Norton also suggests the regular replacement of tyres,  explaining that if the tread falls below 5-millimetres, the traction for trucks will be minimal. It goes without saying, but in wintry conditions where grip and traction is vital in slippery conditions, running down your tread depth is recipe for disaster. "Early regrooving can also refresh traction at the start of winter and will make them last longer," she adds.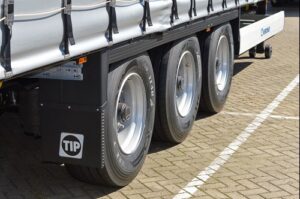 Ultra-Grip Range Keeping Truck and Bus Fleets on Track in Winter
To ensure trucks and buses have appropriate support, Goodyear brought out the Ultra Grip range, which was designed, in part, to maintain traction on icy roads for both trucks and coaches. Starting with the Ultra Grip Coach tyre, the product is focused on the tourism and leisure markets, with the tyre having a high level of traction, great mileage and low noise emission, whilst also being suitable for mountainous and wintery conditions.
For trucks, Goodyear has an extensive range of options in the Ultra Grip portfolio for drive, steer and trailer axles. Norton, however, vouches for the Ultra Grip Max S for UK Roads. The Ultra Grip Mas S is a steer tyre that also functions well on mountainous drives and icy roads due to its interconnected shoulder blocks, lateral shoulders notches and IntelliMax Edge technology.
Besides explaining the benefits of the Ultra Grip range, Norton emphasised the importance of selecting the correct tyre for winter adding, "tyres react differently according to temperature, so specific compounds and tread patterns are needed for different conditions. Our latest generation of KMAX GEN-2 and FUELMAX GEN-2 drive, steer and trailer tyres, all of which bear the 3PMST marketing, are especially developed to optimise traction along the service life."
As mentioned by the Sales General Manager Commercial for Goodyear, UK & Ireland, the products which bear the 3PMSF marking, the KMAX GEN-2 and FUELMAX GEN-2 were designed with wintery conditions in mind. With optimised traction, even at 75% wear for the tread, the tyres also feature specially-created blades that have a "very high level of resistance to tearing, chipping and chunning." The tyres also have low rolling resistance to reduce the vehicle's carbon footprint, offering a higher level of sustainability for the driver.
Looking forward, Goodyear is helping fleets keep moving during winter, having prepared a winter guide to aid drivers on the legal logistics and personal benefits of utilising winter tyres. The guide demonstrates that although winter tyres make up a minuscule share of the commercial vehicles market, Goodyear has the relevant products and support to ensure that drivers feel prepared for a comfortable, stress-free winter.