CAM has been a leader in the field of tyre management software in the UK for over 20 years. It was one of the first companies to make its mark and hold a place in the market whilst others came and went.
Steve Daly Talks Sustainability with Commercial Tyre Business
CAM has developed systems that work and can offer better performance for fleets. Commercial Tyre Business asked Steve Daly, Commercial Director at CAM how the company could help cut costs for the fleet operator?
"The diligent use of our systems such as Fitter-Force and e-jobsheet ensures that tyres are checked/measured for performance characteristics by subscribing dealers. This function feeds the data back to TiDaeX-connected manufacturers which improves the sustainability of their fleet tyre products."
In the early days of tyre management, digital monitoring of tyres produced reams of paper for the fleet manager, and it was not uncommon for the paperwork to be produced to end up filed and forgotten. The idea of tyre management was there, but the execution tended to get tripped up in the mess of paperwork on the fleet manager's desk. Has CAM managed to address that issue of information overload?
"Our systems are paperless," says Daly. "The CAM IT ecosystem has been designed to meet the constantly evolving requirements of businesses such as workshops and tyre wholesalers and retailers to ensure they have the right tools at their disposal in the digital age that will enable them to offer an efficient and professional service from start to finish as well as aiding them in their growth plans.  Tablet technology is at the centre of this.
"The aim of the R&D team has been to develop tools that will provide connectivity to multiple areas of a business, while reducing the amount of paperwork involved to ensure those companies that use software can deal with the digital age and the paperless revolution that has swept through multiple sectors in the last decade with ease. "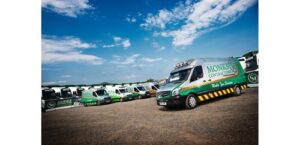 As an example of what was being achieved, Daly referred to Fitter-Force.
"CAM's Fitter-Force™ programme can be stand-alone, but the information it has can be fed into the wider systems that are in place within the CV sector.  With Fitter-Force™, it capitalises on digital technology with the use of tablets that provide operational agility, while removing additional costs and inaccuracies associated with the manual completion of work.  The approach enables CAM to offer a start to finish option, so businesses can view their commercial tyre business operations on a job-by-job basis.  It also incorporates a diary system for effective resources (including mobile fitters) planning for increased efficiency and flexibility, job launch (to the e-jobsheet app), pricing, purchasing, stock control, invoicing, and accounting as well as a full featured point of sale capability and comprehensive views of customer service activities by account.
"When it comes to stock management, this is a core strength of CAM's software and something the R&D team has worked tirelessly on, so that businesses can ensure that no vehicle is off the road for longer than is necessary. This goal has been achieved by ensuring that the job details are transmitted to and from the e-jobsheet tablet app and upon job completion by fitters, this transactional data will be systematically updated into the integrated stock, billing, and accounting system. "
It would be fair to say that fleets have been inundated by multiple products offering a wide range of digital management tools. This could lead to the adoption of multiple, possibly conflicting technologies for the customer.  How has CAM addressed that particular challenge?
Daly explains; "When linking into third party systems, there had previously been too much complexity; too many processes not joined up. However, with fewer moving parts, the process has been streamlined, which leads to the increased efficiency and sustainability that businesses are looking for.  Our customers are dealing with the processing exception rather than the rule."