As we approach the final stages of our Agricultural Feature for 2022, we managed to speak to another leading manufacturer in the agricultural tyre space in Nokian Heavy Tyres. Just under a year ago, we interviewed three key members of the Nokian Heavy Tyres's Team as part of our Agricultural Feature. These same three members: Jarkko Heinamaki (Head of Sales), Tero Saari (Product Manager, Agricultural Tyres) and Pierre Choubert (Business Manager, West Europe) were back again as Commercial Tyre Business quizzed the three on the Finnish manufacturer's ongoing performance in the agricultural sector.
Nokian Heavy Tyres Sales 30% Up on 2021
Head of Sales Jarkko Heinamaki had positive news to report with the Nokian Heavy Tyres
Division performing approximately 30% better in comparison to 2020. Heinamaki referred to it as "a really good year". In financial terms Nokian Heavy Tyres's net sales rose from 194.6 Million Euros in 2020 to 254 Million Euros in 2021. It is worth clarifying that Nokian Tyres's Heavy Tyres department covers agricultural, forestry, trucks and buses, earthmoving and road maintenance, mining, ports and retreading materials.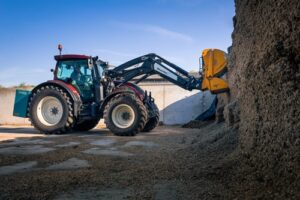 At the time of the interview, Nokian Heavy Tyres saw demand staying strong in the first half of the year with it possibly dropping in the second part of the year. This outlook though predated the Russian invasion of Ukraine and with manufacturing facilities and operations in Russia, the Finnish manufacturer have had to act quickly in order to stay a step ahead of the game, resulting in the original outlook changing somewhat.
With that in mind, the company has responded promptly to the crisis by issuing a statement on their business in Russia with their new tyre manufacturing plant continuing to operate at full capacity and the company switching the production of selected product lines to Finland and the US. In terms of Nokian Heavy Tyres, with all products produced in Finland, covering the previously mentioned applications, the production of their agricultural products will remain unaffected by the conflict. Besides its operational actions, in a communication released on March the 8th, the company explained that it had activated its contingency plans to mitigate the financial and operational impacts to the business.
The impact has been further mitigated by Nokian Heavy Tyres investment of EUR 70 million in its production and product development facilities, which enabled the production of commercial tyres to be increased by up to 50% and more than double the number of new products produced. This approach to research, development and investment has put the company in a good position to navigate the crisis as well as other market turbulences we have seen in the past few years.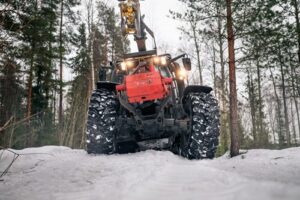 No New Product Updates on the Horizon, but Product Development and Diversification Process Well-Underway
Conversation soon moved to the product front, and whilst the team highlighted that there were no new agricultural product innovations to promote at this point in time, the manufacturer remained committed to researching and developing high quality agricultural products and had plans afoot for new product launches in the near future. Tero Saari, the Agricultural Product Manager for Nokian Heavy Tyres added, "There are no new updates on the immediate horizon, but plans are underway to further diversify our product offering in the future."
The product at the forefront of the Nokian Heavy Tyres portfolio is the Nokian Ground King, which was designed with high performance in mind. The product performs well in transits and road transport and plays a major role in tractor contracting work, while all-terrain mobility and effective power transfer to the ground are a key performance criterion on fields and work sites.
The tyre includes the manufacturer's HybrilugTM technology which delivers all-terrain mobility and traction combined with high levels of comfort and precise handling response on road transport. The Nokian Ground King's wear resistant tread compound in the pattern offers extended ground contact area compared to the standard traction pattern and helps deliver enhanced hours of operating use.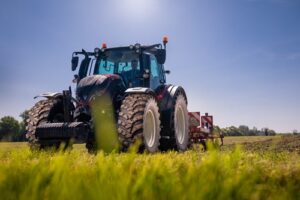 Energy Efficiency Increasingly Crucial in Agricultural Tyre Development
It has been apparent in this year's agricultural feature in the same way as last year's, that VF and IF technology remain a core component of a premium tyre manufacturer's offering and Nokian Heavy Tyres don't see that trend abating anytime soon. Saari reiterated what is commonly known in the agricultural tyre sector, namely that the growing registrations of high horse-power, heavy tractors and high-capacity tankers alongside the constant need for operational efficiency combined with the need to minimise soil damage meaning that VF technology will continue to play a key role for the leading agricultural tyre manufacturers across the board.
Saari added, "I expect this trend to continue for the next 5 years purely due to the drive for productivity."
Saari did muse on the importance of the energy efficiency of the tyre and its increased significance in the light of soaring energy and fuel prices.
"An area of growing importance is the energy efficiency of the tyre. We have all seen what is happening in the energy market with rising fuel prices. Besides that, the OEMs have had high demands for efficiency for a long time. All of this will have more of an impact for end-users who are doing a lot of logistics work in agriculture."
It is worth noting that energy and fuel prices were rising anyhow, with Reuters reporting in January 2022 that a think tank had reported that UK households struggling with energy prices would triple as prices were set to increase by more than 50% in April 2022. However, the ongoing impact of Western sanctions against Russia and a commitment to reduce the EU's dependence on Russian oil and gas imports will only seek to push this issue Saari underlined to the forefront of the consumer's mind.
And how are Nokian Heavy Tyres looking to deliver on the energy efficiency front? Compound technology, the design of the tyres and the technology supporting the tyre are all key considerations. Additionally, with tractors being more and more on the road, tyres such as the Nokian Ground King also need to focus on rolling resistance in the same way that passenger and commercial vehicle tyres do.
Saari summarised, "Our strategy is to look at the end segments and serve both specialised and diversified operations with our premium performance tyres, and we will continue doing our part by driving industry evolution by bringing to market products that have added value in efficiency, economics of work and economics of safety."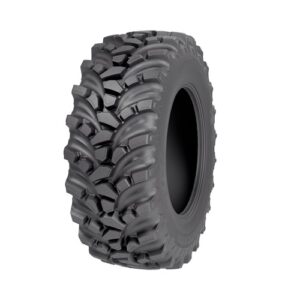 Nokian Heavy Tyres Looking to Innovate with their Marketing Activities
We finalised the interview by discussing the continued cancellations and postponements of trade fairs that we were witnessing as Europe still wrestles with the final waves of COVID variants as Agritechnica was postponed until the 18th of November 2023.
The biggest question mark for Nokian Heavy Tyres was more the value and return of investment that the manufacturers were receiving from attending these events. Choubert went into more detail on this, "What is of real interest is how to measure results, considering the huge costs. We have already seen some major OEMs switch to attending local events with a dealer to have a more flexible approach."
You can image the costs for a tyre manufacturer in building and preparing the stand, as well as taking the team there. The costs for the event are huge and maybe a positive of the pandemic has been that it has forced us to review our strategy somewhat."
This review of their strategy and an opportunity to do things differently was confirmed by Jutta Rekimies, the Marketing & Communications Manager for Nokian Heavy Tyres who explained that the company is seeing this as a chance to think "outside of the box". She explained, "I think that now is a really good opportunity for us to employ an even more innovative approach. Of course, reaching the end-user is a high target for us, but where and how can we do that?
"We have some great plans in place, and some projects are underway such as the work Pierre is doing in central Europe with influencers, which is a great example of how we are trying out new things."
A further example of this approach is illustrated by the fact that Nokian Heavy Tyres's product portfolio is already available in the hugely popular Farming Simulator video game series, allowing the manufacturer to reach a new, younger audience and give potential clients an opportunity to interact with the brand virtually as a first interaction.
Whilst Nokian Heavy Tyres are clearly looking to innovate their marketing activities and interact with potential clients in unique ways, the company stressed that it is an overall mixture of different actions that will help them reach the end user.
Whether it be with their marketing activities or their product line, Nokian Heavy Tyres are committed to create unique products and experiences to deliver at a premium level in the agricultural space. We look forward to seeing what they have in store in 2022.