Michelin has developed MyTechExpert, a new, free app for tyre dealers and fleet operators, which is now available for download for iOS and Android devices. This gives users access to the latest technical information on Michelin bus, coach, truck, trailer tyres, and selected tyres for vans via their smartphone.
Michelin MyTechXpert Launched
The Michelin MyTechXpert is a further digital development of the well-known technical brochure from Michelin – a reliable compendium on commercial vehicle tyres for decades. "The app was developed both to get one step closer to Michelin's sustainability goal and to meet the wishes of our customers. We wanted more than just an electronic copy of the previous technical brochure. Therefore, the app must offer real added value for customers. One of the great advantages is that it is up-to-date because the data and information in the app are always up to date," says Markus Bast, Managing Director & Director Sales B2B DACH at Michelin.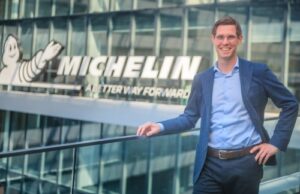 The Michelin MyTechXpert App contains hundreds of high-quality reference images. Users can zoom into these to see specific details. "This is very helpful, for example, to compare damage or irregular wear and tear with the extensive Michelin image database," says Bast. Key information in the app includes full specifications of more than 200 Michelin commercial vehicle tyres – from the smallest 6.00 R 9 Michelin XTA trailer tyre to the largest 525/65 R 20.5 Michelin XS tyre designed for heavy trucks on soft sand. The detailed information includes size information, tyre pressure recommendations, data on the EU tyre label and – if the product is intended for this – also information on regrooving.
The app also provides handy step-by-step instructions for a detailed tyre inspection. This helps users identify tread, sidewall, inner liner and bead wear and damage – and understand the likely causes. Users also have full access to comprehensive advice and support related to safe tyre fitting, winter regulations and country-specific tyre legislation. The app also contains a practical tyre selection tool that supports dealers and fleet operators in finding the best tyre for every application – all with detailed descriptions and pictures, of course. Michelin continuously updates the app with new functions and features developed together with dealers and fleet operators.