Commercial vehicle wheels are perhaps not the most dynamic market sector for development – there are after all, only so many variations on a wheel to carry a conventional tyre that can be re-worked
Maxion Wheels Seeks Carbon Neutrality with Greener Sourcing
Commercial Tyre Business asked Maxion Wheels' Stan Mommers, the company executive sales director, commercial vehicle wheels, about the latest trends in truck and bus wheel design.
Mommers responded; "The biggest trend in truck and bus wheel development now is carbon neutrality.
"Collaborating closely with our customers, we have two highly active approaches. One is wheel lightening. This is not new, but the emphasis is greater than ever as our customers work to reduce their carbon footprints.
"We recently launched our next generation of lightweight steel truck wheels, with a weight savings of 3 kg across the wheel line up.
"The second approach is the procurement of "green" raw materials. Together with our supply base, we are committed to responsible sourcing of raw materials with the first low-carbon steel options now available. "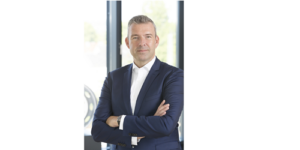 So, Maxion is chasing carbon neutrality through reducing the weight of its wheels and identifying more environmentally friendly raw materials. The balancing act here is one of finding the right "weight" of wheel that does not detract from its strength, and at the same time balancing the costs of a "greener" materials feedstock with the market acceptance of the costs.
Commercial Tyre Business wondered if there was a drive towards lighter wheels from the fleets and the OEMs. Was there a differential between bus and truck fleets?
Mommers  explained; "Our close work with our customers includes regular, cross-functional development discussions, of which the main focus has been, and continues to be, on reducing weight.
"We believe bus fleets will be faster in their adoption of electrification, as the commercial fleets continue to focus on efficiency and vehicle productivity.
"In either application, selecting lighter, cost-effective wheels is a simple optimisation that unlocks a lot of additional value. With electrification around the corner for commercial vehicles, weight will remain a critical priority. Also, with the recent acceleration by OEMs to set CO2 neutral goals, our cooperation with customers has only increased. We align our carbon neutral roadmaps and together define which key actions will move us closer to the common goal."
So, it might be said that there is a synchronous development of new wheel designs and applications between the wheel manufacturer and the market. This is clearly the way forward for the automotive industry where increasingly the manufacturers are assemblers of component parts.
In that light, there must be challenges that Maxion faces in meeting market needs and developments?
"The key challenges facing wheel manufacturers are balancing the need to innovate and reduce carbon emissions with managing in a very cost sensitive environment, "says Mommers; "And today's costs are higher than ever. Higher costs such as utilities are not the only cost factors impacting our business, so are labour, freight, packaging material, and so on.
"With our focus on providing cost-competitive, sustainable innovative solutions, we are approaching these challenges with a keen eye on managing today's costs while collaborating closely with our customers to fairly compensate so we are all positioned well for the future."
With this drive to carbon neutrality and green sourcing, what does the latest wheel offering from Maxion have for the market?
Mommers responded; "The latest wheel Maxion Wheels is offering the European truck and bus market is the next generation of lightweight steel truck wheels.
"Launched during 2022 IAA Transportation in September, Maxion Wheels is supplying the lightest 22.5" steel truck wheel into the European market.
"Coming from a wheel that weighed about 40 kg a decade ago, to our optimised design weighing close to 30 kg, we can continue reducing weight, generation after generation, because we are enthusiastic about engineering, avoiding unnecessary costs and supporting our customers with achieving their efficiency and sustainability targets.
"In addition, Maxion Wheels will enlarge its commercial vehicle wheel portfolio by starting forged aluminum wheel[3] production in second half of 2024. The new aluminum addition allows us to offer a complete range of wheels, ready for any application, in any market."