Guy Heywood, VP of Marketing Strategy For Hankook Truck and Bus Europe talks about the company's approach to EV bus tyres
Guy Heywood Interviewed in our Latest Feature
Hankook's Heywood jumps straight into the matter by acknowledging that EV commercial and personal vehicles are generally heavier than traditional ICE-powered vehicles. This extra weight is mainly due to the weight of the battery cells. "Because of this weight and also some other changes in vehicle characteristics, EV-designed tyres are different from the ICE vehicle range of products," says Heywood.
The four key requirements in addition to the traditional tyre requirements are:
Weight / load rating is generally higher which is achieved by modifications to the casing design and / or changes to the tyre's construction
Also EV vehicles require the tyres to have low noise ratings (no noise from the engine so tyre/road noise is more apparent in EV vehicles)
Low rolling resistance (the main consumer concern with EV is anxiety about the vehicle range in km/m so lower RR tyres means more distance travelled for each battery charge)
High torque and braking force capability (EV vehicles accelerate much faster than traditional engine-powered vehicles and the extra weight also means higher braking forces)
Hankook's Global Development Team explains that Hankook is developing new belt structures and profiles to minimise bead deformation during torque application. That is a key design parameter to address the additional torque and weight of an EV bus. Then there is the issue of road noise; heavier vehicles can create greater road noise, and here Hankook's team are working to minimise road noise by applying a design that effectively disperses tyre noise through an optimised pitch sequence and an ideal arrangement of pattern blocks.
The moulds for these tyres are 3D printed, and they create a tread that has an optimised pattern stiffness design and uses new materials for the T/D and casing. The Development Team says; "We respond to high torque and braking force conditions by enhancing traction performance whilst providing unprecedented rolling resistance."
Heywood adds; "In Hankook, we are deploying all of the latest available technologies (AI-aided design, Digital twin tyre testing, 3D printed tyre tread moulds and new materials science) to meet these EV vehicle criteria in our new ranges of Hankook iON and eSMART tyres (iON is the range name for Passenger car tyres and e SMART is the range name for EV Truck and Bus tyres)."
It is clear that Hankook is taking the design of its EV tyres seriously and that it has solutions to the vehicle-related issues, but increasingly environmental impacts have a bearing on vehicles and tyre design. One area of concern is that EVs, being heavier than their ICE counterparts, create a higher level of road damage, and greater tyre road wear from EVs.
"Early studies suggest that tyre wear rates are faster on EVs," says Heywood. Although, the tyres used for these tests are not specifically designed for EVs – we are still at the early days of the EV tyre market."
The increased torque and braking forces could lead to an accelerated wear rate on EV tyres according to Heywood and create greater tyre road wear particles (TRWP), an issue that the tyre industry is now taking very seriously across the Tire Industry Project.
Heywood explains; "The solution to this issue lies in the design of EV-specific tyre ranges which meet all of the usage requirements for EV vehicles and also which deliver long-lasting performance (From the 1st to last mm of wear). Hankook has invested significantly in technologies to enable 20% improvements in tyre mileage life and also at the same time reduce tyre rolling resistance by 15% or more (compared to previous generations of Hankook TBR tyres). These stepped improvements in performance are enabled by advances in materials, tyre production processing, tyre AI aided design and also 3D printed tread moulds."
These higher performance requirements from EV tyres have to be met with improved materials use. Across the tyre industry, there are now sustainability goals that aim to see 100% sustainable tyres using higher levels of recycled materials. One of the barriers to the use of recyclates in tyres has always been the argument that recycled materials such as recovered carbon black, or devulcanised rubber do not have the same performance qualities as virgin materials.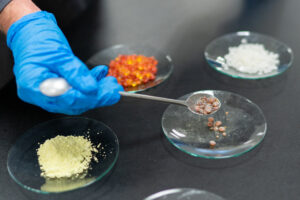 Here, Hankook is amongst the number aiming for that 100% sustainable tyres by 2050. Heywood says; "Already we are delivering tyres with 30% sustainable materials for commercial vehicles. As we progress, we will replace existing materials with more sustainable products and ideally, better-performing materials.
"Recycled carbon black and recycled rubbers are already used by Hankook, and they are part of our tactical plan to reach that 100% sustainability target by 2050."
It isn't just a question of substituting materials though. "We combine these new materials with optimised AI design, 3d Mould printing and so on; the combined results are significantly better than the previous generation of tyres," adds Heywood.
Hankook offered its iON range of tyres for summer and winter in 18-inch to 21-inch at the end of Q1 2022, and since then more products have been launched. These were the first range of Hankook products in the market which had been specifically designed for EV consumer vehicles.
For the Truck and Bus market in Europe, Hankook recently upgraded its ICE range of tyres with ever-improved rolling resistance and also extra load rating, so today EV vehicles can use these tyres without significant compromise in performance, according to Hankook.
"We adapted the casing design for our AU04 product to increase the load rating during 2021 in anticipation of the launch of EV passenger service vehicles (AU04+)," clarified Heywood.
Simultaneously, Hankook is now developing its EV-specific tyres, the eSMART tyres for the truck and bus sector. These will be led by passenger car versions, as currently, the European EV car registrations are running at 30% of all new deliveries. "We anticipate several new eSMART product launches in 2024," adds Heywood.
As far as the use of the EV tyres is concerned Heywood explains; "Thanks to the use of advancing technologies we have targeted the performance of the new product to be higher than the AU04+ in terms of rolling resistance and also mileage.
"So, the CPK rates for these EV tyres should be the same as the rates for conventional tyres.
"This has to be tested in real-world conditions before we can be sure of the actual costs per km for these new ranges, but our internal testing suggests that it is possible to deliver better performance despite the more demanding usage conditions."
Higher torque and braking forces all take their toll on casings and given that retreading is a key element of whole-life costs for fleet operators, the question arises; does the additional weight, torque and force impact the retreadability of the EV tyre?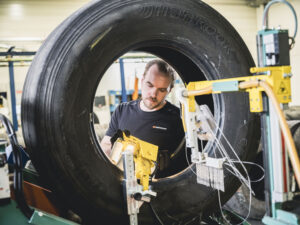 Whilst the big four tyre manufacturers have fully embraced retreading for many years, making it part of their fleet offer to reduce cpk and now to present improves sustainability. Hankook was one of the "next generation" of tyre manufacturers to embrace retreading with its Alphatread. It now has its own retread operation in Germany through its purchase of Reifen Mueller in 2018.
Heywood says; "All Hankook tyres are designed for regrooving and retreading. This means we add extra tread rubber underneath the original tread for regrooving and also a reinforced casing design to allow for multiple remoulds. "
Hankook launched its Smart Life strategy in 2021 to help educate fleets to the benefits of multiple use of a casing. It also invested heavily to increase its hot-cure retread capacity with its 100% ownership of Reifen Mueller, one of Germany's largest tyre retreading operations.
Hankook now has 17 SKU and five production sites across Europe and has increased its retread sales by 400% compared to 2022 year-to-date. "The casing and tyre construction for an EV tyre is different to a traditional ICE tyre; as I mentioned above the usage conditions are more demanding so generally the casing is stronger, explains Heywood.
"This means EV tyre casings are even more suited to hot-cured (bead to bead) retreading than their ICE equivalents."
The eSMART TBR range has not yet been launched, so given the policy of following the new tyres with Alphatreads, there should be around a 12 month delay before eSMART tyres start to be retreaded, but Hankook anticipated an eSMART retread launch by late 2024, or early 2025.