For Part 10 of our Agricultural Tyre Feature, Commercial Tyre Business touched base with Pete Robb, Marketing Director for Continental Agricultural Sales. As one of the manufacturers very much at the forefront of research, development and innovation in the agricultural sector, Continental's insights into the current state of the agricultural market are extremely valuable. Besides this, we also endeavoured to find out more regarding the role conferences could play within the sector in 2022 and how the manufacturer is harvesting technology to make changes for farmers.
Continental Confident Its 10-Year Warranty a Sign of Confidence, Durability and Quality Production
Continental has entered 2022 on the wave of momentum that can only be generated by a new factory and a market leading 10-year warranty. With the new factory, an updated range of tyres, including original equipment, and a 10-year warranty on its products – an undeniably intensive period for agricultural tyres, it's evident to see that the manufacturer is well-positioned to build on its longevity in the sector. Underpinning this offer, according to, Continental is a close customer strategy whereby their team will get out and visit their clients to investigate how their products are performing, which not only helps the manufacturer to market the tyres better but understand the requirements set by farmers to operate more efficiently.
With agricultural vehicles needing sturdy tyres for tough terrains on and off the road, Continental has focused on a tyre that seals the deal for farmers. Continental's CompactMaster AG tyre, which is suitable for telehandlers and skid-steer loaders, is an important tyre for its portfolio. Suitable for material handling work, the tyre was researched, designed and developed in its Lousada, Portugal base.
During the development stage, Continental focused on a tyre that could withstand hits and knocks on the road and offer optimum performance in the field. Explaining the tyre's attributes, Robb explained, "It is a reinforced tyre with a hard shell and a more flexible steel wire construction to help prevent cuts and damage, whilst offering greater stability for materials handling work."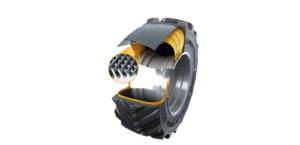 He added that this tyre took years of research and development by Continental's specialist agricultural team, "The new twisted steel belt construction has a unique Turtle Shield layer beneath the rubber to protect the tyre shoulder area from damage. Its wide tread and lug widths are designed to maintain better traction while making for self-cleaning properties at the same time," Robb noted, "The CompactMaster AG is also capable of operating at speeds of up to 50 kilometres per hour."
During last year's Agricultural Feature Commercial Tyre Business noted an increasing trend towards utilising technological solutions within the sector, be it from industry innovations or through VF tyres. An extension of this trend was seen last year when Continental announced that it was actively working to produce its patented polymer technology for agricultural tyres, Agro ContiSeal that would, like the CompactMaster AG tyre, aid products in being able to better withstand cuts from shrapnel damage and sharp objects to the surface of the tyre.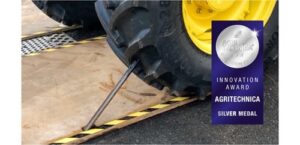 "Agro ContiSeal is a patented polymer applied to the inside of the tyre to seal punctures caused by foreign objects. It enables the vehicle to continue working even after a puncture from an object up to 12mm in diameter," Robb explains.
"The sticky polymer helps cover the puncture to prevent loss of pressure and keeps thetractor on the road, avoiding costly downtime and additional costs later on."
Although the technology is still in development and is not yet available on the market, Continental was thrilled to gain a Silver honour from The Deutsche Landwirtschafts-Gesellschaft for its Agro ContiSeal technology from the Agritechnica Innovation Awards 2022, which shows that industry insiders are looking closely to the attributes of the technology concerning tyre maintenance and protection.
Conferences a Key Return to Form for Agricultural Segment
Having made innovations in both its tyre range and products portfolio, Continental is naturally ready to talk to its customer base. As reported in Commercial Tyre Business, the cancellation of Agritechnica appeared at first to be a repeat of the uncertainty in 2021. However, with LAMMA pushing ahead for its 40th anniversary, albeit, at a later date, there is no longer a sense of deja vu for the sector, like in 2021.
Continental confirmed that LAMMA going ahead is great news for the sector, with the manufacturer confirming its attendence. At LAMMA, Continental will showcase its products while fielding questions on hot topics within the sector, including soil health, the correct tyre pressure and sustainability tips and suggestions. It is these items though, where Continental is focusing its main marketing investment as Robb explains, "Our main marketing investment is to ensure farmers see the benefits our tyres can have on soil health and how, with the right tyre at the right pressure, they can improve yield and farm more sustainably."
Away from the special buzz that trade fairs generate, on a day-to-day level, Continental ended our feature special with words of advice. With a market buzzing with high demand, supply will be, in the words of Robb, the biggest hurdle for this year. Supply chain order issues proved a thorny element in 2021, with external factors plaguing the market. To farmers wanting a streamlined process, Robb is unambiguous in his advice – customers should get their orders in early. And with that note, it's clear to see that, as we saw in 2021's recovery, 2022 looks set to be a flourishing year for the sector too.