Continental is one of the leading tyre manufacturers and has a reputation for being at the forefront to tyre technology and this continues to be the case with EV tyres.
Hinnerk Kaiser from Continental Interview on EV Truck and Bus Tyres
In setting the starting point for this discussion, Continental set out the reasons for the use of EVs and the need for changes in tyre technology.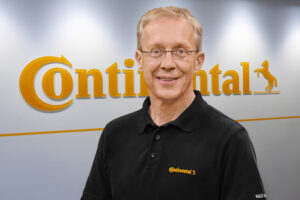 Hinnerk Kaiser, Head of Product Development Truck Tires EMEA told Commercial Tyre Business that electrification of drive technology leads to a change in emphasis on tyre characteristics. Wheel loads and thus inflation pressures are changing. Axle load distributions shift. Higher load indices may become necessary depending on the vehicle. All of these factors need to be taken into account development.
Kaiser adds; "At the same time, it is important to use the battery storage efficiently by maximising vehicle range and thus minimising tyre rolling resistance. This benefits both reduced energy consumption and increased vehicle range. New vehicle concepts can also mean changed centre of gravity positions and torques or drive forces at the wheel. These are thus potential challenges for tyre properties such as abrasion resistance. Especially with regard to optimised rolling resistance, Continental has many years of experience with consumption-optimised tyres and a leading position among the competition."
There are reports of road damage due to the heavier electric vehicles in use and the higher torque and braking forces resulting in increased stress on road surfaces. On this point Continental argued that there was currently insufficient data available to make any informed comment.
One area where Continental is taking the lead, and we are aware of its use of some recycled elements, from both internal recycling and external suppliers of recyclates.  However, there is always an argument from technical developers that the use of recycled materials has the potential to reduce performance.  Given the additional requirements of EV tyres, Commercial Tyre Business wondered if the development of EV tyres created more barriers to the use of recycled materials.
Kaiser responded; "Continental is working tirelessly to advance innovative technologies and sustainable products and services throughout its entire value chain, from sourcing sustainable materials to recycling end-of-life tyres. By 2030, the premium tyre manufacturer aims to have over 40 per cent renewable and recycled content in its tyres. Continental continues its drive towards 100 per cent sustainable materials in all its tyre products by 2050 at the latest."
This response gives nothing away regarding the use of recycled materials in new tyres, For more information of this element of the tyre industry, visit Commercial Tyre Business's sister publication Tyre and Rubber Recycling.
Continental already has products available for the EV sector, in particular the Conti Urban city bus tyre. Kaiser told Commercial Tyre Business that the entire current tyre portfolio for commercial vehicles can be used on electrically powered vehicles. "For example," he said, "With the Conti Urban city bus tyre, for example, we have developed a tyre especially for electric buses in city traffic with an increased load index. The tyre's load-bearing capacity is based on the increased vehicle weights of electric buses. For example, the Conti Urban HA3 315/60 R22.5 can carry up to eight tonnes per axle."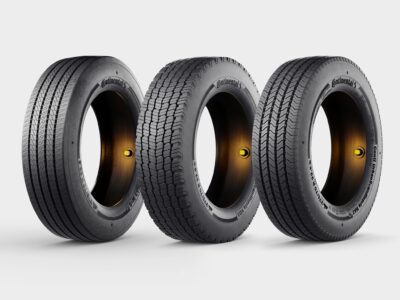 The Conti Urban H3 offers a wider tread width ensuring excellent cornering stability under urban driving conditions; high density interlocking sipes for excellent wet grip and is labelled for all weather capability (M+S) with top performance on dry and wet roads.
"In numerous cooperations, we develop tyres with the latest technologies for the start of series production of electric vehicles together with our customers, the manufacturers of commercial vehicles and bus operators." Though Kaiser refused to be drawn on the current market share or any differential on CPK strategies for EV tyres.
Continental made a considerable investment in its Stocken retread plant, and recently bought the UK's Bandvulc, one of the UK's biggest retreaders, which is now branded as a Continental facility. So, it should only be expected that Continental will be looking at the retreadability of EV tyres.
Kaiser explains; "All Continental truck tyres are developed and manufactured to be retreaded. Generally, every Continental casing qualifies for retreading, if the casing's condition complies with Continental's inspection requirements and those of our partners. Retreadability of a carcass depends on the use of the tyre in the intended application and proper maintenance. As we cannot control these factors, we cannot guarantee retreadability [of a casing].
"A worn Continental truck tyre that has been professionally retreaded with Continental's advanced hot or cold retreading solutions performs very similar to a new Continental tyre. "By exploiting the possibilities of retreading instead of only buying new tyres helps saving resources and produces less CO2 emission. A retreaded tyre saves 70 per cent of the materials required to manufacture a new one, therefore significantly reducing the impact on the environment."