Brand Finance has released its 2021 ranking reports for the global tyre sector, which details the most valuable brands within the industry. The rankings are calculated by evaluating the strength and value of the brands competing within the sector.
Michelin Maintain Position as World's Most Valuable Tyre Brand
The 2021 rankings have taken a very similar look to those of 2020 with the same manufacturers occupying the top ten spots. The only noteworthy change in terms of position sees Sumitomo Rubber Industries, famous for the Falken brand leapfrog Linglong Tire into ninth position.
The full classification can be seen here: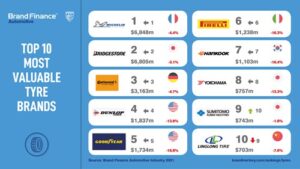 The main takeaway from 2021 brand valuations can be exemplified by the average 9.8% decrease in brand valuation across the board. Not one brand saw an increase in brand value from 2020-21. There are no prizes for guessing the main reason for that. With lockdowns seen across the world far and wide and working from home becoming more and more prevalent, it is fair to say that this will continue to have a noticeable impact on particularly passenger car sales and tyres as well.
Goodyear maintained their position in fifth position in the rankings, but saw a near-17% decrease in their brand value. Besides the COVID pandemic, Goodyear were also a target for ex-President Donald Trump in one of his twitter outbursts after he tweeted "Don't buy GOODYEAR TIRES – They announced a ban on MAGA HATS. Get better tires for far less." According to the New York Times, Goodyear's stock fell as much as 4% following Trump's tweet.
Goodyear weren't the only ones to lose out though as Pirelli and Hankook also saw 16% drops in brand value as well. With high value sponsorships and contracts for Pirelli and Hankook in both Formula 1 and Real Madrid (amongst other sports properties), it is intriguing to see such a drop-off at a time, when consumers were confined at home with sport a huge outlet for escapism during lockdown-life.
Sumitomo Rubber Industries were the least affected from 2020 to 2021 seeing a decrease of just under 2%, which is intriguing considering the 14% drop-off in the Dunlop brand. Michelin, Bridgestone and Continental, who all found themselves at the top of the rankings for a fourth consecutive year saw decreases of between 3 to 5%.
Bridgestone's lack of impact is a curious one in terms of brand value, considering their status as a Worldwide Olympic Partner and the postponement of the 2020 Olympics. The company still continues to support heavily prominent Olympic athletes such as Allyson Felix, Lutalo Muhammad, Christophe Lemaitre aiding their brand exposure.