For the fourth part of our Winter Tyres feature, Commercial Tyre Business spoke to Tony Stapleton, the UK Head of Group Fleet Sales at Continental about how legislation across Europe is driving changes in winter tyre production, as well as how the UK winter tyre market is more closely aligned with Europe than first expected.
Continental Ensures UK Fleets are Prepared for European Roads
The conversation began by looking at the UK winter truck and bus tyre market with Continental arguing that winter tyres are a deceptively small share of the market. "In the UK, winter represents only a very small slice of the overall truck tyre market, because aside from areas that suffer from the most extreme UK temperatures, bouts of extremely cold weather are rare. Winter tyres are on the whole fitted by exception, for example during unexpected harsh winters, and these are usually location-based," Stapleton explains.
Looking further afield into Europe, the legislation differs from country to country. Continental anticipated the lack of ease for drivers trying to make head or tail of each country's legislation by recently publishing a European winter tyre regulation guide, which helped benefit UK fleets travelling through various countries.This country-by-country guide lists seasonal tyre regulation changes as required across Europe and is of great help to the many UK based fleets for whom European travel is commonplace.
Stapleton, the UK Head of Group Fleet Sales for Continental explained that the UK, like Denmark, Italy and the Netherlands, does not have any mandatory policies when it comes to fitting winter tyres. However, Austria, Germany and Spain have introduced new legislation to tackle the question of winter tyre safety. Meanwhile, France and Norway have amended their legislation to incorporate newer, tougher winter regulations this year, something drivers can expect to occur more frequently as countries see the benefits of enhanced safety on the road.
One specific rule change in now explicitly refers to the use of the 3PMSF marking instead of only the M+S marking which affects passenger cars as well as commercial vehicles. The regulation states that from November 1 until March 31, at the discretion of the individual "départements", winter equipment stipulations apply on certain roads signalled by the road signs B26 [snow chains mandatory] and B58/B59 [winter tyres mandatory]: Trucks without trailers and buses must carry snow chains for fitment on at least two driven wheels or have at least two steered wheels for the main steering system and at least two driven wheels fitted with tyres in M+S and 3PMSF marking (until 01.11.2024 tyres with either M+S or 3PMSF specification are still accepted). This regulation is applied at the discretion of local authorities and is just a small example of the difficulties fleets face in ensuring their vehicles comply with the legislation of winter tyres across European states.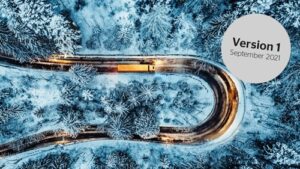 Continental understood that each country having a different policy would be confusing for fleets when choosing an appropriate winter tyre. This was how the Tackle Winter with Confidence guide was born, or as Stapleton puts it, "Providing the useful tyre know-how for the winter season."
Continental Scandinavian Generation 3 Tyre Line, a Solid Partner in Wintry Conditions
Returning to the UK market, Stapleton explains that the tyre range that Continental thinks is most apt for the market is the Continental Scandinavia Generation 3 portfolio which consists of the Conti Scandanavia HS3, HD3 and HT3. Developed for a broad range of road surfaces, its high level of traction and all-weather and temperature conditions translate to a long lifespan for customers. As the tyre range has optimised compounds, this generates a solid grip on snow, ice and general wet conditions without affecting the durability of the tyre's tread.
Additionally, the lowered rolling resistance maintains the tyre's flexibility in extremely low temperatures. The two-stage siping technology will also reassure drivers, as skidding is one of the most common problems for winter driving.
Equally relevant, the tyre has high levels of sustainability, as the optimised filler and oil content helps the tyre wear better throughout the year. With an all-season approach, Continental has seen the possibility of a tyre that suits the year-long needs of drivers while not compromising on the necessary qualities that a winter tyre must have for a tough winter, in both the UK and in Europe.
Stapleton adds, "The Scandinavia line from Continental is a safe bet for all axle positions and sizes. This product line does everything required of a specialist tyre for extreme winter use. But it also safely covers all the bases as an all-rounder for the variety of conditions presented during the winter months."