In our latest retreading feature, Commercial Tyre Business spoke to Tony Stapleton, Head of Fleet Sales at the Continental Tyre Group about how the mindsets of fleet managers are starting to change in the industry, the synergies between Continental and Bandvulc and what customers need to do to ensure they maximise the potential to retread their casings.
How Continental and Bandvulc Work Hand-in-Hand to Ensure a Constant UK Retread Presence
Continental and Bandvulc are a team working very much in sync. When Continental acquired Bandvulc, they were already actively catering for the retread market with their ContiLifeCycle programme, where they offered tyres under the ContiRe programme. Bandvulc was a markedly successful strategy step for Continental in ensuring a UK base to manage large fleet contracts.
Under the Conti360° network, Bandvulc and Continental offer tyre contract management, maintenance scheduling, casing management and roadside recovery. The attractiveness of the offering can be identified by Continental renewing contracts above UKP 10 million in the last 12 months from a mix of logistics, retail, rental and contract hire and waste and recycling customers.
Since the start of the ContiLifeCycle programme, the key benefits have been the programme's selling point. The hot retreading process used to mould the tyre is more or less identical to a new tyre. With the same profiles and compound mixes, Continental exclusively uses Continental retreaded bead to bead casings to renew the sidewalls while making the tyre regroovable and therefore taut and adaptable.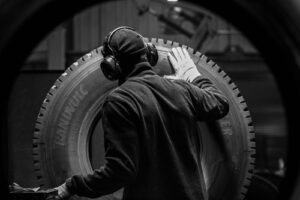 Explaining the benefits, Tony Stapleton of Continental said of the ContiLifeCycle programme,  "it reduces on resources such as natural rubber, which underpins savings of around 70-80% CO2 emissions, which gives retreads their unique point of difference." By having Bandvulc as part of the brand, Continental now has 100 different retread patterns and sizes in the plant's UK base aimed at all types of commercial vehicles.
Before joining Continental, Bandvulc started production in 1971 and had a weekly retread production of a mere 30 tyres. Celebrating 50 years of production this year, Bandvulc now produces a commercial retread for both its Bandvulc brand and for ContiRe tyres every 3 minutes. This encapsulates how far retreading has come for the UK provider of tyre retreads.
The retreader continues to expand on its portfolio range with the most recent tyre, the Wastemaster 5 launched in June 2021. Focusing on adding an addition to its Fleetmaster range as well as a new trailer offering, Bandvulc is brimming with ideas to match the quietly strengthening market of retreads in the UK, as part of a shift in having greater sustainability in road transport.
How Bandvulc Ensure Quality Casings for Retreads
Continental also sees this shift in the industry as operators take note of the significant price reduction that comes with a retread. As retreads offer environmental benefits and cost savings, Continental argues that they are now a very important element of tyre contracts for many operators. Hand in hand with quality new tyres, which are designed for future retreading, this paves a route to prolonging the life of the tyre, while reducing emissions and lowering overall costs.
For Bandvulc, the team believe that fleets have a crucial role in the retread process, as each fleet should undertake regular checks on their tyres to ensure the tyre casing is operating at its maximum potential. Once a fleet is ready to start the retread process as part of the ContriRe programme, with Continental leaving the casings solely in Bandvulc's hands.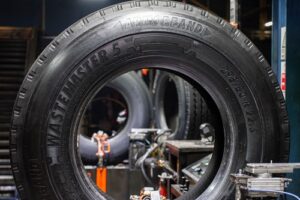 As Continental collects the fleet's tyres, Bandvulc makes the important decision on which casings can be retreaded, looking to how solid the structure is and the possibility of future applications. Things that Bandvulc pay attention to include if the wheel has been misaligned or if the tyre has been placed on the wrong axle. The team will also check if the tyre has been under- or over-inflated, before providing the relevant information to the fleet operator or service provider, ensuring essential communication and peace of mind for fleet operators.
Retreading an Essential Ingredient for Continental to Achieve 2030 Vision Strategy
The future of retreading is a topic that both Continental and Bandvulc enthusiastically welcome. Sustainability is a core element of Continental Vision's 2030 strategy, so retreading will become a crucial element in Continental's adoption of a more circular economy. This is why Continental and Bandvulc predict an upward trajectory of tyre contracts for commercial fleets focused on solid economical rates and sustainable objectives for the future. They also predict that once the logistics and legislation are in place, EU tyre labelling guidelines will come into place for retreaded rubber, which will further enhance the reputation of retreading across Europe.
Crucially, they see the market at a point of change as they see low-cost, single-life tyres losing their potency amongst fleets more concerned with their budget and carbon footprint. If a tyre is cheap when purchased then it might not always be retreadable. So the cost to scrap and replace a tyre feels counterproductive, argues Continental. As Continental continue to invest in research and development to enhance its environmental practices and put forward a more sustainable future, they see that fleet managers will start to pull away from cheaper imports that have limited long-term use.
As Continental continue to provide investment in Bandvulc's plant, it's clearer than ever that the tyre manufacturer's policy is structured to lead the way in sustainable reforms to reach its ambitious vision strategy by the start of the next decade.