As part of its strategy to respond to the needs of the most specific niches, BKT has expanded its range of tyres for the material-recycling sector by adding the novelty sizes 300/70 R 16.5 for the SKID MAX SR-SKIDDER and 405/70 R 18 for the BK-LOADER 53 as well as introducing two variant classes.
New Application Specific Solutions
L-5 ** UMS and L-5 *** for the EARTHMAX SR 53.
Firstly, the SKID MAX SR-SKIDDER, which enables the carrying of heavy loads while maintaining perfect stability, is available now in two sizes, including the recently introduced novelty: 300/70 R 16.5.
The tyre's All-Steel structure with steel belts provides greater resistance to the carcass and therefore to impacts. The thick sidewall contributes to minimise the risk of punctures and accidental damage. In addition, the rim guard prevents any punctures and shocks that might damage the area around the rim.
The strong and wide tread has been designed with a continuous central lug and is made of a special anti-static and extremely abrasion-resistant tread compound to ensure excellent traction and a long service life.
Another tyre used in recycling environments is the BK-LOADER 53, now available in the novelty size 405/70 R 18 in addition to the existing size 405/70 R 20. This aramid-belted tyre features a unique extra-deep tread design that ensures excellent lateral stability and extraordinary resistance to wear, cuts, and punctures. It also offers outstanding self-cleaning properties that ensure the rapid expulsion of debris, not forgetting excellent grip and traction on both wet and dry surfaces.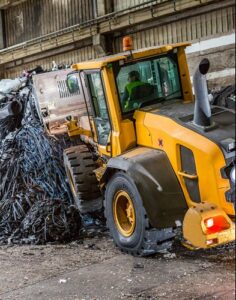 Next is the EARTHMAX SR 53, with the new variants in size 29.5 R 29 now available in both classes L-5 ** UMS (Undergrund Mining Service) and L-5 *** super resistant. The deep L-5 tread ensures extraordinary wear resistance in addition to excellent self-cleaning properties. The special compound offers additional cut resistance. According to BKT it is a great tyre for loaders and dozers operating under extreme conditions.
EARTHMAX SR 55 features an extra-deep, L5-S-class tread along with a smooth surface providing long durability, thus minimising downtime. Likewise outstanding are its extraordinary stability and traction features.
Finally, the GIANT TRAX has been designed for skid steers operating on rough surfaces. The extra-deep tread with wider and sturdier blocks provides excellent traction, stability, and puncture resistance. The special tread compound provides top resistance to cuts, punctures, and wear.