Apollo Tyres have announced the launch of two new agricultural trailer tyres – the Vredestein Flotation Optimall and the Vredestein Endurion Trailer. Both tyres were launched at the company's plant in the Netherlands on the occasion of the 25th anniversary event for Vredestein's Traxion brand.
Vredestein Flotation Optimall and Vredestein Endurion Trailer
The first new tyre, the Vredestein Flotation Optimall has been launched to fill a gap in the company's product range for a VF flotation tyre that can help to better preserve the soil underneath heavy slurry tankers and agricultural trailers. The new tyre has been launched as a premium tyre solution that is claimed to raise the bar in terms of soil preservation, grassland-friendliness and self-cleaning.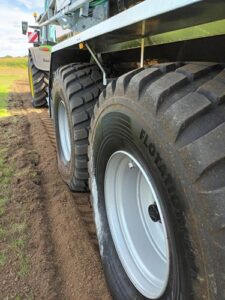 The Flotation Optimall features a high flexion (VF) steel belted construction based on Vredestein's F+ technology. The flexible and strong carcass helps ensure a large and evenly distributed footprint at low inflation pressure (a 13% improvement compared to Vredestein's existing Flotation Trac product), achieving superior soil preservation. As with all Vredestein brand tyres with F+ technology, the Flotation Optimall is compatible with central tyre inflation systems (CTIS).
In the tread zone, smooth and chamfered tread blocks in combination with rounded shoulders preserve the grassland structure, especially while turning on headlands. The directional tread pattern design features unique non-parallel curved blocks towards the outside. This characteristic shape, says the company, guarantees excellent self-cleaning properties on all soil types, keeping the roads clean and safe.
The new Flotation Optimall will be available from spring 2023 onwards in seven sizes:  VF 710/45 R 22.5 IMP TL   170D, VF 600/55 R 26.5 IMP TL   170D, VF 710/50 R 26.5 IMP TL   176D, VF 750/45 R 26.5 IMP TL   176D, VF 800/45 R 26.5 IMP TL   179D, VF 710/50 R 30.5 IMP TL   178D and VF 750/60 R 30.5 IMP TL   187D.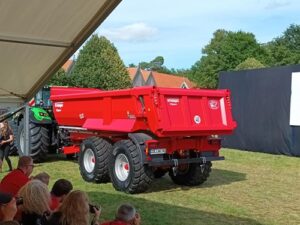 The second new tyre, the Vredestein Endurion Trailer is a new fitment designed to help Vredestein increase its market share in the heavy-duty trailer tyre segment. Designed to meet the demanding requirements of construction and roadwork operations, the key performance criteria of the Endurion Trailer are the tyre's superior lifespan combined with excellent robustness and comfort characteristics.
The Endurion Trailer features a directional tread pattern design, featuring non-parallel cleats that run from the inside to the outside of the tread in order to assure excellent self-cleaning properties. Furthermore, the large rubber contact area in the middle ensures excellent driving comfort and exceptionally long tyre life. Overall, the new tyre is claimed to offer 30% longer service life compared with premium competitor tyres.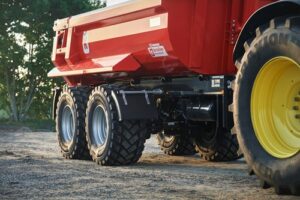 Meanwhile, the addition of a heavy-duty carcass with steel belt and a reinforced ring guarantees extreme robustness, and outstanding stability during heavy duty transport.
The new Endurion Trailer will be available from January 2023 in four popular sizes: 560/60 R 22.5 IMP TL 165D, 600/55 R 26.5 IMP TL 169D, 650/55 R 26.5 IMP TL 173D and 600/60 R 30.5 IMP TL 173D.