The latest focus of our Industrial Tyres feature sees the attention turned to the Yokohama Off-Highway Tires. Pravin Job, Business Development Manager for Western Europe for Yokohama Off-Highway Tires gave up some of his time to explain the company's perspective of the industrial tyres sector, as well as detailing Yokohaama OHT's vast array of options available for their clients.
Pravin Job Catches Up with Commercial Tyre Business
Regular readers of Commercial Tyre Business will remember last year's exclusive interview with Pravin Job from the Yokohama Off-Highway Tires – Europe, in which he spoke openly about the Galaxy OTR range, as well as the company's approach and adaptability during the COVID-19 pandemic. And that's where we start today, as we revisit the topic, looking at Job's view on whether there was a particular segment that was impacted more than others. Job's view was that it was difficult to pick out any segment that emerged from the turmoil worse off than its contemporaries.
He said, "It is hard to point out any one segment (that was impacted worse) because we saw a huge disruption from last year in every industry due to various COVID-19 related lockdowns. Manufacturing plants were shut down, logistics were badly affected, ports were not working at their full capacity, and many construction activities were put on hold. All in all, these factors affected the demand of tyres for vehicles across the industry."
How did Yokohama Off-Highway Tires face up to the crisis? Job underlined how the vastly experienced sales team across Europe helped the manufacturer prepare for the situation, with customers advised to keep adequate stocks to meet the increased demand.
Job continued, "Further to this, our sales personnel supported and assisted the importers by sharing market intelligence which has helped all of them to plan forecast, order, stock and dispatch". This support was a hand-to-hand gain for the company to plan the production and have our distributors to have adequate stocks, on time.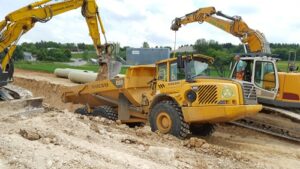 Yokohama OHT Seeing Increased Demand for Reach Stacker and Container Handler Tyres
Stepping away from the pandemic and looking at the trends happening in the current market, Job explained that Yokohama OHT had seen demand increase across various segments, with port activities recently seeing an "unprecedented increase".
Job clarifies, "Industrial tyres work across various industries; from manufacturing to logistics to construction, and with various industries opening up again, we definitely see the demand increasing across segments.
"Recently port activities have increased in an unprecedented manner due to the heavy demand in movement of goods and requirements for the reach stacker. Additionally, demand for container handler tyres have also increased."
Besides these trends, Job noted the fact that various countries across Europe are investing money and resources into infrastructure projects, which is resulting in heightened demand for construction tyres for excavators, wheel loaders, skid steers and articulated dump trucks. In Job's opinion the construction and port segments will be driving the demand for industrial tyres for the future, and he expects this trend to continue until 2022.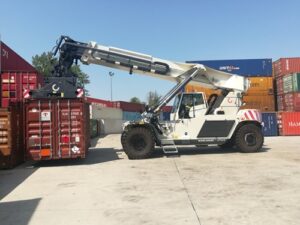 Yokohama OHT Product Range Brimming with Developments and Innovation
Considering the increased demand in the construction and port segments and specific demand rushes for the reach stacker, Job went on to explain the multitude of products available for these sectors, mainly focusing on the Galaxy range of products.
Job explained, "Our traditional Galaxy range covers tyres for skid steer, excavators, telehandlers, compact wheel loaders, reach stackers, container handlers and fork-lift machines.
"Additionally, we have focused on heavy construction machines and developed a comprehensive range of radial OTR tyres for heavy wheel loaders (LDSR300) and articulated dump trucks (HTSR400)."
As for recent developments, Yokohama OHT have recently released heat resistant and cut-resistant compound tyres in the Galaxy HTSR400 pattern for the heavy construction industry for articulated dump trucks. This is in addition to introducing the LDSR310, which is a block pattern for heavy earthmoving machines.
On these further advances Job said, "with these recent developments our radial OTR range has now increased to 19 SKUs covering graders, loaders and dump trucks segments."
And if that wasn't enough news on product developments, the Business Development Manager for Western Europe for Yokohama Off-Highway Tires had some words on solid tyres as well. "As for solids, we recently introduced new innovative hybrid solid tyre pattern LHD510 SDS for heavy wheel loaders for scrap handling," he added.
The LHD510 SDS is available in 20.5-25, 23.5-25, 26.5-25 and 29.5-25 sizes.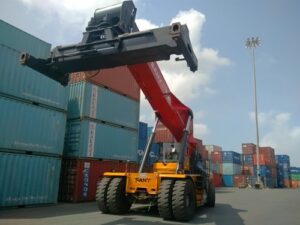 Job: "We want to sell our complete product range in the market as per the market potential"
With numerous products playing different roles in the Yokohama OHT industrial tyre portfolio, Commercial Tyre Business asked Pravin Job if there were any particular markets or segments that the manufacturer was looking to target. Job explained that the company's approach is to "sell their complete range of products in the market as per the market potential."
Job expanded on this, "Of course, we prefer to have balanced sales across the segments, but more importantly we want to ensure that our products are available to a wide range of users across the industry."
This complete range of products means that the manufacturer is able to offer adapted solutions for clients across each segment. But is there segment that Yokohama OHT are focusing on more than others?
Job responded, "Currently we are focusing on radial OTR, excavator and radial compact wheel loader segments, with our range continuously increasing within this segment (industrial tyres), where we have achieved great success in a short period of time in some markets.
"In West Europe (France, Germany & Benelux), we are working with our existing and new potential partners to maximise our share for radial OTR, excavators and radial compact wheel loader segments."
Yokohama OHT See Positive Short-Term Future Despite Difficult Business Environment
Commercial Tyre Business asked Job for Yokohama OHT's short term goals in the industrial tyres sector. Job's response exuded positivity in the light of what has been a problematic 16 months for conducting business, not only at a domestic level but at an international one too.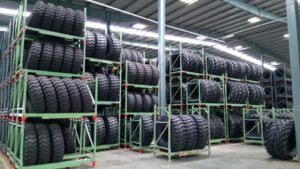 Job said, "As we see the COVID-19 vaccine being rolled out, this brings good news, with markets already starting to operate at pre-COVID-19 levels. Countries are introducing various relief packages to help the economy get back on track.
"All these efforts have brought positive movement in industrial tyre segment, and with that we are seeing a good improvement in sell-out on the part of distributors."
Despite the positivity, the sector does have its own set of challenges to face such as the container and raw material shortage, but Yokohama OHT are in Job's words, "working with our customers closely to predict demand in the best possible way so we can plan production and make tyres available in the market to increase our market share and serve our customers.
"We have also spent an enormous time in product traning in each segment and identifying end-user needs for new product development, and this is a vital part of the Yokohama OHT's business."
With Yokohama OHT's immense offerings for the industrial segment, the manufacturer is better prepared than most to deal with these challenges and come out the other side better for it.