The beginning of a new year sees us return to work with renewed vigour, optimism and energy about what the year ahead will bring, but Prometeon at the start of 2023 had more reasons than most to be excited about the future with Ali Yilmaz taking the reigns as Managing Director of the organisation for the UK, Ireland and Nordics as of January 1, 2023. In amongst the busy summer months, Ali spoke to Commercial Tyre Business exclusively about his first 9 months at the helm, the state of the current commercial vehicle tyre market and Prometeon's position regarding their product development plans for the Serie 02 line.
The First Six Months as Managing Director for Ali Yilmaz
Ali began by speaking about his initial period as Managing Director. "The start of 2023 saw us encounter several obstacles such as the economic challenges which are faced by all companies in our field. I joined Prometeon in 2020 as Marketing Manager, and being the Marketing Manager is in my view a good bridge to this role. It gave me extremely good experience before becoming the Managing Director, so I had a very quick adjustment in the role. Also, the fact that I have been part of the team for a while now really helps, given that I know the customers, I know the contracts which makes the transition easier."
Besides Yilmaz's promotion from Commercial Director after six and half years at Prometeon Tyre Group working geographies including Turkey, Russia, Africa, the Middle East, the Nordics and Milan, Italy,  Steve Tift was promoted from UK Sales Manager to the newly created role of Sales Director. On the promotion he said, "it is a big motivating KPI for other team members, who have work closely together over the last few years and have contributed a lot to the success of Prometeon; and as we continue to grow, our first choice will be to promote from within, as these individuals know the team." Further to this, "With that in mind, it was very important to promote Steve to recognise his contributions."
Large Stocks for Dealers Affecting Market Dynamics as HGV Sales Surge in UK
Conversation quickly turned to strategy and Prometeon's current position in the truck and bus tyre space characterised by an extremely competitive premium environment with Hankook, Michelin, Goodyear, Bridgestone, Continental all vying for position. At this point in time, Prometeon has gained a significant market share that has been growing steadily since 2019 according to Yilmaz. He continues, "Given that we only produce tyres for the truck and bus sector, our focus is unique and concentrated on this particular area. Everything is tailor-made, which has helped to bring us to this market share position. This singular focus makes us agile and allows for no distractions."
Part of this tailor-made approach is client engagement and making sure that Prometeon "knows the clients, customers and dealers". This focus is an integral part of all the manufacturer's commitment to understanding every issue at play. It can help them identify problems before they arise and continuously enhance their offer.
So how is the market affecting the strategic options for Prometeon at this point in time? Following the publication of the latest figures from the SMMT, the UK has surpassed pre-pandemic levels of performance with 5 successive quarters of truck fleet growth for heavy goods vehicles, with the most recent quarter in 2023 recording a 17.2% year-on-year change with 11,174 vehicles registered. This growth, according to Yilmaz, should bring further sales in the replacement sector in the near future, but this, he warns, will be shaped by "the usage rate". Yilmaz expects to see the impact at the end of 2023.
In the first 6 months of the year, though, the market shrunk by 15%, explained Yilmaz. "This," he said, "is mainly due to an industry wide stocking issue. With a strong H1 in 2022 and the market performing well and every dealer purchasing tyres, large stocks with dealers have impacted sales in 2023."
Yilmaz expects that following August this trend will start to slow down, and hopefully the original equipment sector will react positively in H2 of 2024 and record some positive growth.
Positive Reaction to Serie 02 with New Updates and TPMS Investment Ongoing
May 2022 marked the launch of the Pirelli-Branded Serie 02 line which included the H02 PROFUEL, the R02 PROFUEL, the R02 PRO, the U02 URBAN-e PRO and the G02 PRO. After being in the market for closing on 18 months, a safe place to start was finding out how the market had reacted to the product and when the first updates for the line were planned. Yilmaz revealed that the Serie 02 had received extremely warm feedback from the market, which was a "really important step for the manufacturer" not least because the Serie 02 delivered considerable performance increases.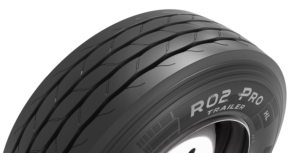 A case in point is the R02 Pro Trailer which provides 20% improved mileage, 10% better load capacity, 20% enhanced integrity thanks to a new tread compound, a 15% improvement in even wear and 20% enhanced performance in tear resistance in comparison with its predecessor.
The performance of the Serie 02 is only going to get better with new patterns and sizes coming soon.
However, this isn't the only investment Prometeon is making as Yilmaz confirmed that the manufacturer has also invested in TPMS. He added, "Due to the fact that TPMS becomes a compulsory fitment across Europe on all new trucks, trailers, buses and coaches in July 2024, we are investing in the TPMS sector, but this is in its early stages.
The investment in TPMS is a key part of adding to the value of Prometeon's package, which is already substantial according to the Managing Director. As it stands, each Prometeon customer receives a monthly inspection from a quality engineer to help maintain and take care of the tyre. "Tyre maintenance and regular inspections are a key part of our service offering. These regular inspections are similar to a doctor's appointment. They give us the visibility that something is wrong and you can take action quickly," he explained.
In addition to the monthly inspection pillar of their fleet offering, Prometeon has a rapid response breakdown service, which Yilmaz explained was set up as part of the company's customer-centric focus and due to the urgency required by fleets. "Our customers can't wait. They need service, and they need to get back on the road, so from their point of view they need to know how you are going to deal with these situations, and they need to have confidence in you," said Yilmaz.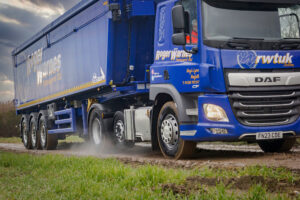 The final prong in Prometeon's PPK fleet offer is delivered by Vaculug and concerns their Promotec retreads. Yilmaz says, "Vaculug manufactures our retreads, and this is a crucial part of our PPK offer. We are proud to work with a retread manufacturer such as Vaculug.
"Sustainability is a big topic with customers," he continued. "Recently we have joined a few tenders, and part of the tender KPIs emphasised the need to see a sustainability report. Having a partner such as Vaculug, who are taking big actions on sustainability through their sustainability report is of key importance," highlighted Yilmaz.
And do Prometeon have plans to expand or update their retreading line?  Well, not at this moment as Prometeon's product development efforts are being targeted on the Serie 02, but Yilmaz had positive words for retreading form the point of view of the manufacturer, "At the moment we are seeing that the retread market is quite settled. Although we don't have any plans for a new line from Promotec, day by day we are seeing the take up for retreaded tyres growing as tyre life is so important along with the topics of the environment and sustainability. Retread tyres are a win-win. They enhance a tyre's life, customers are paying less, and we are helping the environment."
Despite all these service offerings though, Yilmaz was keen to underline the previously mentioned tailor-made approach across all countries with Prometeon adapting and reacting to the requirements of the customer, ensuring that the best solution is crafted for each fleet.
Looking Towards a Prosperous Future
Yilmaz rounded up by expressing both the short-term and long-term goals for Prometeon in the Nordics, UK and Ireland. Starting with the short-term targets, the Managing Director explained that the main growth area will be the continued effort to expand their dealer footprint with the Supertruck network across these geographies. "We are hoping to continue to expand the network, as after the launch we have been seeing a more positive effect. We are currently analysing the UK by Postcode and looking at areas for improvement to enhance our service capabilities," he said.
Yilmaz explained that for Prometeon, Supertruck is "Like a lab" whereby the manufacturer does its homework, sits down with its customers and discusses the opportunities. It's clear to see that Supertruck fits into the flexible and agile nature of the tailor-made adaptable approach that the manufacturer has developed.
Looking further down the road, Yilmaz only had positive things to say about the long-term outlook for the manufacturer. He said, "as a UK family, we have been gaining good momentum. Our team is very focused and settled. Our team is aligned internally, and we are sure that the future is bright for Prometeon. We want to be the first choice for our customers in the UK."