The latest feature from Commercial Tyre Business immerses itself in the world of industrial tyres and Part 4 commences with a focus on a key facet of tyre maintenance and care: tyre pressure and its related technologies. Peter Roffey, Sales & Field Technical Manager for TyreWatch, one of the leading digital tyre management solution providers, participated in the latest feature to discuss the company's solutions for the sector.
Peter Roffey, Sales & Field Technical Manager for TyreWatch Speaks to Commercial Tyre Business
We commenced by analysing the demands that operating in mining, construction and earth moving operations place on tyre pressure technology providers such as TyreWatch. Tyres are placed under huge strain in these conditions, and the possibility of increased and uneven wear and unforeseen damage is greatly increased compared to standard road operations. Peter Roffey started by explaining how tyres in these operations can run underinflated for weeks, which can cause faster wear but also on a more concerning level increase the likelihood of blowouts.
Roffey explained, "Large earthmoving and industrial tyres can run underinflated for weeks, which causes the tyre to over-flex. This, in turn, causes the tyre to wear faster, the rim components to suffer premature damage and the potential for a serious incident to be ever present.
"Running underinflated tyres leads to overheating and potential blow-outs which inevitably puts site operatives at risk."
Underflated tyres lead to shortened tyre tread lifespans and can make the casing at the end of its first tread life unsuitable for remoulding. Using a connected system such as the products that are offered by TyreWatch can allow customers to look at their machines to see if they can used until the end of their shift when a tyre change or repair can be applied.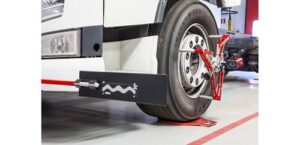 And what about the future? Will future vehicles come out of the factory pre-equipped with TPMS solutions? The short answer was 'Yes'.
Roffey expanded, "In the future, vehicles and machines will come with some form of TPMS sensor already fitted from original equipment (O.E.) and have the ability to transmit this data into a cloud-based server.
"TyreWatch can analyse raw tyre data and convert this into usable alerts to enable the customer to make an informed decision on a possible puncture or inflation."
According to Roffey there is 'a demand to deliver real time data, which includes tyre pressures and temperatures to users via remote monitoring'. This goes hand in hand with machine owners and operators increasingly requesting tyre pressure and temperature data to enhance connectivity between their machines to yet further advance onsite working practices, and this is where TyreWatch comes to the fore with their technologies embedded into their core operating systems.
In applications where operating conditions are extremely harsh and tough, operators sometimes rely solely on visual inspections and manual interventions, which all too often can be too late, which is where TyreWatch can offer unique benefits for the machines operating in this sector. Besides these clear benefits at an operational level for the user, TyreWatch's offering of paperless and digital reporting, which can be instantly accessed for all compliance checks and inspections, will be of keen interest to any business looking to avoid getting caught up in bureaucracy, as well as making additional business processes more efficient.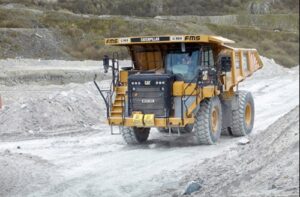 TyreWatch: PlantSmart Solution
Roffey took a step back from analysing the future and how TPMS technology would develop in the industrial tyres sector and gave an overview of TyreWatch's PlantSmart product, a solution which can be fitted into industrial tyres or used on equipment for mining and quarrying, which Roffey describes as 'one system for all sectors of an off-highway operation'.
TyreWatch PlantSmart was engineered to detect any plant tyre problems whilst a plant is in full operation in order to give timely tyre maintenance or safe repair before any damage can build, thus minimising risk and downtime.
Roffey added, "While TPMS is by no means a new concept, the TyreWatch telematics monitoring system takes it a step further by making sure all issues are monitored in real-time without the need to solely rely on the driver carrying out visual checks on the tyres and will report on tyre issues while the vehicle is moving."
One such company, which is currently benefitting from the TyreWatch PlantSmart system is Brett Aggregates, one of the largest independent producers of sand and gravel in the UK with operations serving London, the East and South-East England.
Stuart Spring, Site Manager at one of Brett's locations commented on the TyreWatch PlantSmart system by saying, "Using the TyreWatch PlantSmart Tyre Telematic system that is fitted to our loading shovels has made the task of managing the tyre pressures of our machines very simple and easy. Our priority is to ensure the health and safety of all our employees and visitors. PlantSmart assists us in this goal by reducing the risk of a blowout due to our tyres being underinflated.
"Having remote access to real time tyre pressures benefits our business in keeping machine downtime to a minimum and also by reducing our impact on the environment. The proactive maintenance and warning alert emails save us time and money by notifying us of any puncture issues immediately and has helped us to manage this area of our business more efficiently."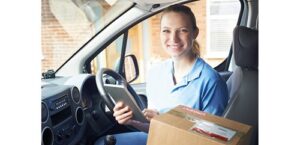 TyreWatch Focus on the UK but Continue to Operate Globally
With success stories such as those of Brett Aggregates, TyreWatch have a great reference point with which to show to potential new clients. And with that, what are the key target areas for TyreWatch over the short-term future?
Roffey explained that for the time being the company is targeting its UK clients with HGV commercial vehicles and all quarrying and mining operations first due to increased demand from the home markets. With increased demand from the domestic market, one would expect TyreWatch to be focusing their efforts in the UK. However, Roffey was keen to stress that TyreWatch can operate globally.
He said, "TyreWatch can operate globally thanks to its unique communications system, which has a global reach for use in all parts of the world. TyreWatch can also be fitted to road-going commercial vehicles, and we have our technology currently operating in all parts of the world. Because of our unique USP we can operate across all type of equipment in any environment."
With a strong product offering in PlantSmart and solid customer testimonials from the likes of Brett Aggregates and Imerys, the market-leading supplier of mineral-based specialty solutions, TyreWatch are positioned well to continue delivering peace of mind to the industrial sector and keeping vehicle downtime to a minimum.