In an increasingly digital world, the digital tyre management sector has long had players offering multiple technologies that helps control tyre and fuel costs.
Founder, Joe Stapleton Speaks on the Topic of Sustainability
TyreOps technology helps fleets and tyre businesses become more sustainable through two guiding principles which underpin the design of its product features: i. centralizing data from multiple sources with ease and ii. making sustainable practices financially viable for tyre businesses.
Whilst these aims are almost universal selling points for any digital platform aimed at the fleet sector, Commercial Tyre Business asked Joe Stapleton, founder of TyreOps, where his technology offered an improved service?
"With centralised data from multiple sources, tyre businesses and fleets using TyreOps have, for the first time, full visibility of their vehicle maintenance history," explained Stapleton.
"That means all vehicle and tyre information from multiple sources is accounted for in order to measure Cost Per Mile of each tyres and KPI's of sustainable tyre practices, and more proactive actions to prolong tyre life. In a nutshell, that matters for sustainability purposes because better tyre maintenance results in lower fuel consumption and longer tyre life, minimising the total tyre disposals by reducing their frequency.
"The amount of admin resource current systems takes, these sustainable practices are less likely to happen despite the positive environmental and cost savings impact they can have. By making those processes easy to manage and account for, TyreOps helps tyre businesses increase service revenue whilst prolonging tyre life for their customers and fleets – hence improving their carbon footprint. This is achieved through TyreOps seamless processes and our fully automated open APIs, streamlining multiple processes and reducing the time required for inputting information with the historical data already pre-set."
One of the drivers for this technology is not just saving on costs, but an environmental saving. Stapleton adds; "Tyres are the second biggest polluter next to single use plastics, and we are determined to ensure TyreOps supports tyre businesses in achieving their sustainability goals and reducing waste in the industry. We've started to feel the impact of climate change already and now it is more vital than ever for us at TyreOps to do what we to revolutionise the tyre industry."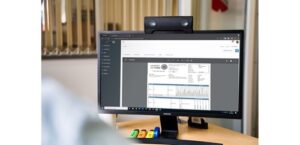 There are always multiple players in any sector, but what makes TyreOps stand out? What are the TyreOps's USPs?
Stapleton explained that the company is providing an end-to-end tyre casing management solution that is automating the whole tyre supply chain from purchase of the tyre, fitting and removing tyres on a job, sending to the designated casing destination for action (i.e. the Casing Bank, Tyre Disposal, Customer Own Property Stock, etc.), to generating casing and disposal return tickets for collection (and accounting of their value and location), through to the entire retreading process, to the end (or restart) of its tyre life.
In addition to that, he adds, TyreOps holds several other functionalities and add-ons that significantly reduce CO2 emissions, prolonging and monitoring tyre life to ensure active management and optimisation. Some of those features and their direct impact include:
Tyre KPIs (e.g., setting a fleet for 60% retreaded tyres and measuring progress against goal),
Configurable tyre policies (e.g., sourcing and fitting a more environmentally friendly tyre category across all fleet)
Fleet settings for greater control (e.g., proactive tyre inspection whenever work is carried out)
Seamless conversion of defects from inspections to proactive fleet work; and
Flexibility across all processes to accommodate customer needs, fully eliminating paper processes (e.g. editable job sheets and PDFs instead of printing locked PDFs for handwritten notes and adjustments).
"The full visibility and traceability of tyres throughout different fleets and locations associated with the live data, KPIs and policies allows decision makers to make smarter decisions about their tyre management and environmental impact, as well as measure and report responsibly on the progress of their sustainability goals." Stapleton continued.
"A great part of TyreOps mission is to make sustainable practices more viable for tyre businesses and fleets without the financial burden that now comes with their management. With our feature rich, integrated and cloud-based solution, simplicity in processes, and accessibility across all devices (from a single app), we are on track to help tyre and fleet businesses do their part for the planet."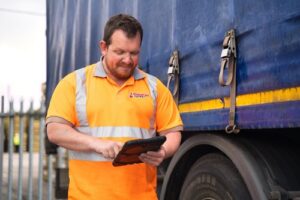 This is all well and good, but the proof of the pudding is in the eating, as they say. Where are the fleets and dealers seeing the benefits asked Commercial Tyre Business?
"To contribute to these sustainable goals and the overall circular economy, we had to ensure TyreOps made it financially viable for businesses to carry out sustainable practices across tyre service, management, wholesale and retreading practices, therefore acting an accelerator for the industry's environmental goals," explained Stapleton.
"To achieve this, we needed to make sure that not only these sustainable practices we mentioned are easy to carry out but to streamline the whole tyre supply chain and help businesses free up time from heavy admin tasks in order to devote resources to maintain and evolve sustainable practices as well. For fleets, we wanted to make sure they had the right data from every source on their vehicle to measure cost per mile, environmental impact, tyre performance, and much more so they can also make better decisions when it comes to their sustainability goals.
"TyreOps' fully automated process and live traceability across the full tyre life generates savings in admin time across the tyre supply chain, liberating resources to innovate, seek new revenue streams and maximise resource allocation.
"Also, with TyreOps flexible pricing model, smaller tyre businesses and retreaders now have the technology to manage their business operations and retreading procurement, which helps further reduce the industry environmental impact by promoting local to local tyre sourcing and servicing."
Coming back to the introductory sentence, there still remains a challenge in the proliferation of tyre and fleet management systems in uses. This has to be a point that anyone offering a digital package to the industry has to deal with. Interestingly, Stapleton did not hide from the issue.
"The industry at the moment is paralysed with a multitude of issues from multiple legacy and part only software's, technician shortages, tyre shortages, the fuel crisis and rising cost of living and business operations. TyreOps has gone above and beyond to tackle these issues.
"We have increased visibility and easiness of finding the nearest tyre businesses and technicians with our Tyre Network feature. We are making it easier than ever to find tyres to purchase and automate it straight into stock. And we have made it easier to find the most local service provider with the right products and services, so travel time and fuel costs are reduced significantly.
"TyreOps gives tyre and fleet businesses the tools, network, and centralised information of the business operations to act swiftly, easily and cost effectively.  We are also relentlessly looking for ways to innovate and expand our product offering, and we will continue to deploy our efforts on facilitating the industry transition to a lower carbon footprint."