Sustainability is the key word in building a business today. Our sister magazine Tyre and Rubber Recycling recently looked at how the tyre industry's idea of sustainability varied from that of the public.
Andrew French Talks Sustainability
However, Commercial Tyre Business decided to ask some leading tyre manufacturers how they saw sustainability in their business plan.
Commercial Tyre Business will take a look at the responses from the different manufacturers.
In this article, we spoke with Andrew French, Michelin B2B Sales Director for the UK & Ireland.
Asked what Michelin was doing to help fleets become more sustainable, French Replied;
"The need to reduce the transport sector's environmental impact on greenhouse gas emissions and air pollution is clear and pressing, at Michelin we pride ourselves on being at the vanguard of responsible and sustainable mobility. 'A better way forward' – that's our corporate mission statement, and it lies at the heart of everything we do.
"Our key focus is on using less energy and fewer raw materials, whilst continuing to do what we do best – maximising performance and efficacy over the lifespan of our products.
"Whether it's by designing the most fuel-efficient tyres on the market, helping fleets get the maximum from every tyre through a carefully-managed multi-life policy or by investing millions of pounds into end-of-life recycling plants – every aspect of our work is focused on making mobility safer, more efficient and, crucially, more environmentally friendly.
"Fleets know that by utilising our low rolling resistance tyres to improve fuel efficiency, such as the MICHELIN X Multi Energy and MICHELIN X Line Energy ranges, they can make significant in-roads into their carbon emissions and improve the sustainability of their operation."
This response highlights the strategy that Michelin has been following for many years in developing tyres and tyre management programmes that ensure the fleet customers get the best value from their tyres, both in terms of mileage life and fuel consumption savings.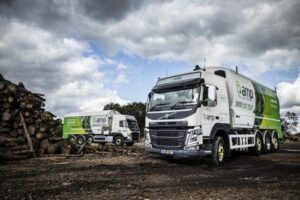 Following this, we asked French on Michelin's view of retreading as a part of improving the sustainability of fleets and its contributing to the circular economy.
"It's incredibly important." Says French. "With fuel costs reaching record levels and increasing pressure on HGV fleets to reduce running costs, many operators are still missing this key opportunity to drive better value and efficiency from their tyres by consistently regrooving or retreading.
"Nearly all premium and mid-range fitments are now designed for multiple lives in service. A Michelin truck tyre is manufactured with an additional layer of base rubber to enable it to be regrooved. And once the regrooved tyre has worn, the casing can normally be retreaded into a Michelin Remix tyre.
"The Michelin Service Pro network works closely with our customers to help them extract the maximum value from their tyres, by managing each casing through multiple lives in service.
"We would actively encourage more operators to realise the potential that's sat in the rubber they already own, either by exploring the benefits of regrooving and retreading via their tyre service "provider, or by switching to a fully managed contract. Our Services and Solutions team manage the tyres on thousands of commercial vehicles across the UK, with regrooving and retreading key to our ability to deliver financial and environmental savings for customers."
It should be noted that Michelin's main operation in the UK is its retread plant at Stoke, which deals with only Michelin tyres and is used to support its fleet management programme.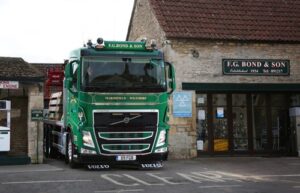 Moving away from retreading, the focus turned to TPMS. TPMS is a key tool in reducing CO2 emissions whilst also delivering a huge economic benefit if applied well.
Earlier this year, MICHELIN launched Connected Fleet to the UK market – its new brand bringing together all the fleet management services and solutions of the Michelin Group under one banner.
"The system can monitor tyre pressures and temperatures to considerably reduce the likelihood of roadside breakdowns, while maximising fuel performance and reducing CO2 emissions." Says French.
"But MICHELIN Connected Fleet is so much more than a TPMS – that is just one possible feature. It collects vital data through a range of comprehensive and advanced on-board telematics systems to give fleet managers a real-time view of their goods, the trucks and trailers making up their fleet, and where they are located. This helps to optimise fleet utilisation, which in turn reduces operating costs, whilst also bolstering road safety by providing valuable feedback on driving behaviours.
"With MICHELIN Connected Fleet we can really help fleet managers to accelerate their business with performance analysis services, based on smart data and tools, which lead to better insights and better visibility. In turn, this helps to make operations more cost-effective, safer, more predictable and sustainable.
"Data management is vital when it comes to running a fleet. As vehicle technology develops, our expertise in data analysis allows us to meet our customers' requirements as precisely as possible to assist them in their activities. With MICHELIN Connected Fleet, we offer them the tools and expert support to help them transform the data from their vehicles into information with high added value. This will allow them to improve their company's efficiency, reduce their environmental impact, and make their operations safer all at the same time."
Finally, we quizzed Michelin's B2B Sales Director for the UK & Ireland on the company's TBR production in the future. Given that more and more tyre manufacturers are moving towards alternative raw materials in tyre production, we wanted to see if there was anything specific that the company will apply to help improve their sustainability credentials with the fleets they manage.
French responds; "Michelin has made the bold commitment that by 2050 all our tyres will be produced entirely from renewable, recycled, bio-generated or otherwise sustainable materials. Already today, nearly 30 per cent of the components we use in tyre production are derived from natural, recycled or other sustainable raw materials – and this will rise to 40 per cent by 2030."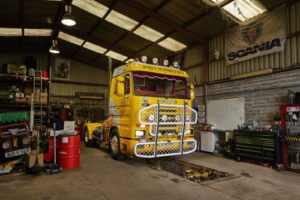 That Michelin statement needs reading carefully. Whilst it is true that Michelin is probably at the forefront of using recyclates, they come from varied sources – recovered and sustainable carbon black from tyre pyrolysis, recycled polystyrene and polythene, micronised rubber and possibly also reclaim rubber or devulcanised rubber. Sustainable sources may include from environmentally managed rubber plantations, or from other sources of Latex.
"As we move forward, more and more focus will be placed on utilising materials from renewables such as natural rubber, vegetable oils, resins and recycled materials. And we have already entered into a wide variety of innovative partnerships around the globe to help us achieve these goals," added French.
"On top of this drive towards utilising more sustainable materials in the manufacturing of our products, we are also using digital technologies and the development of connected tyres to optimise tyre use and enable a reduction in each tyre's environmental impact. This includes using RFID chips to track tyres throughout their lifetime. Indeed, Michelin is committed to fitting RFID capabilities into all new truck tyres by 2023."