Continental has always been more open about its sustainability than its competitors. Their in-house retread operation at Hannover-Stöcken makes use of its in/house waste as a recyclate that is reintroduced to the retreading process. The ContiLifeCycle plant is the only production facility that combines tyre recycling and retreading under one roof, and allows for innovative solutions for reusing and recycling tires, thus setting new benchmarks in sustainability. So, it comes as no surprise that Continental takes its sustainability goals very seriously.
Ralf Benack, Head of Fleet Solutions EMEA from Continental Talks to Commercial Tyre Business
Ralf Benack, Head of Fleet Solutions EMEA, at Continental explained: "Continental is pursuing ambitious sustainability goals and aiming to become the most progressive manufacturer in the tyre industry by 2030. Sustainable and responsible business practices have for many years formed an integral part of corporate strategy at Continental.
"We follow a holistic sustainability approach that takes into account all phases of a tyre's value chain. Efforts here are centred around the strategic topics of climate action, low-emission mobility, the circular economy and sustainable supply chains, thus embracing all phases of the value chain. Hence, we assist operators by taking a holistic approach to tyre sustainability."
An example of this is established in the Continental Sourcing Policy: Continental's Sustainable Natural Rubber Sourcing Policy specifies clear responsibilities and commitments for their our partners along the entire natural rubber value chain.
Continental had at one time a wide-ranging series of contracts with independent retreaders. This changed in 2013 when Continental opened its in-house retreading operation at Hannover-Stöcken, taking full control of its retreading operations in central Europe. Shortly thereafter, Continental bought the UK's Bandvulc retread operation ensuring that Continental had full control of its UK-based retread operations. Commercial Tyre Business asked how retreading sat in the Continental vision for sustainability.
"Retreading is a major factor in our holistic approach to fleet sustainability," said Benack from Continental.
"We find that customers, too, are keen to specify some retread tyres as part of their fleet mix. An increasing number of operators are keen to play their part in increasing their sustainability. In some cases, hauliers and transport businesses that are taking steps to be as sustainable as possible are viewed favourably by customers when pitching or quoting for work.
"Through our in-house retreading at Hannover-Stöcken and at Bandvulc in the UK, and through the ContiRe tyre range, we are able to offer a broad range of retreaded tyres that are suitable for a diverse array of applications.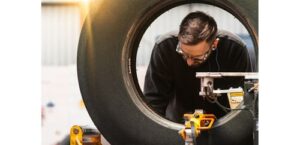 "For customers of our Conti360° Solutions tyre management programme, we always look to build a policy that uses a combination of new and retread tyres where suitable."
Extending tyre mileage and reducing cpkm is a critical strategy that can be assisted by tyre pressure monitoring. Continental is no less concerned that clients control their tyres and the company has developed its in-house pressure checking system.
"ContiPressureCheck, our TPMS system, alerts commercial vehicle operators to a potential fault with a tyre, allowing the vehicle to be stopped, examined and repaired as soon as possible." Outlines Benack.
"That can help to prevent the tyre from being written off and reduces the risk of a dangerous tyre blowout at speed. By maintaining a correctly pressurised tyre, operators can also maximise their fuel economy.
"Our ContiConnect system allows the information collected by the ContiPressureCheck TPMS to be fed back remotely to a laptop, phone or tablet, allowing maintenance and planning teams to react accordingly to the situation.
"We also recently announced the launch of ContiConnect 2.0 – a comprehensive upgrade of the system with a new web portal and a new multifunctional app. The platform will pave the way for the next generation of digital tyre management."
However one looks at rubber production, it is, in terms of sustainability a bit of a dichotomy for tyre manufacturers, who are consumers of around 70% of total natural rubber production. Natural rubber is the key material used in commercial tyre manufacturing. As more tyres are needed – the market is expected to double by 2050, more natural rubber is needed – sustainability of production has become, and will be an ongoing issue for the industry. As a founding member of the industry alliance Global Platform for Sustainable Natural Rubber (GPSNR), Continental is actively involved in the development of global guidelines for sustainable natural rubber.
Commercial Tyre Business asked Continental what the corporate strategy to improving their sustainable manufacturing was?
"Sustainable and responsible management has been an integral part of Continental's corporate strategy and development for many years. We believe that sustainable and responsible management enhances our capacity for innovation and our future viability," said Benack
"Therefore, as of April 2020, all the relevant projects and activities within the Tyres business area were brought under the umbrella of the newly created Sustainability department. The special importance we attach to this topic is also made clear by the inclusion of sustainability as one of the four pillars of our recently launched "Vision 2030" growth program. We have set ourselves an ambitious goal: By 2030, we will be the most progressive tyre company in terms of environmental and social responsibility. Efforts here are centred around the strategic topics of climate action, low-emission mobility, the circular economy and sustainable supply chains, thus embracing all phases of the value chain.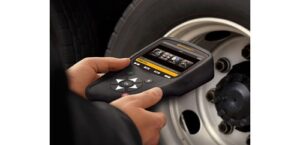 "By 2050 at the latest, 100 per cent of our tyres will either be renewed or made from 100 per cent recycled or other sustainable materials. A very important strategic topic in this regard are circular economy solutions. With the ContiLifeCycle concept, for example, we have been active in retreading tyres as well as recycling them for a long time. Since 2013, we have been demonstrating how both approaches can be used in an integrated way.
"In addition to significant cost savings for end customers, retreading also benefits the environment as the use of valuable resources such as raw oil, natural rubber and water can be significantly reduced. Retreading helps to save CO2 emissions, as up to 70 percent less energy is required compared to the production of a new tyre.
"Reclaim material also helps to conserve resources and protect the environment. For example, if 4,000 metric tons of reclaim are used as an ingredient in new rubber compounds, up to 2,400 metric tons of rubber, 1,600 metric tons of carbon black, and 8,000 metric tons of CO2 can be saved in new tyre production.
"Continental defines all materials as sustainable that originate in a closed material cycle, have no harmful impact on humans or the environment, are procured responsibly and are carbon neutral along the supply chain.
"A commercial vehicle tyre consists of seven material components. The rubber compound having by far the highest share contains about 30 percent natural rubber. Natural rubber is essential for excellent tyre functionality. Currently, natural rubber is obtained almost exclusively from the rubber tree Hevea brasiliensis. It is our ambition to source all natural rubber from sustainable origins by 2030. For Continental, responsibly sourced natural rubber is a renewable resource with a transparent supply chain which is responsibly sourced through a due diligence mechanism to uphold human rights, minimise environmental impacts, improve communities' livelihood and productivity, while having a fair and equitable value chain.
"Today, in its unique Taraxagum project, the Tyres business area already produces natural rubber from dandelions, opening up an alternative source of raw material. By way of example, the Urban Taraxagum bicycle tyre is the first series production tyre from Continental to be made using natural rubber obtained from the dandelion plant."
Since 2018, Continental has been involved in a joint project with the federal German development aid agency GIZ in Indonesian West Kalimantan in Borneo to prevent sustainability risks. Smallholder farmers in the natural rubber sector are trained to grow high-quality raw material in compliance with clearly defined sustainability criteria. The aim is to improve the income of the project participants through higher-quality natural rubber. From July onwards, the first tyres of our mountain bike tyre line Gravity, have been produced with a tread of natural rubber coming from our project.
Continental's highly qualified experts have been researching innovative sustainable materials such as natural rubber from dandelion for many years. The central aim of Continental's Taraxagum project is to stop importing natural rubber exclusively from the tropics in the future and to start producing it as close as possible to the tyre plants in order to prevent ongoing deforestation and to reduce CO2 emissions caused by long transport routes.
Any tyre manufacturer has a diverse supply chain, sometimes multiple sources for the same product. To maintain control of its sustainable aims, Continental is working to increase transparency and sustainability along its supply chains. Continental is actively working with competitors and stakeholders in various collaborative industry approaches. For example, as an innovation driver in the natural rubber sector, Continental and partners (Michelin, SMAG) have already introduced the establishment of the joint venture Rubberway for digital risk analysis of the upstream supply chain (Tier 1 – Tier X) in 2019.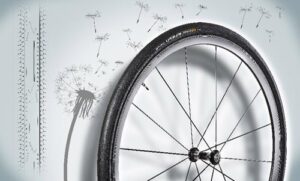 Continental uses digital risk analysis systems to ensure compliance with the defined principles of its relevant purchasing policies. For all direct and centrally managed suppliers (Tier 1), Continental assesses human rights, and environmental and ethical risks in our suppliers' business and procurement processes, using verified self-information with the help of third-party partners (EcoVadis). Continental set itself the target of obtaining valid, verified self-disclosure from all direct suppliers of the central purchasing volume by 2025 at the latest.
To enhance the sustainability credentials of rubber sourcing, Continental is developing and testing a marker technology for natural rubber, which has been developed for use in natural rubber by Continental and its project partners SMX.
It is intended to contribute to even greater transparency and traceability along the entire value chain of tyres and technical rubber products from Continental in the future. Provided with special security features, the use of marker substances enables the invisible labelling of natural rubber with information on its exact geographical origin.
With the aid of special reading devices and specially developed software, the information on the natural rubber can be read out and its origin can be precisely assigned at any time. As part of the industrialisation of this technology, it would also be conceivable for the marker technology to be linked to blockchain technology, which is known to be particularly forgery-proof.
Continental already today handles part of its purchasing of natural rubber through a new digital trading platform designed to ensure greater transparency and sustainability in the natural rubber supply chain. The recently launched HeveaConnect platform validates key aspects of a sustainable supply chain and ensures compliance through increased transparency and special offers. Market participants are provided with standardised information on quality, traceability, and compliance with social and environmental standards, as well as information on average selling prices.