At the end of August, the US Farm Progress Show in Iowa will be attracting two big-name tyre brands looking to demonstrate their capabilities to the US agricultural sector.
Iowa Farm Progress Show 2022 Draws Tyre Specialists
Mitas' highlighted products on display include the new HC 1000 NRO high capacity, narrow rim tyre for the next generation of self-propelled sprayers, and the Mitas SFT (Super Flexion Tyre), HCM, and AGRITERRA tyres.
The new HC 1000 NRO radial flotation tyre has an increased number of lugs to provide greater durability, longer service life and lower operating costs. The tyre can run at higher speeds for less time on the road and includes VF technology to reduce soil compaction for higher loads due to lower tyre inflation pressure.
The New Holland T4 tractor equipped with Mitas SFT flotation tyres will be in the pond on the East side of the show site to demonstrate the extreme flotation capabilities of Mitas tyres. Daily every hour, the floating tractor will cruise down the pond and back in 8-foot-deep water.
Andrea Masella, Commercial Director for Agriculture at Trelleborg Wheel Systems North America, says; "We're glad to be back showing live to our agricultural professionals a wide variety of Mitas tyres to ease their everyday challenges in and out the field".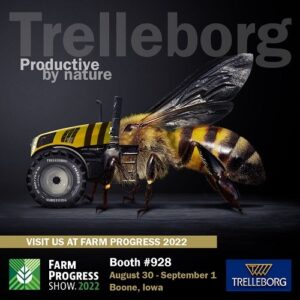 Trelleborg will exhibit the Trelleborg TM1000 ProgressiveTraction® tyre along with other innovative Trelleborg tyre solutions, including the TM3000, TM150, TM600 and TH500 that work to support the next generation of farming.
In addition, Trelleborg is pleased to welcome Mike Pearson, the host of Agriculture of America, who will be broadcasting his daily morning radio show live from the Trelleborg booth. Each afternoon, visitors to Trelleborg's booth can participate in panel discussions on various topics of interest, from the carbon market to smart precision farming, soil health, and more.
Trelleborg experts will be on hand to demonstrate how to improve farming operations and showcase the unique ProgressiveTraction® tyre tread, designed to meet the requirements of the latest generation of machinery by increasing power transmission efficiency to the ground while reducing soil compaction. The double-edge-lug tread design also increases grip on the soil to improve traction and reduce slippage.
Marc Margossian, Regional Marketing Director at Trelleborg Wheel Systems North and Central America, says; "Farmers are being asked to feed the world's growing population while applying more sustainable practices. Trelleborg aims to be part of the solution, constantly developing innovative technologies geared toward increasing productivity while protecting the planet. We are excited to showcase our cutting-edge tyre solutions that provide superior, sustainable performance on and off the field."