Part 2 of our mini-feature continues looking into the growing trend of tyre manufacturers having their products used in the latest release of the popular Farming Simulator video games series, developed produced and published by GIANTS Software. This time out the thoughts of Michelin and its Head of Global Marketing and Communication –Brand Licensing, Mike Lawton were gathered.
Lawton: "Michelin is a Huge Brand that Needs to be Represented for Credibility of the Game"
Michelin's Head of Global Marketing and Communications – Brand Licensing, Mike Lawton kicked things off by explaining how the opportunity arose to appear in the video game series that sold 1.5 million copies in its first week of sales.
He said, "This was a legacy contract that came up for renewal and, having spent five and half years as Commercial Director for Michelin's Agricultural Division, I realised what value we could bring to the game if we could really get the full product range in there and start to talk to that gaming audience.
"With the evolution and sophistication of the gaming world these days, and the graphics on the latest platforms, you can create an environment that is pretty close to reality. Players demand that high level of detail, and brands play an important role in that."
Lawton explained that in the real farming world, "passionate brand loyalty" exists whereby you will go to one farm where all the machines are Fendt or Kubota and then the clothing worn by everyone on the farm will match those exact same brands. This will then change with John Deere or Case IH at another farm. Therefore, having these well-known brands as part of the game is crucial for the game's credibility, and this extends to massive tyre brands such as Michelin, ultimately highlighting that gamers are demanding these established brands in the game.
He adds, "So having these brands (Case IH, Fendt and John Deere) as part of the game is important, and Michelin is a huge brand that needs to be represented for credibility of the game as much as anything else".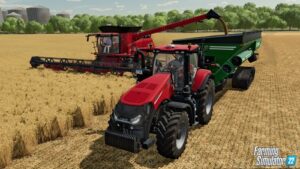 Looking forward to Farming Simulator 22, Lawton emphasized that the manufacturer wanted to do more than simply "press the renew button" (on the contract renewal), which led them to entering negotiations with GIANTS Software so that they could really unpack what was required.
The result of the negotiations saw Michelin able to offer millions of Farming Simulator players the company's complete range of agricultural tyre solutions which covers tractors and sprayers, harvesting equipment and trailers across all the sizes that they are able to offer in the real world, giving gamers yet another level of reality inside the virtual world.
You might be wondering right now how these negotiations and deals are structured. Lawton Michelin's Head of Global Marketing and Communication –Brand Licensing explained that the licensing works "exactly as they do with sports video games". Globally renowned titles such as FIFA or the Football Manager series will purchase licenses from the concerning leagues and player associations to use the team's logos, kits, player names and their likeness in the games.
Lawton expanded on this, "GIANTS Software purchase the license to use the product. In return, they have a direct line into our marketing department HQ in Clermont-Ferrand, and they have access to all of the latest 3D modelling of the products, the tyres and solutions we produce in the real world."
Michelin Eager to Engage with Real-Life Famers and Younger Demographics through Video Game Series
And what of the tangible benefits for Michelin in having their products appear in a video game series that according to Venture Beat in January 2020 had "quietly sold more than 25 million copies and been downloaded 90 million times on mobile"? Part of the answer lies in the question.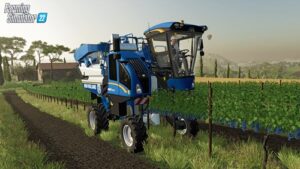 The sheer volume of people that purchase and play the game allows Michelin to target a key demographic and target market without paying advertising fees and receiving licensing fees, whilst having to invest time and resources in collaborating with the project to deliver their products to Farming Simulator fans. It's undoubtedly a win-win.
Lawton went into more detail, "We know from the people at GIANTS Software that a good proportion of the people that play Farming Simulator are real life farmers, so they go out there in the day and do the job for real and then come home and play the game in the evening or weekend.
"Therefore, if we weren't there not only would it be a detriment to the game it would be a detriment to our credibility in the market as well."
Although lots of farmers play the video game series, Lawton highlighted how there are vast amounts of people who play the game who aren't farmers, allowing the company to promote the Michelin brand to other audiences too, especially younger ones. Statistics on Farming Simulator's demographics are hard to find, but if they match Statista and GameIndustry.biz's data that 21% of US gamers are Under 21 and 38% are aged between 18 and 34 at a global level it is easy to understand Michelin's strategy.
Lawton concluded, "Of course, as there are also people who play the game that aren't farmers it is also a good way for us to promote the Michelin brand to other audiences too. We know, for instance, that lots of younger people play the game, so targeting that generation can only be a good thing for the brand."