The latest Commercial Tyre Business feature takes us onto the subject of industrial tyres. With this sector covering such a wide range of applications from construction to mining, and from logistics to ports and materials handling, Part 10 of the feature saw Commercial Tyre Business begin by speaking to Bridgestone's Mark Butcher, North Europe Product Manager – Off Road and Rob Cole, Key Account Manager – Off Road, who took a keen focus on the tyre manufacturer's off-road offerings.
Bridgestone's Guiding Principles for OTR Tyres
We started by asking Mark and Rob about the founding principles that guide Bridgestone's off-road offerings predominantly used in the construction and mining sectors. According to them the principles are "fundamentally the same as in any other tyre that Bridgestone manufactures". These can be split into four main tasks:
To support the load
To absorb road shocks
To change and maintain direction of travel
To transfer traction and braking forces to the road surface
Butcher explained, "the principles are generally the same for any tyre of any application and our OTR tyres are no different. A tyre is essentially just a vessel to hold air, and the air pressure carries the load, rather than the tyre itself."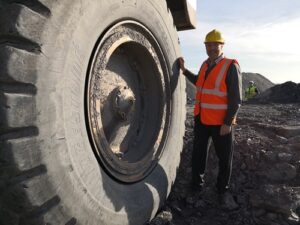 Moving specifically onto Bridgestone's OTR offerings, Butcher and Cole highlighted how the terrain in off-road conditions is a heavy determinant in the manner of how these tyres develop.
Butcher added, "the answer to this lies in the terrain. Rough, rocky surfaces demand a tyre that is more robust and can withstand the extreme conditions that are forced upon it. As is the case with all tyre technology, there has been a gradual involvement in the construction of OTR tyres."
Bridgestone's MasterCore Range: The Key Benefits and How it Was Developed
This can be identified in the development of Bridgestone's MasterCore technology, which was revealed at a press conference in Tokyo, Japan in August 2020.
According to Bridgestone's website, the MasterCore range is designed with "Smart Tech inside for hard work outside." Currently, the range is made up of 5 products: MasterCore VRPS, MasterCore VRF, MasterCore Vrev, MasteCore VRWP and the MasterCore VZTB, this being specifically engineered for ultra-high durability. The range currently allows users to discover up to 5% more durability, 10% faster speeds or 15% great payloads, which is made possible by an anti-rust steel cord and a new rubber compound that improves crack propagation by 20%. This new rubber compound has also improved the belt and casing life.
These tyres need to handle vast differences in variant temperatures in different parts of the world with certain products operating in cold countries such as Sweden in conditions as cold as -40 degrees, whereas the tyres could encounter conditions at the other end of spectrum up to 40 and 50 degrees, meaning these rubber compounds need to be designed to cope with these drastic changes in temperature.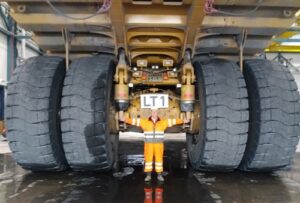 Rob Cole, Key Account Manager, Off Road for Bridgestone expanded on this, "Some of our tyres actually don't have a tread pattern at all, owing to the abrasiveness of the surfaces they are working in. They are effectively slick tyres, because the traction they need comes from the ground itself.
"Also, with no tread pattern, there is no danger of rocks or metal chunking the tyres and causing issues. That's an example of how we adapt our tyre technology to deal with different conditions."
On the development of the MasterCore range, Butcher said, "Bridgestone Mastercore will be a game-changer for tyre development in the years to come, as customers can choose what performance traits they want from their tyres."
And looking towards the years on the horizon, what other trends did Butcher see coming? The answer was one that we have seen across other sectors with the introduction and implementation of further sensor technology into the company's product range.
He stated, "We are also incorporating sensor technology to products, which measures and reports both tyre pressure and temperature in real time."
As with all tyre pressure monitoring systems and products, Bridgestone's clients would benefit from this in terms of a safer work environment through the early detection of potential tyre problems and greater efficiency courtesy of better tyre management, which in turn extends tyre life and reduces the amount of work involved in tyre maintenance, whilst increasing productivity and minimising costly downtime.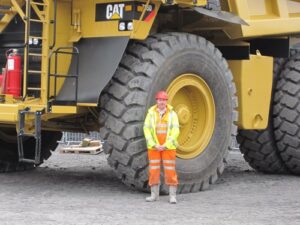 Challenges in Developing OTR Tyres
The MasterCore range has faced various challenges during its development, with size and cost being at the forefront of these difficulties, according to Butcher.
"The size is the main challenge, for obvious reasons. Based on the costs during the development phase and then the various moulds, the sheer scale of the testing process alone is a challenge."
On top of this, Butcher explained how advances in the machine park has put pressure on tyre manufacturers in the OTR business. He said, "Machine manufacturers put pressure on tyre manufacturers too, because they want bigger payloads and want to travel faster for longer. This is a challenge, and Bridgestone's task is to create a product that transfers the load that they want."
During our agricultural feature, we saw similar comments across the board from the tyre manufacturers in reference to developments in the machine park, with the sector constantly moving towards faster and heavier machines in efforts to continue to improve efficiency. This had resulted in tyre manufacturers generally shifting in the same direction with regards to their tyre developments. Improved loading capacities and vehicles that can travel for faster and longer in the mining sector will place tough demands on manufacturers such as Bridgestone as they look to deliver product ranges that match what the machine park is creating.
This was backed up by Butcher, "This is a challenge (larger payloads and faster vehicles), and Bridgestone's task is to create a product that transfers the load that they want."
With Bridgestone's history in the tyre sector, as well as being one the companies at the cutting-edge of the industry along with their presence across all global markets, the Japanese manufacturer is well placed to face these demands.
Demands placed on the manufacturers follow the trends coming from the industry. Rob Cole, Key Account Manager, Off Road for Bridgestone touched once again on the machine park. He explained, "Again, a lot of the trends come from machine manufacturers. They will communicate what they want to achieve and we have the task of trying to satisfy their demands.
"We always have to factor in whether developing a certain tyre is going to be cost effective for us, by understanding how many we think we'll sell around the world."