Kirkby Tyres, a tyre wholesaler based in Liverpool lead the line in Part 3 of our series focusing on the industrial tyres sector. Managing Director of Kirkby Tyres, Michael Rosenthal, gave his thoughts on the industrial tyre sector from a wholesaler's point of view in an exclusive to Commercial Tyre Business, commenting on the crisis facing global supply chains and how this impacts wholesalers like Kirkby Tyres in areas such as product range and company positioning.
Michael Rosenthal, Managing Director of Kirkby Tyres Interviewed by Commercial Tyre Business
It has been a while, since Commercial Tyre Business's readership have been updated on Kirkby Tyres' activities, so it's worth having a quick refresh. The wholesaler, voted NTDA Truck & Agricultural Tyre Supplier of the Year in 2019, has been operating for over 60 years in tyre and wheel distribution in the UK and Ireland. The operation offers a thorough range of products and services to tyre distributors, OE manufacturers and exporters.
Kirkby Tyres holds large stocks of truck, tractor, flotation, industrial and plant & earthmover tyres, with wheels to suit any application, which in Rosenthal's words makes Kirkby Tyres "one of the largest and most comprehensive distributors of off-highway tyre and wheel solutions in the UK and Ireland". As of today, Kirkby Tyres has a wide portfolio of brands it can offer across not just the industrial sector, but the agricultural, bus and truck sectors too, with Alliance, BKT Tires, Pirelli, Sailun Tyres, and Double Coin amongst others working with the Liverpool-based wholesaler.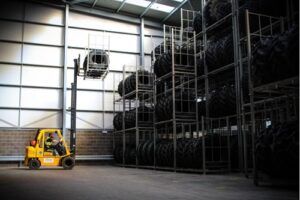 Rosenthal added, "As well as servicing the replacement market, the sales staff and engineers within our OE division are highly regarded for their experience and knowledge, helping to supply tyre and wheel assemblies to key blue-chip manufacturing companies (OE1) and smaller trailer manufacturers (OE2)."
Kirkby Tyres Stay Strong in the Midst of Chaotic Global Supply Chain
With global crises such as the container crisis, the Suez Canal blockade as well as Brexit and COVID-19, global supply chains have been facing unprecedented challenges. According to the Financial Times, the price of a 40-foot container routed from Asia to Northern Europe has risen from $2,000 to $9,000 dollars, whilst Reuters claims that "average container turnaround times have ballooned to 100 days from 60 days previously." To put it simply, supply chains have arguably never faced a tougher scenario.
The tyre sector is not immune from this, and with Kirkby Tyres dependent on imports from some of its overseas manufacturing partners, the wholesaler has had to face up to these challenges. Rosenthal explained their approach to the situation, "It is no secret that the tyre industry (in general) is currently facing unprecedented challenges that are impacting global supply chains. Long production lead times and relentless increases in raw materials and shipping costs are presenting a bottleneck to economic recovery.
"In order to lessen the impact of these challenges and support our customer base, we aim to continuously replenish and hold good stocks of the most common OTR tyre sizes."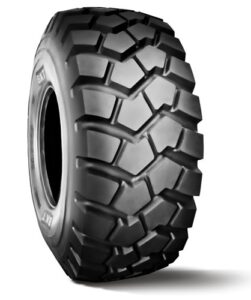 Kirkby Tyres Product Portfolio: BKT, Alliance and Sailun
This strategy is exemplified in the BKT SR 30 and SR 31 EARTHMAX patterns, which cover the most sizes in use; 15.5R25, 17.5R25, 20.5R25, 23.5R25, 26.5R25 & 29.5R2. These are all E-3/L-3 all-steel radial tyres which are designed specifically for wheel loaders and ADTS, with the product being constructed with heat-resistant and cut-resistant compounds to prolong tyre life.
Rosenthal also added that they have recently expanded their range to include the new BKT EARTHMAX SR 35 pattern. This is a pattern which is suitable for dumpers and is available in some of the more recent metric sizes 650/65R25, 750/65R25 and 775/65R29, with its cut resistant properties one of its leading features.
Kirkby Tyres recently attended the recent Hillhead online exhibition, and, according to Rosenthal, the wholesaler "fielded many enquiries for their newly expanded range of BKT EARTHMAX tyres."
Rosenthal moved onto OTR applications, "Notwithstanding earthmover tyres, we do continue to invest in and hold large stocks of all OTR applications, including plant sizes specific to building and construction industries. For example, we have common plant & industrial sizes such as 400/80-24 and 440/80-24 available from Alliance (in the popular Tough Trac pattern)."
This includes the newly launched Alliance 585 pattern, which is now fitted as OE for the Manitou range of MLT NewAg and NewAg XL telehandlers in 400/70R24. Rosenthal expands, "Also available in the popular agro-industrial size 460/70R24 used on telehandlers as well as backhoe and compact loaders. The modern 585 pattern has been developed to allow versatility in operating conditions, providing comfort and good handling on both road and off-road conditions."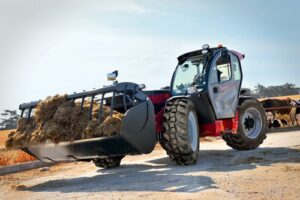 Looking at the building and construction transport economy, Kirkby Tyres also have a series of options for tipper trucks and mixed service applications, using common sizes such as 295/80R22.5 and 315/80R22.5. To meet the demand that is being posed by this sector, the operation has the Sailun and Double Coin brands.
"The Sailun S815 and Sailun S913A drive tyres for mixed service applications are now complemented with the brand new Sailun SD01 designed specifically for mining, logging and construction application and with which we are having much success," said Rosenthal.
He continued by commenting on Double Coin, "The ever-reliable Double Coin RR99/RR9 all-position tyre and the new RLB800 severe-service drive position tyre available in 11R22.5 are also a successful part of our stable of TBR tyres used within the OTR sector."
Galileo and CupWheel Technology Offered by Kirkby Tyres
Despite having over 100,000 tyres and wheels in stock across 900 tread patterns, Kirkby Tyres are continuing to offer and introduce innovative technology. A prime example of this can be identified in the CupWheel technology invented and licensed by Galileo which combines the benefits of tracks with the efficiency of radial tyres.
Rosenthal said, "We have the popular telehandler size 460/70CW24 GALILEO TELECUP 159B currently under testing at waste recycling yards along with the popular skid steer size 12CW16.5 GALILEO SKIDCUP which is under testing with large OEMS – with some very impressive initial results and feedback and with worldwide shipments already underway."
So, with such a varied range of patterns and brands to offer, Kirkby Tyres are positioning themselves to be able to provide a complete line-up of tyre patterns to serve their customer base according to their needs and requirements, which will position the wholesaler well with the construction and industrial sectors the fasted growing parts of the private sector economy.