Goodyear has recognised two German partners in its TruckForce network for their outstanding truck service in the first and second quarters of 2023
Goodyear Announces German TruckForce Award Winners H1 2023
The award as part of the European TruckForce Initiative that honours those TruckForce partners who stand out for their customers through special achievements and exceptional customer service.
The following winners will be chosen for the first half of 2023:
Premio Reifen + Autoservice H. Schulte-Kellinghaus GmbH received the TruckForce Award for the 1st quarter of 2023. As a long-standing member of the TruckForce network, the company is a reliable partner with a service guarantee. It is distinguished by the best annual audit result in 2022 in Germany, Austria and Switzerland and thus demonstrates the outstanding quality of the entire service portfolio.
Particularly noteworthy from the external auditors is the extra mile that H. Schulte-Kellinghaus GmbH goes: As a unique partner, it offers a specially developed 24-hour breakdown service portal, which – similar to the European breakdown system EBTS – supports the provision of assistance in the event of a breakdown and thus takes its service quality to the next level. The award winner was delighted to receive the award and saw his achievements confirmed by the award.
"Excellence in advice and service is our top priority as a mobility service provider. The award now confirms that this is the right strategy. We are very pleased that we are receiving this special recognition shortly before our 30th company anniversary," explains Dr. Michael Neidhart, Managing Director at H. Schulte-Kellinghaus GmbH.
Premio Reifen + Autoservice F. + H. Dreikluft Reifenhandel GmbH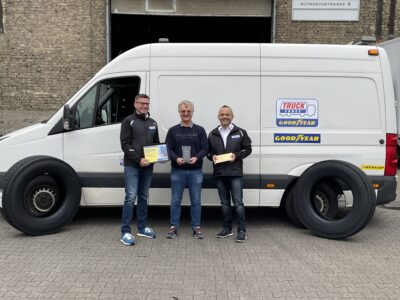 from Eppingen (Baden-Württemberg) and Worms (Rhineland-Palatinate) received the award for the 2nd quarter of 2023. The company, which has 15 employees, operates around the clock with 10 vehicles In use 365 days a year, and impressed the external auditors above all with its excellent breakdown service with more than 400 Goodyear ServiceLine24h calls per year and a fulfilment rate of almost 100%.
In addition, the specialist company also uses all the solutions from the Goodyear Total Mobility concept to guarantee the best service for its customers. "We are very pleased about the award and the associated recognition of our performance. We are service providers with heart and soul and our entire team loves the job that we have been doing every day for our customers for over 40 years," says Managing Director Gerhard Dreikluft happily.
The criteria that the approved Europe-wide testing specialists evaluate include the workshop equipment, the equipment of the service vehicles and the quality of the fleet service. In addition, the inventory is checked because a defined set of specific tyre models and sizes is a prerequisite in order to be able to ensure the "ServiceLine24h" breakdown service. The appearance of the partner company and the safety equipment of employees, workshops and vehicles are also checked using a checklist.