Goodyear is one of the top tyre and rubber manufacturers and its name is synonymous with quality tyres. However, as the pressures on the market change and industry is increasingly driven towards lower emissions and a more sustainable business model, Goodyear is impacted just as any other large producer is. Sustainability is now never far from anyone's mind in the corporate world of tyres and transport.
Goodyear Working with OEMs and Hauliers in Sustainable Efforts
"Goodyear are aware that fleet operators are increasingly focused on sustainability, driven both by legislation and demand from their customers to balance the growing need for movement of goods with a more sustainable model," said a Goodyear spokeperson when quizzed by Commercial Tyre Business. "Uptime, mileage and fuel efficiency all need to be optimised, while we simultaneously strive for reduced emissions. Increasingly green buying criteria are being put in place, with a renewed focused on selecting products and business partners that are as sustainable as possible. Every minute, penny, and ounce of CO2 counts."
This response is really, par for the course, and could have come from any tyre manufacturer, however, Goodyear has a view on the best way to minimise the impact of tyres and create a sustainable transport system.
"An area which is regularly overlooked though, is the impact that tyres can have. In urban areas, truck tyres can be responsible for up to 20% of CO2 emissions. For fleets on long-haul motorway trips, that can leap up to 35%. That's why Goodyear works directly with OEMs and hauliers to support their efforts toward more sustainable transport. Goodyear works constantly on new technologies, intelligent designs and innovative materials, all to reduce the environmental impact," the spokesperson added.
"Low-rolling-resistance (LRR) tyres are often overlooked by the wider industry as a means of improving sustainability. Lowering rolling resistance as much as possible though, means that emissions levels go down and fuel efficiency improves."
There are several different factors that can impact rolling resistance. As such, the production of this type of tyre is a complex process. Goodyear assesses the design of the tread profile for ways of optimising the deformation caused by load and motion forces, as well as looking for opportunities to use the most advanced raw materials.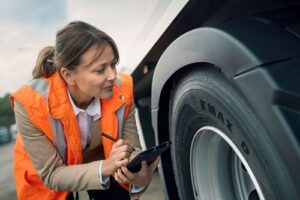 It might not sound like game-changing work, but the results are startling. Goodyear's FUELMAX ENDURANCE range is the most versatile and fuel-efficient tyre they have produced to date. Fully compatible with Goodyear's retreading programme, the drive tyre is available as a premium TreadMax mouldcure retread adding extra mileage while providing the same features and benefits as the new innovative tread.
Retreading, once seen as the poor relation in the tyre industry, retreading has now become an important integral part of any large tyre manufacturer's offer to the market.  Goodyear is no less involved in retreading than its competitors.
"In the current environment," said the spokesperson from Goodyear; "rethinking retreading is even more relevant than before. On top of the European climate Fit-for-55 plan, urging to become increasingly greener, the industry is also faced with an increasing cost impact.
"According to Goodyear's Sustainable Reality Survey, three out of four fleets recognised carbon footprint reduction as an important issue and  42% of fleets are using retreaded tyres as well as taking other sustainability-focused actions.
"Leading transport companies that use the Goodyear Retreading solutions can cut overall tyre bills by 10% and extend tyre life by an additional 150 %  (based on internal analysis, comparing the use of a new Goodyear tyre versus a new Goodyear tyre that is regrooved, retreaded and regrooved a second time), more than double than the first life a new tyre. While using the existing resources as much as possible the Goodyear Retreading process uses 56 % less crude oil for manufacturing.
"Goodyear Retreading gives tyres multiple lives, being regroovable, retreadable and again regroovable.  Tyres can be managed so fleets can select to only retread their own casings, or they can opt to join a casing exchange programme. Fleets can choose from TreadMax tyres, which use the latest generation of casing technology as well as fuel-efficient and low emission tread innovations, or NextTread which offers standardised tyre patterns and a wider range.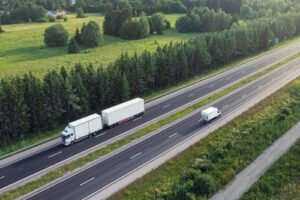 "Further sustainability gains can be achieved within the Goodyear Total Mobility value proposition when combining retreading with low emission tyres like FUELMAX ENDURANCE and smart tyre monitoring solutions as well as FleetOnlineSolutions to create a sustainable and efficient tyre management package for fleet operators."
Technology has been available for some years now to offer fleets control over their tyres by checking pressures and condition digitally.  In the past the cost lay with the fleet operator and there was a wide range of options available for aftermarket fitting. Rationalisation of the market and tyre and vehicle manufacturers have now almost standardised TPMS and Goodyear is no different.
"When we talk about sustainability and tyres, it's impossible to understate the importance of proper maintenance. Keeping tyres at the correct pressure will not only reduce the chance of suffering a tyre-related breakdown, but will also further enhance rolling resistance, meaning the vehicle is likely to consume less fuel.
"Goodyear has developed smart algorithms that help to keep a close eye on tyre pressures. Advanced solutions such as the Goodyear Tyre Pressure Monitoring System (TPMS) report tyre pressures in real-time, sending an alert to the driver and the operational manager whenever the pressure is incorrect and indicating the gravity of the issue with a straightforward colour code, so the correct action can be taken. It might be that the tyre needs to be replaced right away or simply checked by a professional, either after the next delivery or at the next service appointment. Either way, the system will report it.
"Systems such as this have the potential to make transport more sustainable. Many customers that have used Goodyear's TPMS system have reported a positive impact on both their carbon footprint and total cost of ownership."
More and more tyre manufacturers are looking towards using alternative raw materials in their new tyre production to improve the sustainability of their tyres. Goodyear has been leading research into alternative materials for some years and they are now users of a new carbon black made from natural gas, rather than oil, as one example of their move towards sustainability.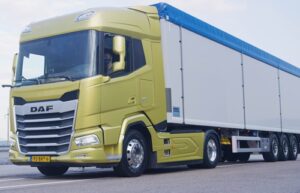 "Goodyear's commitment to sustainability, and making a positive impact through the choice of the materials they use, has led to a collaboration with Monolith which ensures sustainable materials in quality products are being used, that deliver a better future," underlined the spokeperson.
"Carbon black is a key ingredient in tyres, providing compounds in the tyres with strength, improved tear resistance, and increased abrasion resistance. A typical consumer tyre is made of 15-20% carbon black by weight. Traditional carbon black comes from the combustion of residual oil or coal tar oil.
"Goodyear is evaluating carbon black produced from methane and/or biomethane as part of its work with Monolith, a world leader in clean hydrogen and materials production. Monolith's plasma-based process takes advantage of renewable electricity to complete methane pyrolysis and results in the output of only carbon and hydrogen."
However, Goodyear's efforts extend beyond sustainable carbon black and the use of sustainable soybean oil is also part of Goodyear's commitment to sustainable sourcing, increasing its use of sustainable materials in its products.
"Soybean oil has replaced some or all petroleum-derived oil and helps keep a tyre's rubber compound pliable in changing temperatures," said the spokesperson.
"Goodyear's 2020 use of soybean oil increased 73% over 2018 usage, making progress toward its long-term goal of full petroleum oil replacement in its products by 2040.
"In addition, Goodyear is working on a multi-year, multi-million-dollar programme supported by the U.S. Department of Defense (DoD), the Air Force Research Lab (AFRL) and BioMADE. Working with Ohio-based Farmed Materials, we're developing a domestic source of natural rubber from a specific species of dandelion.
"Natural rubber has been classified as a strategic raw material that serves as a critical ingredient in military, aircraft and truck tyres. Today, more than 90% of the world's natural rubber is made from latex derived from rubber trees and is primarily sourced from tropical locations outside of the U.S.
"The programme will build on research that analysed more than 2,500 species of plants but found only a few with properties suitable for use in tyres. Taraxacum kok-saghyz, a species of dandelion known as TK, has proven to be a valuable alternative to natural rubber trees."