Last Friday, we had the opportunity to talk to Commercial Director for CAM, Steve Daly, in the lead up to the company's Monday morning announcement hailing the success of the integration between CAM International's TiDaeXTM and Bridgestone's FleetBridge system.  The success of this integration is now realised and put into practice every day with the 26 commercial tyre service providers who are now live and benefitting on a daily basis from this successful integration.
26 Bridgestone Dealers Live with Integration
Leveraging the employment of e-jobsheet to connect directly with FleetBridge to secure greater shared data accuracy and efficiency between connected dealers and Bridgestone Europe, the systemised link makes it easier to do business with the global tyre manufacturer, by markedly reducing the dealers' admin workload where Bridgestone fleet work is concerned.
When work is conducted by commercial tyre dealers on a Bridgestone fleet vehicle, the direct connection between e-jobsheet and Bridgestone's FleetBridge system will enable job data to be passed automatically from the tablet, including a copy of the job card and any photos and signatures provided, to be populated into the FleetBridge system within seconds of job completion from a fitter's tablet. Inspection data will also be transmitted automatically to Bridgestone.
On the announcement Daly stated, "Our successful long-term collaboration with Bridgestone Europe is achieved through a deep and purposeful system integration between TiDaeXTM and FleetBridge, unlocking genuine efficiencies for both the network service provider and Bridgestone. This direct connectivity delivered by our e-jobsheet tablet technology can enhance the dealers' customer service while at the same time saving them time, admin headaches and costs."
He continued, "All of these 26 dealers have essentially all of the data that is in the Bridgestone billing system and contract systems, which has been updated every day. So, in essence there are new data elements, changed elements and data that has been removed. The technician doesn't have to worry about the extraneous things and avoid having to make billing-related decisions."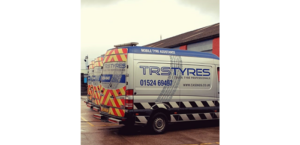 It's fully reconcilable and it's probably going to make payment a lot quicker because the job data has been returned within seconds. On top of the almost-instantaneous recording of data, all parties who are part of this supply chain have the same data at the same time, which I think is one of the keys of this integration."
This is extremely significant as both participants in the fleet contract service work are receiving what they require in order to serve that contract well. Furthermore, at a corporate level, the manufacturer is able to communicate to its corporate equivalents, but at a local level, the traditional localised depot to local fleet location relationship is preserved and communicated with as well.
This was supported in the announcement by Sion Rathkey, Solution Business Back Office manager, Bridgestone Europe, who stated; "Some years ago we set out to become the easiest manufacturer for tyre service dealers in the UK to do business with. The success of the TiDaeXTM integration into FleetBridge for e-jobsheet has certainly contributed to that goal. The integration provides clear and real time information which has improved the quality of data provided to the end user."
During our session, Daly underlined the significance of the 26 dealers that are currently live in Bridgestone's Fleetbridge integration. However, Bridgestone is not the only active participant where TiDaeXTM is concerned, with Vaculug also integrating currently as a matter of public record and a third manufacturer which hasn't as yet been publicly named, the identity of which Daly hoped might be able to be revealed as we move into 2022.
Following the announcements with Bridgestone and Vaculug, Daly explained that CAM had seen "a second wave of enquiries" but that they weren't in a position to comment on that just yet. He added; "What these manufacturers are looking for is dealer advocacy. If this established standard methodology constitutes a better way of doing business with dealers and fleets, then why would they do otherwise?"
Daly: "We are here to Encourage Other Manufacturers, Dealers and Software Vendors to Participate"
Besides the positive news emerging from the successful integration of TiDaeXTM and Bridgestone's FleetBridge system, Daly was turning his eye towards the future and how CAM can continue to make inroads in the market and help the industry make huge strides forward in terms of business efficiency and optimisation. With CAM owning all the intellectual property of their products and having never been owned or part-owned by any other interested parties in the market, the avenues are open for the company to work with organisations across the board from tyre manufacturers to other software vendors. Considering the strength of the performance of the Bridgestone integration, CAM are ideally placed to replicate this success with other projects and integrations.
Daly explained; "Today is a bit of a red-letter day. Because the faith, the hope and the time and the pain (and at times anguish!) are now justified; these dealers are now seeing the virtue of what we were promoting way back in the day."
We are seeing the benefits of this now with the Bridgestone integration, and we are also encouraging other software vendors to participate."
Despite CAM wanting to participate and work with other players in the sector, Daly acknowledged the difficulties of working with other parties due to the suspicion and territorial nature that can sometimes prevail in the sector and which he hoped CAM and others could eventually overcome.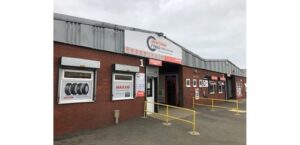 He added, "Part of the situation in the sector is that there are software vendors who are suspicious of our motives. There are other manufacturers who may be suspicious of Bridgestone's motives and it's a territorial industry. It takes quite a long time for that, for that obstacle to be climbed."
"It makes a lot more sense in the spirit of what we were doing back in 2013. We were trying to do it, because we wanted to create an environment where you can use the one app and you don't have to train your fitter, a multitude of times on different apps."
As of today, CAM has just over 50 total dealers in the UK attend to somewhere in the region of 4,000 fleet vehicles every day and more than 1,700 technicians using E-Jobsheet, highlighting the growth and progress made by the company over the best part of the last 10 years. With the success of the TiDaeXTM and Fleetbridge connection, CAM will be eager to build on this in 2022.