On September 21, Continental organised a major event at the Jarama Race Circuit in Spain called "Continental Universe", where participants were able to learn about and experience Continental's entire range of tyres, from passenger cars to special vehicles through trucks and motorcycles an an immersive, dynamic and exclusive experience.
Full Range of Tyres Presented
Jon Ander García, general director of Continental Tires Spain, was in charge of opening the event in the presence of more than a hundred people. In his welcome, he highlighted that "this is the first major event that we are carrying out at a European level since the outbreak of the COVID-19 pandemic and we have the opportunity and the pleasure of presenting it here in Madrid. Our goal is to demonstrate how Continental can help all of its users solve their everyday problems through efficient solutions that improve safety with innovation and sustainability."
The day began by dividing the guests into several groups of people who went into each of the worlds of the "Continental Universe".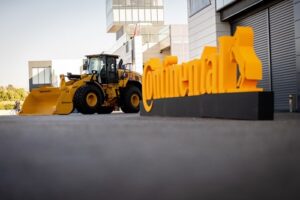 In addition to putting its range of car tyres to the test, Continental also displayed its range of specialty vehicle tyres by using tractors to demonstrate the difference in soil compaction with different tyre pressures and by demonstrating the performance of the company's tyres for the material handling sector and those for airport equipment.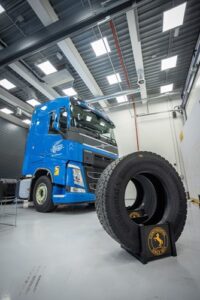 Also on show was the company' new Conti Hybrid 5 range of truck tyres, recently launched in Seville, as well as Conti's innovations in the area of digital solutions in the transport universe with the recent worldwide launch of ContiConnect 2.0, which extends the capabilities of its predecessor, making it easier for fleet managers and customers to control and reduce global operating costs.
In addition, the guests, which included clients, press and fans of the brand, found in the different modules references to the main activities and sponsorships of the brand such as the Tour de France, the Extreme-E motor race or the technological collaboration with Adidas in sports shoes.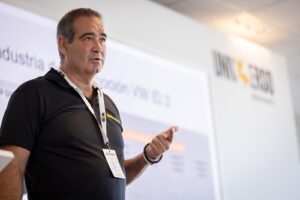 Over the next few days, more than eight hundred guests will spend time at the Jarama Circuit to live a first-hand experience of testing the technological and safety capabilities of the German company's tyres. "Continental's biggest challenge is to enjoy the road through safe and sustainable driving in all areas. That is why the "Continental Universe" demonstrates the technological capacity of our company, with which we aspire to achieve all the challenges we set for ourselves", added Jon Ander García.