Part 2 in the Commercial Tyre Business Industrial Tyres Feature concerns one of the leading tyre manufacturers in the form of Continental. Matthias Müller, Product Line Manager (Industrial Material Handling Tyres & Accessories) and Julian Alexander, Product Line Manager Material Handling Tyres (Port & Industrial Material Handling Tyres) for Continental gave up some of their valuable time to add Continental's perspective on their strategy for industrial tyres.
Müller and Alexander Discuss COVID-19 Approach for Continental's Industrial Tyres Division
To begin with, we looked at Continental's approach to the pandemic across its industrial tyre portfolio. Julian Alexander, Product Line Manager Material Handling Tyres (Port & Industrial Material Handling Tyres started by explaining that, although the pandemic has "turned the world upside down – in private as well as in business life", the impact of the pandemic has varied massively across the sectors.
"However, the effect of the global pandemic was heavily varied," said Alexander. "Airports as well as the construction and mining sector were heavily influenced by the shutdown in 2020.
"In the material handling sector, we saw a varying impact due to customer spending switching from travel, leisure and services to so-called "home-nesting" spending, e.g. goods for home and garden, renovation and new electronics."
With many of these home consumption goods beings imported from Asia, Alexander highlighted how the Asian industrial and port industry experienced a 'boom in 2020', and, in a similar vein, system-relevant industries such as the FMCG industry as well as online logistics continued to show strong growth due to digitalisation and the move towards e-business.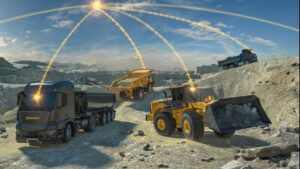 Müller joined the conversation by comparing the tough nature of 2020 and expressed hope and positivity at the performance and trends Continental have seen during 2021 to date.
"In contrast, the first months of 2021 have been very promising for us at Continental. With economies opening up, there has been an overall trend towards recovery. Container terminals for example are striving for high levels of productivity to keep up with overwhelming demand after several months of congestion and limitations.
"In Western economies, government support meant many workers kept their jobs and savings, and therefore spending power remained, which has already had an impact on industrial goods. For us at Continental, this has led to increased demand across almost all segments. Sales have developed significantly above the previous year and above our own estimations."
The news of increased demand will be music to the ears of OE and replacement tyre manufacturers providing products in this area, considering the huge impacts felt by the shutdowns in Q1 and Q2 of 2020, as Alexander pointed out.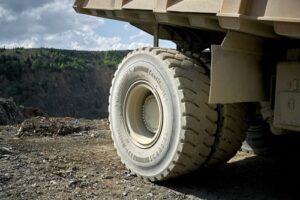 Trends: What do Continental see as the Mega Trends for Logistics, Material Handling and Earthmoving?
We were intrigued to learn about the trends seen by Continental in the industrial tyre sector, and with two of the company's leading minds in product development, we were in capable hands to get stuck into what is driving developments in this sector and whether Continental were experiencing any variances across segments.
For Continental it is of paramount importance to be able to understand the individual needs of each customer and how efficiencies and savings can happen.
Müller added, "The value of any innovation is only as great as the positive effect it creates for the customer. Getting to grips with the individual needs of each customer is key to understanding how efficiencies can be made, and where design and product innovation can help. This is an important principle for us at Continental in every segment we are active in."
Looking at the earthmoving segment, the manufacturer sees a trend towards 'professionalisation and higher efficiency'. With this comes a higher utilisation of equipment resulting in a requirement for longer lasting properties from the tyre structure. This according to Müller 'poses extra demands on the material used for the tyre as well as its specific construction'.
Alexander moved on to the logistics sector and the impact of mega trends such as sustainability and digitalisation becoming more and more crucial. Alexander explained, "At Continental, sustainability is part of our "Vision 2030" tyre strategy. Our aim is to be the most progressive tyre company environmentally and socially. Therefore, our solid industrial tyres are leading the field when it comes to performance factors such as rolling resistance."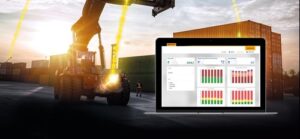 Why is low rolling resistance key for forklift trucks? Taking into account that most forklift trucks are already operating electrically and saving battery wherever possible, low rolling resistance is key to enhancing and enlarging battery life.
Touching on the second mega trend in digitalisation, Alexander analysed the shift towards digital monitoring of vehicles and their tyres. With Continental's complete radial tyre range for earthmoving, industry and ports coming pre-equipped with tyre sensors and ready to be used with TPMS such as Continental's own ContiPressureCheck and ContiConnect systems.
For those new to ContiPressureCheck and ContiConnect, the two systems are fundamental parts of Continental's TPMS solution. ContiPressureCheck is a direct measurement system that is fitted directly inside the tyre, with the systems using a sensor inside the tyre to monitor the inflation pressure and temperature to prevent tyre damage, or in the worst-case scenario, a blow-out. The system is able to be retrofitted to any vehicle, can operate using wireless radio technology allowing for use in most vehicles and trailers, and can work with pneumatic tyres from 1.8 bar to 11.9 bar tyre inflation pressure.
And ContiConnect? ContiConnect is the manufacturer's digital tyre monitoring platform for commercial fleets with the resulting digitalisation helping fleets to ensure increased uptime, lower maintenance costs and maximise fuel savings. This is all possible through tyre sensors on the inner liner of the tyre that transmit tyre and temperature data to a yard reader station and report the status to a web portal.
Alexander said, "The systems allow the user and/or fleet manager to monitor the pressure and temperature of the tyre. This is particularly important in challenging environments such as quarries or ports where loads are heavy and time is money. With their help, breakdowns can be avoided before they happen – and the safety and efficiency of the operations can be increased."
These two systems allow the users to have a wealth of data to hand, which is further supplemented by Continental's ContiLogger service approach, with the manufacturer offering tools that collect more data such as distance travelled, speed, location, lateral forces, elevation change, road grade and cycle downtime. All of this data is gathered using hardware and software.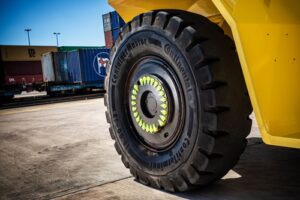 Alexander explains, "This data from our ContiLogger service approach is used to identify data-driven observations and recommendations, which help to tackle significant tyre challenges and possible application improvements aimed at optimising tyre and equipment life and improving operational processes."
If this wasn't all enough to content with, Continental have also noticed an increase towards smaller trucks and the increasing importance of the value segment, which Continental are trying to address with a three-brand strategy including the premium Continental brand, which is supported by the tier 2 and 3 brands in the form of General Tire and Barum.
Branded Solid Tyres for General Tire and Barum Due to be Launched
Discussions surrounding General Tire and Barum brought us onto the recent launch of the additional branded tyre offerings for General Tire and Barum for forklift trucks. Alexander summarised how these brands together with Continental's premium offer create a comprehensive range to meet the different requirements of the sector, but also delivers on the varied industrial applications that tyre manufacturers must face up to when creating industrial tyres.
"The wide range of premium tyres under the Continental brand, the medium intensity portfolio under the General Tire brand and the solid tyres for low intensity under the Barum brand, bundle the ideal tyre solutions for different customer segments under the Continental umbrella," he said.
Besides, the General Tire and Barum brands, Continental's solid tyres also have a key role to play in their approach to industrial tyres. They have been designed specifically for tough applications which pose a high risk of damage to the tyre.
Alexander highlighted the types of scenario where their solid tyre range operates with peak performance, "The tyres are ideally suited for airport ground applications, heavy-duty transport, sideloaders and in logistics, and are used on forklifts that must operate reliably and efficiently under high-performance conditions, sometimes around the clock."
Returning to General Tire and Barum, Alexander offered the news that Continental will shortly be offering branded versions of the solid tyres, which will complement their offerings further. These additional products underline Continental's intensified efforts in the field of port and container operations, with the manufacturer adding a full range of radial tyres to their existing V.ply tyre portfolio.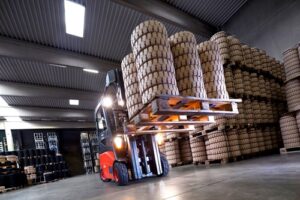 Further to this, Continental launched a radial tyre range in 2019, which was presented at the TOC Europe in Rotterdam in 2019, with the ContiRT20, the ContainerMaster Radial and the StraddleMaster Radial forming crucial parts of the offering as Continental started a new phase in its approach to the port sector.
According to Alexander the feedback for the new portfolio was "very positive" and the manufacturer is "looking forwarding to expanding their port operations business over the next few years."
On the expansion of Continental's radial tyres, Matthias Müller, Product Line Manager (Industrial Material Handling Tyres & Accessories) said, "At Continental, our objective is to support our customers in all applications, we aim to improve their efficiency and to lower their total cost of ownership.
"Therefore, we continuously look into possibilities to further develop our range of tyres and solutions to meet the specific demands and requirements of our customers."
It is quite clear to see that whatever the future holds for Continental, the manufacturer will be attempting to provide a multi-branded solid tyre portfolio which is tailored to the individual needs and ranges from low to medium to high intensity applications.