Continental is launching its LODC concept for fleet customers in parallel with the new generation of tyres.
Costs for Commercial Vehicle Fleets in the Spotlight
Continental is offering its partners an innovative concept for bringing down fleet operating costs and keeping them low. The tyre manufacturer's recipe for cost efficiency is known as LODC – Lowest Overall Driving Costs. It consists of a comprehensive consultancy approach that helps fleet customers minimise their tyre-related operational costs. "At first glance, tyres would only seem to make up around five percent of a truck's total operating costs," explains Ralf Benack, who is Responsible for Fleet Solutions for the EMEA region at Continental. However, tyres also have a significant impact on fuel, maintenance and repair costs, which account for more than 27 percent of total costs. "This makes them a key cost lever, meaning LODC is a genuine success factor for fleet customers in tough times," remarks Benack.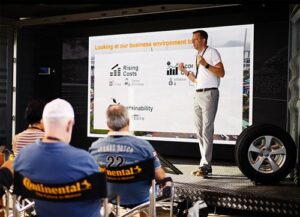 Fleet operators are currently battling against spiralling costs. According to the Road Haulage Association, fleet transport businesses have seen outgoings increase by more than 11% in the past few months. It also reports that fuel prices have increased by as much as 40%. The October market update for Europe from Danish logistics giant Maersk also underlined the fact that the global economic situation and fragile supply chains were having a knock-on effect on road haulage. It's a sector it describes as being "already stretched" as a result of rising fuel prices and driver shortages. Continental's in-house fleet expert highlights yet another challenge facing the industry – the European carbon tax on fossil fuels. "Various European and national regulations will force fleet operators to invest heavily in zero-emission vehicles if they wish to avoid toll charges and restrictions or benefit from incentives," Benack points out, saying this means many companies are going to experience high cost pressures for the foreseeable future.
LODC Approach Offers Added Value for the Customer
With the LODC approach, the tyre experts at Continental are seeking to work closely together with customers in order to minimise their costs. Its tyre selection, along with a data-driven servicing management results in tyre checks at the right time. A 24/7 breakdown service and optimisation of the customer's ordering, administrative and invoicing processes are further key elements.
Starting with the tyre, Continental's LODC concept takes a holistic look at a fleet's operating costs.
Economy, environmental protection and safety in perfect harmony
The overall concept is collaborative in nature, meaning it is based on mutual trust and transparency. For instance, the fleet customer provides telemetry data, which Continental uses to derive proposals for cutting costs before rigorously implementing the measures together with the customer. "Rather than simply calculating the potential savings, we team up with our network of service partners to harness this potential and obtain concrete results," continues fleet expert Benack. To fully capitalise on the available potential, a sound LifeCycle solution is needed complete with casing management and a high level of tyre usage transparency based on digital solutions. Benack sums up the concept by saying: "We are the experts when it comes to tyres, tyre servicing, digitalisation, data analysis and process mapping. So we are now using LODC to create a harmony of economy, environmental protection and safety."
Retreaded Tyres: Cutting Costs and Driving Sustainability
Maximising uptime is one way of boosting economy, environmental protection and safety. Intelligent digital solutions and smart sensor technology both inside and on the tyres allow maintenance to be carried out at the right time and ensure the tyres are always inflated to the correct pressure. This has the effect of extending tyre life, reducing downtime and lowering fuel consumption. Retreaded tyres using recycled casings are another cornerstone of the LODC concept. "They are completely safe and very durable, despite being far cheaper than new tyres," explains Ralf Benack. " Ralf also highlights their plus points with regard to sustainability: "When retreading a tyre, we are able to reuse around 70 percent of the original tyre, saving raw materials, water and energy."