In Part 1 of our Bus Feature for Commercial Tyre Business, Bridgestone's North Region PSV Operations Manager Justin Mason took some time to discuss the manufacturer's view of the current state of affairs in the bus market.
Bridgestone in the Bus & Coach Sector
With tourism hugely impacted by the pandemic and made almost non-existent during the lockdowns that plagued 2020 and those which have marked the start of 2021, it is fair to say that the bus and coach sector has been one which has been decimated over the last 12 months. This was underlined by the fact that the Society of Motor Manufacturers and Traders reported a drop in coach and bus registrations of 32% in 2020. Undoubtedly, there was only one place to start and that was how Bridgestone's bus and coach tyre business has faced up to pandemic.
Mason said, "We were heavily impacted with the first lockdown due to the bus operators parking large numbers of their vehicles up, in some cases up to 50%."
This obviously impacted our short term tyre sales and caused disruption for our tyre technicians, but we ensured that our customers were aware of our actions and that the remapping of staff didn't affect the levels of service our customers expect from us."
There does seem to be a ray of light in this latest lockdown though as Mason touched upon the financial support packages set up by the Government in order to relieve the pressure on bus operators. Mason explains, "Things are different with the latest lockdown due to Government funding that has been established for bus operators, so the reduction in vehicles operating is less."
Moving on, Mason went on to outline which sectors have been hit the worse during the pandemic. The PSV Operations Manager for Bridgestone's North Region said, "Stagecarriage has been impacted, but the coaching side has been impacted the most with it nearly flatlining at times. This has been due to the lockdown within the entertainment and hospitality sector."
With the theatres and coastal holiday locations all closed, people are just not travelling or planning to travel."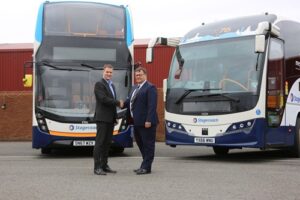 Despite the clear consequences in terms of sales and commercial activity though, Bridgestone's application in implementing measures has been thorough and commensurate with the actions expected from a global brand. To start, Bridgestone changed their working shift patterns to reduce interaction with their customers' staff and, as is common across most organisations these days, Microsoft Teams has been used by all to minimise interaction and stay connected.
Mason explained further, "the safety of our of our employee has been paramount, especially that of our tyre technicians who work on our customers' premises. Everyone has been through the Bridgestone B-Safe training guide to keep themselves, our colleagues and customers safe."
Furthermore, with mental health becoming an increasingly concerning aspect of this pandemic, this is something Bridgestone have been keen to take care of with wellbeing champions identified and a 24 hour help line for employees to contact and discuss any issue that they may have anonymously. This approach has allowed Bridgestone to keep their tyre technicians working at a high level and delivering the service expected of a company such as theirs.
Mason commented on the work provided by Bridgestone's tyre technicians, "As a business we are incredibly grateful to our tyre technicians and the crucial work they have provided to the company and the country by continuing to keep buses moving – even at the height of the pandemic."
With vaccination programmes starting to ramp up across Europe and the UK's one already in full swing, focus will inevitably turn to the future and the impact for the bus and coach sector. We were keen to find out how Bridgestone see the landscape of the Post-COVID bus and coach tyre market. Will we see an increase in budget tyres or a move towards sustainability with more retreads in operation?
Mason's view was clear that sustainability will be key as we step out of the pandemic darkness. "Sustainability is playing a big part within the bus sector with the ever-increasing numbers of fully electric vehicles. Bridgestone are bringing new hero products to the market focused on fuel efficiency and all PPK contracts have retreads as standard fitment for drive axles, which will continue."
Some operators may look at the budget tyres market, but most want quality products that deliver a low RRC with good mileage performance, with the service and backup support of a premium player like Bridgestone making customer driven products now and for the future."
This is a trend that Mason expects to continue in the coming years as well with "the growth of fully electric vehicles operating in all cities, a greater focus on sustainability, mobility and connectivity helping to create more efficiencies."
The COVID-19 pandemic has not been the only issue to cause market turbulence and unrest. The ongoing difficulties to shipping posed by Brexit represent a complex issue that our manufacturers, importers and exporters have had to face up to. According to Mason, in 2020, with Brexit on the horizon, Bridgestone took a proactive approach in building up their UK stocks.
"This approach served us well throughout the disruption we witnessed at the start of the year. We also supply a large proportion of our contracts with UK manufactured retreads from our Bulldog Retread plant in Bourne, Lincolnshire," stated Mason.
Looking forward to the remainder of 2021, Mason predicts that the bus sector "will not bounce back quickly to the 2019 levels," with the market seeing a slow recovery. This is due to the ongoing social distancing regulations that will be in place over the course of 2021 limiting the number of persons that can travel on a bus and coach, as well as the fact that large numbers of individuals will continue to work from home rather than travel in to the office.
Mason finished by underlining a key concern for the sector if it is to recover in 2021 and 2022, "public confidence to travel by bus needs to grow as the message over the last year has not been positive."
How quickly confidence recovers is anyone's guess, but hopefully for Bridgestone and other manufacturers as well as the bus operators themselves, this confidence returns sooner rather than later.