It seems a bit offbeat to describe Bridgestone as a relative newcomer to a sector, considering the manufacturer's vast and illustrious history in the tyre sector, but that is the truth of the matter when it comes to agriculture. With 7 years in the sector, the Bridgestone brand has already achieved some impressive results in agriculture. To discuss these results and the progress of the manufacturer and brand within the agricultural sector, Bridgestone's VT Sales Manager for North Europe, Stephen Lamb and Agricultural Product Manager for Bridgestone Central and North Europe, Keld Andersen joined Commercial Tyre Business in Part 10 of our Agriculture Feature.
How did Bridgestone Navigate Coronavirus in the Agricultural Sector?
The recurring topic post-March 2020 reared its head in the form of COVID-19 as we questioned Stephen Lamb and Keld Andersen on how the company responded to the COVID-19 pandemic and what insights they took away in terms of demand in that early period.
Stephen Lamb, Bridgestone's VT Sales Manager for North Europe explained that, in reality, there was no dip in demand from the farmers in terms of needing tyres. "Farming is seasonal, and you can't just up production straight away, so that meant that demand stayed constant in terms of needing tyres.
"At Bridgestone we are fully committed to supporting our dealer partners and the farming community. From our side additional production was put in place and Bridgestone in the northern regions were able to support the demand."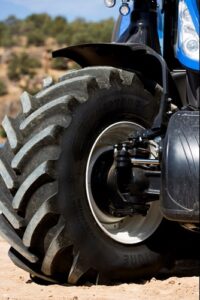 A continued trend and common theme of these interviews is that all manufacturers have mentioned seeing an increase in demand for their products as a consequence of some of their competitors not being able to supply. It was no different for Bridgestone as the company found itself in the enviable position of a marked increase in support of the agricultural sector.
Lamb added, "We supported the farming community to the tune of some of 120% over the previous year. So the company did actually stand up and were counted during that time.
"And in terms of sales we were one of the few sectors that weren't hit at all. In fact, we did well, from a sales point of view, but also supporting our dealers when they were shorter on tyres."
Lamb confirmed it had also been of paramount importance to support farmers who were working hard to produce food for the nation.
During this period though, had food demand increased in the agricultural sector? Keld Andersen, the Agricultural Product Manager for Bridgestone Central and North Europe, explained that they did not think demand had increased nor decreased more that it had simply shifted from one area to another.
"I fully agree that the demand probably has been higher from the supermarkets. But on the other hand, the demand from the restaurants has been smaller.
"I think that food demand has just been moved from restaurants to the supermarkets with people staying at home. Therefore, I don't really see a total extra demand of agricultural products."
Andersen also gave further evidence to back up Lamb's positive news regarding Bridgestone's sales performance during the pandemic as he recalled internal Bridgestone discussions about adjusting the 2020 forecast. "Back in March, we made some adjustments to our forecast and there were some really big discussions about how much the forecast would be reduced, and what impact the growth would make to the business," he said.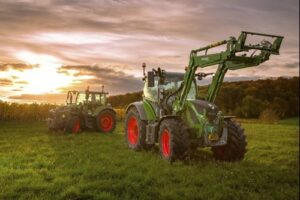 "We believed that the land at the farms, will still be grown and worked, the animals would still be fed. So, in general, the agricultural business has not changed as you have the number of acres and animals that you have, and you still would need to look after them and that hasn't increased or decreased."
This theme of constant and continuing really underlines how Andersen and Lamb see that the agricultural tyres business has been less adversely impacted than other sectors such as passenger, truck, and bus tyres. This was illustrated further by the fact that Bridgestone only had to close their manufacturing facilities in Northern Spain for about a week and the very little furlough taken by the company according to Agricultural product manager, Anderson.
We stopped looking back at what 2020 and early 2021 had been and began to look forward to what will be, as Commercial Tyre Business asked Andersen and Lamb about what trends they foresee in the agricultural tyre business and the technology advances they were anticipating in the future.
Smart Tyres, IF and VF Technology and Heavier Tractors
Lamb asserted that besides a general drive towards sustainability and the company's own focus in driving sustainability and productivity, protecting the environment and being socially responsible, the big trend for the agricultural sector has been for smart and intelligent tyres.
"The trend we see would be more towards smart tyres and not just tyres that are black and round with some air in it. But also what digital information we can bring and what we can couple into the tractor itself as a total mobility solution," explained Lamb.
"These smart tyres capture data, but also have the ability to maintain the correct footprint, irrespective of whether you change your load, speed, or the terrain or soil type. That's where one aspect of the future is going in terms of a tyre."
This trend according to Lamb is being driven by 'productivity from the farmer' as they search for more ways to be efficient. This once again led to a key trend that has been identified by every manufacturer that we have spoken to during this feature: bigger, faster, heavier tractors.
Lamb said, "Going forward tractors are going to get bigger and have higher horsepower and with that comes heavier tractors and heavier implements in order to deliver higher productivity and improve profitability."
How does that impact Bridgestone from a tyre perspective? Lamb had a clear response.
"From a tyre perspective, we're looking at greater surface contact areas. Therefore, we've got the IF and then we've got the VF and then we're looking towards whatever comes next, to get that larger footprint in contact with the ground. One of the strategies we are considering if we can't go wider, is to go taller in order to achieve that bigger footprint and carrying capacity."
Andersen agreed with Lamb's assessment, "I fully agree with you. You're absolutely right that we are looking at very big tyres. They are getting bigger or taller, because the tractors are getting bigger, and the horsepower continues to go up."
Andersen moved on to consider the impact of autonomous tractors or robots in the field and how that could impact product development.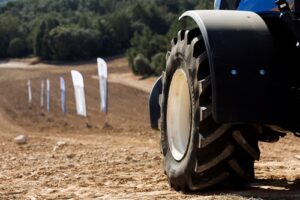 "In the future, I think we will see robots in the field, which will be much smaller. For those tractors, we probably need to develop a new tyre because these tractors will probably never be on the road and will work purely in the field."
This development would be an interesting one, as it would allow for the possibility of tractors becoming lighter again, as less manpower means a lighter vehicle in both a physical and a financial sense, releasing the burden on the farmer's drive for efficiency. This situation would mean tyre manufacturers development would be forced down a different path in terms of research and development. However, with these developments likely to be low-level for the short and medium-term future it is unlikely that manufacturers will have to deal with a scenario such as this immediately, but who knows in 20 years?
The argument for autonomous tractors can be further enhanced when we look at comments from Andersen later, when discussing how the costs of human resources impacted developments in the machine park.
Andersen said, "The salary for men working in Europe at least when we are looking at Northern Europe but also in Southern is going up. If we compare this to the East [Eastern Europe] and to India, it is a smaller factor since the salaries are less. That is also a reason why we are getting bigger. Instead of having three tractors with three men, we have two with two men and so on.
"I think if you asked us 20 years ago, we will not have been thinking about a 400-horsepower tractor and all the things that have happened. This development will continue, and it could be that we are moving towards robots, which could turn everything around again."
Products: What are Bridgestone's Key Offerings to the Agricultural Sector
Lamb began by highlighting the Bridgestone's original offer for the agricultural sector, the VT Tractor which marked the start of the manufacturer's efforts in Europe with mainline agricultural tyres.
The VT-Tractor produced in Northern Spain, is a tyre that helps boost productivity while protecting crops and valuable topsoil. It has a bigger lug edge surface, point lug nose and a longer bar nose that promotes maximum traction and a comfortable ride, whilst a special bead design allows the tyre to carry more load.
This bead construction in combination with a special VF casing allows for greater flexion and therefore allows it to be in operation at the lowest pressure possible. This lower pressure means that VF tyres in the case of the VT tractor leave behind larger footprints and reduced soil compaction. In addition, the enhanced size of the footprint does mean that there is more lug in contact with the soil, thus improving traction. Better traction can result in lower levels of fuel consumption over the land that is being which allows farmers to save a bit more at the pump.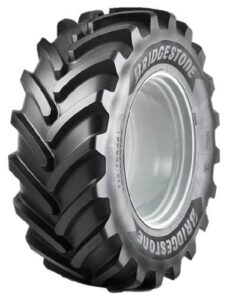 However, the manufacturer's latest offering into the market is the VX-Tractor, which Lamb described as 'a multi-purpose tyre'. The VX-Tractor was built to offer more traction for a longer time, which ultimately boosts productivity in the field and on the roads. It is characterized by it wear-resistant compound and long, wide, and deep lugs, whilst also being capable of carrying heavy loads at inflation pressures of up to 3.0 bar.
Lamb explained the thinking behind the VX-Tractor, "There's a lot of contractors that move goods on the road. So we needed a tyre that had the benefits of a road-going tyre. So the VX is a road and field-going tyre."
These two products have helped Bridgestone increase their market share in the sector against the other premium competition. The success of these products and of the company has only been made possible thanks to the dealer partnerships.
Lamb explained, "We are a young company, but we are taking a huge market share against the upper premium players. However, that has only really been achieved by our Bridgestone Dealer Partnerships. It's been phenomenal.
"They have embraced the product, and seen the feedback from the farmer, and they've been encouraged to sell it with confidence. We're really only here because of the sterling support from our dealers."
Andersen agreed, "We have achieved a substantial market share growth, during the last two years and I think we are above what we really expected as of two years ago. One of the success stories has been the Bridgestone brand. First of all, with the VF technology and second with the road tyre or combine tyres for road and field."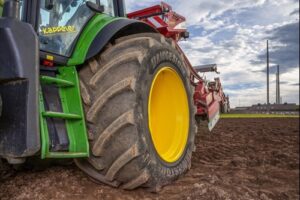 Increasing Awareness of VF Technology
So, what are the awareness levels in the agricultural sector in relation to VF technology? Keld and Lamb explained that after carrying out training sessions in the recent past has seen approximately 10-20% knowing exactly what VF technology comprises.
Lamb expanded on this, "A few years ago, the awareness and take-up of IF and VF technology was very low and has been one of the biggest challenges. That has changed a little bit more now as we've had a few activities that have happened, whereby people have tested the product to see the benefits.
"As we get more product onto the farms, the awareness is building all the time."
How do you raise this awareness? Lamb explained that although advertising in magazines, trade fair attendances and word-of-mouth experiences have all helped in part to see awareness naturally grow, it has been difficult. However, the main success story came from a Scottish Government subsidy scheme on VF tyres that launched in 2020 as part of a sustainability drive.
Andersen also touched on social media and how maybe that could be leveraged more in a sector that now sees most tractors themselves take care of the steering with the drivers being mostly responsible to turn around at the end and monitor the equipment in hand allowing them plenty of time to look at their phones.
"I think something we are working is really how to use social media to get to the younger generation. We have to admit that in many cases people on the tractor are not steering anymore, giving them plenty of time to look at their phones.
"On their phones, they are looking at . And I think that could be a way we could reach these generations."
Andersen raises a valid point. Social media will only continue to be as powerful as new platforms arrive, old ones drift away or continue to be key pillars in modern communication. Leveraging these platforms have become common place for brands to reach the end user across all industries and the agricultural sector will be no different, especially with the advent of autonomous tractor technology.
Whatever way the future market is shaped, with the progress Bridgestone is making it will be intriguing to see if they continue to make success stories over the next few years.