Part 2 of the Commercial Tyre Business retreading feature takes a look at the growing influence of Bridgestone's retreading solutions and the key role it is playing in Bridgestone becoming a 'mobility solutions provider'.
Bridgestone Commit to Investment at UK Retreading Facilities
As a sustainable solution for the environment – and commercial fleets as a whole – Bridgestone's retread products and Bandag franchise network has never been more crucial to the business than it is today.
As Bridgestone moves towards a status of 'mobility solutions provider,' retreading represents a vital cog in the overall company wheel, with a move towards the lowest total cost of ownership of product, combined with an increasing awareness of the need for a more sustainable and circular economy.
Owing to a particularly turbulent 18 months, retreading is also being seen as compelling choice for fleets due to volatile trading conditions on new commercial products, as Retread Business Development Manager Terry Salter explains.
"The world has changed beyond recognition in recent times and the consequences of Covid-19 were completely unforeseen," he said. "Tyres have not been immune from the general disruption, being subjected to large increases in shipping costs from Asia into Europe."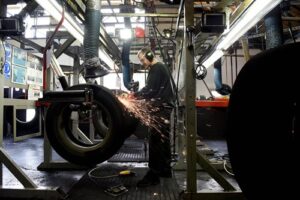 Not only have costs gone up, but sourcing enough containers has been a huge issue in itself."
Terry said that a solution has been retreading products, where tyres are sourced locally and manufactured at Bridgestone's network of Bandag retread factories across the UK, rather than other parts of the world.
"We continue to focus on retreading, not least because a retreaded tyre uses one third of the materials of a standard tyre, thus being affected less by raw material price increases. It is a cost effective, sustainable alternative and it arrives from within the UK."
Bridgestone has committed to retreading for a sustained period of time and has invested in this sector for many years – both in its technology and its Bandag network of dealers."
Terry also confirmed that Bridgestone has just agreed to its biggest retreading investment, as stimulated by the Chancellor's promised tax relief for capital investment projects. This has accelerated plans that were already earmarked for Bridgestone's UK facilities.
And finally, advances in the EU tyre label to finally include retreading products for the first time will also stimulate Bridgestone into further investment, in an exciting time for the sector.
Terry added: "Changes will come into effect on tyre labelling from 2023 onwards and we will be making sure that our entire product line-up will be best-in-class in the marketplace. This will be happening in partnership with our European colleagues and technical centre (TCE) in Rome."
It is exciting times to be working in the retreading sector and we look forward to offering more solutions to commercial fleets, which will not only benefit their daily operations, but the environment as a whole."