In Part 7 of our Agricultural Tyre Feature, Commercial Tyre Business had the opportunity to speak to Bridgestone's VT Sales Manager for North Europe, Stephen Lamb. Although Bridgestone has 6 years in the sector, its work in creating an extensive range of agricultural tyres has already converted Bridgestone into a tried and tested success story. For this feature, we wanted to know what factors within the agricultural sector Lamb believes are affecting or enhancing sales across Europe, the current mood in terms of farmers' purchasing decisions and how Bridgestone can continue to build on its success within the competitive and long-established sector.
Bridgestone Looking Forward with Building Added Value for Customers and Extending VF-VX Range for Increased Coverage Within the Sector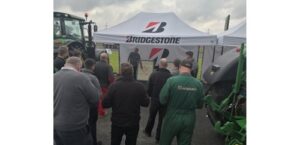 Bridgestone's strategy very much sums up its seamless transition into a competitive, tight sector. Rival agricultural manufacturers cut their teeth by establishing their brand identity over the decades through generations of different farmers– often of the same family – making decisions based on proven results. Bridgestone is in no two minds about its goal in the sector – to become the leading agricultural tyre solution manufacturer. Not only has Bridgestone jumped into the deep end by aiming to develop sustainable solutions for the sector, but it has also researched and developed tyres that fulfil key technological trends such as the rise and increasing prominence of VF (Very High Flexion) tyres.
While it's good to maintain a conservative approach to the evolving situation that is Covid-19, Lamb can confirm that the market is increasing in confidence and sales are continuing to improve. Noting that original equipment manufacturers and replacement sales have both increased, the market is in Lamb's words "in a good mood". This is even if we're expecting slight knock-on effects with the Common Agricultural Policy (CAP) reduction and potential collateral damage once the UK Government Grant Schemes plays out. As there are competitive financial packages and a solid second-hand tractor market, this has resulted in tractors maintaining a high trade-in value and therefore ensuring that their value doesn't depreciate rapidly. It's evident that metal is helping the market stay valuable and respectable.
Although young to the sector, Bridgestone's knack for versatile tyres in the VT and VX tractor tyre range has helped the company grow roots in the sector. The VX tractor tyre is a multi-purpose tyre, which is a valuable tendency in the sector, with the wide lugs acting as self-cleaning agents while on the job. Its wear-resistant compound and high traction capability offer cost savings for farmers, coupled with a healthy increase in field productivity. These qualities make for a better long-term investment for farmers.
Bridgestone's original tyre offer for the agricultural sector, the VF Tractor features a wide tread and a large lug edge surface, coupled with a special VF bead construction, which helps avoid excessive soil compaction. Soil compaction is a top demand for farmers looking to keep the soil supple and fertile. The bead construction allows for stronger flexion, helping to ensure the tyre operates at the lowest pressure capacity possible.
These two tyres have helped put Bridgestone on the map, and Lamb explained that "there are no new product launches planned for 2022," although the manufacturer already has plans afoot for a number of new products and sizes in 2023 and 2024.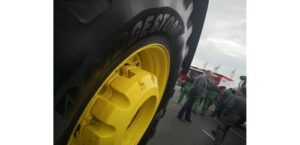 In terms of VF tyre technology, Lamb argued that the core reason that the use of the technology is continuing to grow within the industry is due to wider farming policies within the UK and European Union. He explains, "With the drive for No-Til practices increasing and Regenerative Farming Approaches gaining some traction in the UK – VF will remain at the forefront of the sustainability drive. VF technology is a key component in driving soil health, environmental protection and productivity in the future."
Bridgestone Looking to be Front and Centre at Major Events for the Remainder of 2022
Once we quizzed Lamb about the cancellation of Agritechnica, Lamb explained that it was LAMMA's annulment that proved to be a bigger concern in the UK. With LAMMA delayed but with a confirmed date in May, Bridgestone plans to focus on generating further awareness of its product line as well as generating added value activites for the manufacturer's customers.
Returning to the topic of trade fairs, Bridgestoneappears raring to get back to the trade show scene after Covid-19 forced cancellations. The manufacturer. has already attended three major agricultural events which Lamb said had seen 'strong attendances'. On top of these exhibitions, further not-to-be-missed events are going into the calendar, with Lamb confirming that they intend to attend other trade shows going forward.
Lamb: "EU Tyre Demand Often Outstripping Supply"
Bridgestone points out that EU tyre demand has often outstripped supply, which has been mainly due to the continued supply crisis that we saw impacting the tyre industry throughout 2021. With the supply chain a continued obstacle that manufacturers need to tackle across the different sectors in which they operate, Lamb added that the biggest hurdle Bridgestone has to face in the coming year is remarkably simple and concise. Like its goal of being the leader of agricultural tyres in Europe, 2022 is all about securing its partners' expectations and ensuring that Bridgestone grows in the agricultural sector with its customers continuing to receive an offer that gives them the maximum added value possible.