4 years ago, at the CV Show, Apollo Tyres entered the truck and bus tyre sector with a unique digital marketing approach as the company became the first manufacturer to sell its truck and bus tyres via a dedicated website. 4 years later, Apollo Tyres are moving forward in the truck and bus sector but with a different approach to one that was originally envisaged. Karl Naylor, the Country Manager UK for Apollo Tyres and Steve Miller, the UK Truck and Bus Radial Tyres Manager virtually met up with Commercial Tyre Business to talk about the manufacturer's strategy for the TBR market as of 2021, but also their latest product developments that have been put out into the market, and how their extensive investment in sports marketing is impacting their strategy.
The Evolution of Apollo's TBR Strategy
We started by looking at Apollo's evolution in strategy from 4 years ago to today. For the Commercial Tyre Business readers unfamiliar with Apollo's activities in the TBR sector, Apollo launched its TBR range at the CV Show in 2017 and were aiming at  an online approach to market that would assure performance and keep prices lean and simple. Apollo's transparent prices were based on order volume, delivery slot and payment method, with customers creating a personalised price based on their needs. There were discounts for ordering in advance and even for collecting the products to eliminate logistics costs.  This would then rely on dealers agreeing separate charges with their fleets for fitting and other services like call outs, regrooving, etc.
So, what has changed and what does Apollo's route to market look like now? Karl Naylor, the Country Manager UK for Apollo explained that the manufacturer's market strategy is a more  traditional approach, working with dealers and fleets. He comments, "We rely heavily on our relationships with dealers, for access to their local business and customer base and for feedback on pricing and offers in the market."
So, from a direct, end-user approach, Apollo Tyres have modified their strategy to one that puts dealers at the heart of it. However, that isn't to say Apollo aren't calling on and working with the end-users in terms of acquiring feedback and feeding that back to the dealers as Naylor explains, "All of this doesn't mean we aren't calling on and talking to end users about the product and its performance, following fitments and tracking mileage. But that's to create pull to take the dealers and say, 'look your customer wants these tyres on'. When the customers are very happy with the performance of our tyres it gives the dealers confidence in recommending our tyres to other fleets."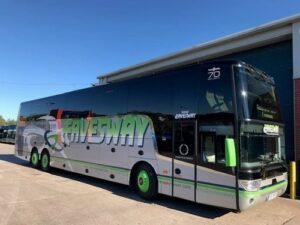 So why the change from the direct strategy using the website to buy tyres directly from Apollo? Naylor explained that it became clear very quickly that the TBR market wasn't quite ready for that approach – not necessarily the online purchasing but using such a transparent pricing model to both dealers and fleets.  A large section of the market charges one combined price for the tyre and the fitting and service rather than agreeing a separate matrix of service charges."
He continued, "I think we just went a bit early. At some point in the future, there is likely to be a sales channel that allows fleets to buy online, directly from manufacturers, and then agree a matrix of charges with their dealer network/service provider."
The reason we tried the innovative online approach, was that we were coming into the market late. With most of the players established in the market for decades we felt we needed to do something disruptive to differentiate our brand.  However, we have been delighted that the product quality and performance alone have been more than good enough to succeed in establishing the sales we required."
With sales according to Naylor "growing significantly and roughly doubling each year" since Apollo has implemented that strategy, it is fair to say that it has been a success and that the manufacturer is definitely on the right track.
Listening to a strategy of a company trying to utilise digitalisation always hits home for a journalist. Journalism has been hugely impacted by the advent of the internet and the development of online technologies. The COVID pandemic has only pushed digital transformation further to the forefront across all sectors. Taking all of this into account, we asked Naylor if Apollo had seen any move towards the market that the manufacturer had envisaged 4 years ago during the last 18 months in a period where digitalisation has become a huge point of interest.
"In terms of COVID, although people have obviously become more comfortable using digital communication methods rather than face-to-face, we haven't really seen any great transformation in the sense of business moving across to the internet. We do sell tyres on the internet, but we sell them on a dealer website, not to end users."
The progressiveness we have seen is in terms of IT infrastructure related to fleet management and fleet servicing agreements where national fleets and or even fleets over Europe require that infrastructure to control their billing and service provisions. We aren't in that end of the market at the moment, so I haven't seen much change."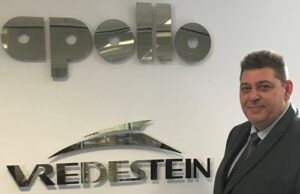 How is Apollo Tyres Benefitting from Sports Sponsorship in the TBR Sector?
Moving onto marketing and sponsorship, Apollo Tyres has spent huge sums of money on sports marketing and brand ambassadors in the sports world from Premier League football clubs such as Manchester United to Indian cricket icon Sachin Tendulkar. The latter obviously has global appeal with Tendulkar's global status, and as an Indian company competing with other tyre companies such as fellow Indian tyre manufacturer MRF who used to provide Tendulkar with his bats, it is one that makes sense. That being said it is the former sponsorship which we were eager to know if it had a direct impact on TBR sales and awareness within the UK market.
Naylor explained that from a global organisation point of view the sponsorship of Manchester United has had a huge impact, Manchester United is one of the biggest sports brands in the world, recognised in almost every country.  Our association with Manchester United says we are a big player, a global player. It shows not just our existing size but also our ambition."
In the UK, we all know that football can be quite divisive. For supporters of rival teams it may not be seen as such a positive.  The link between the level of visibility and UK sales is fairly intangible.  But it does allow us to invite our customers and partners from across the globe to attend games, enjoy hospitality, participate in customer events, all at one of the best sports stadiums in the world.  Customers have met Manchester United Legends, held the FA Cup, and been given VIP tours. Year after year we are finding new ways of getting value out of it besides the awareness and exposure."
Sponsorship of Apollo Tyres TOR Truck Racing Team Giving Manufacturer Visibility
For the TBR team, the sponsorship of Manchester United also has positive impacts but it is the sponsorship of the Apollo Tyres TOR Truck Racing Team that brings more direct benefits to the company in the TBR sector. Miller explained the key benefits behind this sponsorship, "It gives us the access to promote our products in the paddock area, which used to be available pre-COVID and hopefully is the case post-COVID. We receive decision makers from the major OEMs coming through such as Scania, MAN, Renault and they have an opportunity to see our tyres. We are actually hitting a bigger audience, because of the involvement of commercial companies in truck racing not just dealers but fleets themselves."
View this post on Instagram
From a European perspective, we get excellent brand visibility in front of a lot of fleets that may not have had awareness of the brand before and that's where we get value. It gives people a great environment to discuss the product/brand and gives the same opportunities for my European sales colleagues to promote the brand in their markets as we travel across Europe with the ETRC."
In the same way, that dealers can benefit from the Manchester United partnership through specialised events, the same is possible with the Apollo Tyres TOR Truck Racing Team, where dealers can have the racing truck on their premises for the day as part of a unique event.
EnduRace, EnduMile and EnduComfort Product Lines Moving into New Generation
In terms of Apollo's products for the TBR sector, Steve Miller, the UK Truck and Bus Radial tyres Manager for the UK highlighted that the manufacturer is focusing on two major segments for the UK which are the regional and the on-off road sectors. Apollo has now moved into the second generation of some of these products in terms of product development and meeting ongoing regulatory requirements such as complying with carbon footprint standards.
Miller adds, "It's been a very steep curve with trying to make inroads into what is a very developed market in the UK, but we are having great success. Some of our competitors have hundreds of variations in tyres, our offer is more focused on the most popular segments and sizes, but we are constantly investing in R&D to bring in new products and expand the range further."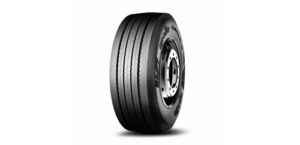 The new EnduRace RT2 is a 'Regional Trailer tyre'  which has been designed to provide solid all-weather performance, reduced rolling resistance and enhanced durability.
We have new products coming into the market as we speak which are a second-generation HD trailer tyre and a drive axle tyre that we will be releasing in 315/80, which is in production now."
This new trailer tyre is the EnduRace RT2, which has been designed to provide solid all-weather performance, reduced rolling resistance and enhanced durability, which Apollo have evaluated as having 15% more grip than the previous generation. An improved tread compound further helps minimise abrasion and heat build-up, whilst a durable and optimised ply casing means the tyre also has enhanced retreadability to match a growing requirement amongst many fleet operators.
Miller clarified that the company is also in the process of launching a 19.5 inch trailer tyre that will be coming into the market as well, but that it has had to be pushed back with the pandemic impacting the testing procedures that the manufacturer goes through when bringing a new product to market.
Besides these developments, Apollo is continuing to enhance EnduMile portfolio, which is targeted for more European based hauliers. The EnduMile is a long-haul drive tyre suitable for high-speed operations and provides superior mileage over its predecessor. The ventilated block design supports heat dissipation for cooler running and the ACTO casing design (Apollo Cord Tension Optimised) makes the tyre more durable supporting multiple retreads. Miller added, "These are long-distance tyres and in comparison, with our competitors who have gone down the hybrid route, we have focused on making sure that a long-distance tyre is a long-distance tyre".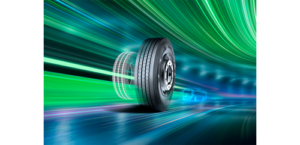 The EnduComfort CA, which was designed and developed in Europe by Apollo Tyres' in-house R&D department 
The final product of interest is that of the new Enducomfort CA, which is Apollo's first coach tyre. The tyre has been made for medium- and long-distance use, with high mileage, solid durability, all-weather grip and enhanced protection against stone penetration. The advanced tread compound and a reinforced casing work together to help minimise abrasion, ensure cooler running of the vehicle and safeguard even wear. The result of which is higher levels of durability and better mileage performance. Its innovative tread design which features zigzag grooves additionally helps to deliver superior standards of grip in wet and snowy conditions.
The Enducomfort CA along with Apollo's other products in its portfolio benefit from a damage warranty which highlights the manufacturer's confidence in their tyres. The warranty doesn't just cover the company's regional offerings, but their more heavy-duty options as well.
Miller, the UK Truck and Bus Radial Tyres Manager for the UK highlighted that although initial feedback was encouraging it was still too early to gauge any customer reaction to the product. "It is too soon for feedback on the tyre as of yet. We as a country are still seeing the remnants of COVID. Therefore, nobody is back to a full operation yet. We are in a situation where it is too early to see how it responds. We have some tyres out in the market, and early signs are encouraging shall we say."
Returning to the topic of the pandemic is particularly significant in the bus sector. The bus sector has been one that has been decimated by the need to social distance and the hesitancy of passengers to be in an enclosed space whilst travelling. Miller made clear that although the bus sector is still getting back on its feet and the hesitancy in users going on public transport, Apollo Tyres were there to help support their customers but also expected the sector to rebound.
He said, "There is still the perception that being in a close-knit environment is not good and people are avoiding taking the coach and touring holidays with the regularity that they once were. However, we have to be there to support those that are finding a way through. It is still an area of the market that requires tyres. There are companies looking to bounce back now and if you look at our infrastructure in our road system and cities, these places have areas designated for that type of transport."
With the government's Bus Back Better scheme, people returning to working in offices and a population becoming more vaccinated, the conditions are there for recovery in the bus sector and with Apollo's latest offering in the form of the Enducomfort CA, they are well-placed to take advantage of that.